Bermuda Police are encouraging the public "to be safe and act responsibly" over the Cup Match weekend in order to have a "safe and enjoyable holiday."
Superintendent of Police Sean Field-Lament said, "It is that time of year again when Bermuda celebrates its national heritage with the fine traditions and events surrounding the much anticipated annual Cup Match holiday. Cup Match is a time for us to come together and celebrate who we are as a community.
"As such during this time of celebration, The Bermuda Police Service is reminding the public, whether on land or sea, to be safe and act responsibly.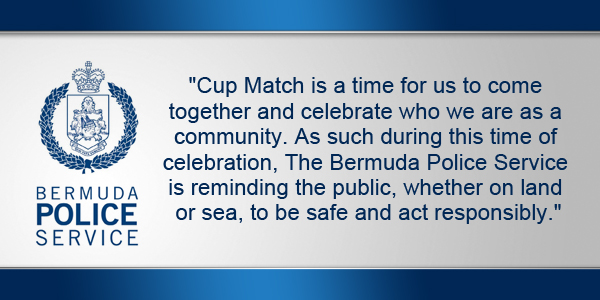 "Please, carefully consider your options and the consequences. If you intend to consume alcohol- Please Be Sensible –do not make the mistake of driving vehicles or vessels whilst impaired. Remember- poor choices can have long term ramifications.
"We are asking for the public's assistance in making this a safe and enjoyable holiday – think of others and report any suspicious activity- If you see something, say something. As there are a number of events taking place over this four day holiday weekend, you will see a robust Police presence throughout our island. These high visibility patrols are there to ensure public safety.
"The BPS will have appropriate resources in place to support our community partners whilst they manage the multitude of events. We will be using all our lawful powers to assist in policing over the holiday period –We will be seeking to specifically address those members of our community that might seek to disrupt our holiday with acts of anti-social behaviour or criminality.
"This may include stop and search engagements; I apologise now for any inconvenience that these proactive measures may cause but be mindful we are trying to make this a safe holiday, as well as an enjoyable one. We appreciate your co-operation and patience- Ultimately; our goal is to ensure a safe and peaceful holiday for all.
"On behalf of the Commissioner of Police, I wish everyone a safe, sensible and enjoyable Cup Match. I would now like to hand over to our community partners."

Read More About