The Commission of Inquiry today [Sept. 12] announced that it has been granted an extension to December 31, 2016 to complete its investigation into the findings of the Auditor General's report on the Consolidated Fund for the 2010, 2011, and 2012 Financial Years.
"Our Terms of Reference provided that the Commission was to submit its findings and recommendations within twenty weeks of appointment or such longer period as Premier Michael Dunkley may from time to time direct," said Commission Chairman Sir Anthony Evans.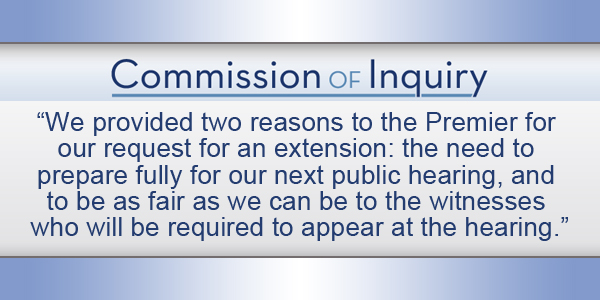 "We provided two reasons to the Premier for our request for an extension: the need to prepare fully for our next public hearing, and to be as fair as we can be to the witnesses who will be required to appear at the hearing."
"We are grateful to the Premier for granting our request as the extension will ensure we have time to consider all that has been said, to follow-up on any issues that arise and are outstanding following the hearing, and to prepare our report and make our recommendations."
Sir Anthony noted that the Commission has posted a set of rules on its website at www.inquirybermuda.com in the Documents section that outlines procedures the Commission intends to follow in a number of areas.
The Commission's next hearing will be held on Wednesday, September 28, 2016 at St. Theresa's Church Hall, Laffan Street, Hamilton, beginning at 10:00am.
In addition to Sir Anthony, an international jurist and former Bermuda Court of Appeal judge, Commission members are lawyer John Barritt, businesswoman Fiona Luck and businessman Kumi Bradshaw.

Read More About