The Bermuda Motorcycle Racing Club [BMRC] announced the appointment of a new executive committee for the 2016/17 season, with the BMRC nominating its first female President.
"The Club has just nominated its first female President, Takara Dill. Takara has been an active committee member for the past 2 years and has been instrumental in managing the administration needs during the course of her involvement with the Club," the BMRC said.
"As the Librarian at Saltus Grammar School, Takara brings with her a high level of expertise and passion for the sport as well as wisdom in engaging young riders who are interested in motorcycle racing. She is an invaluable asset to the Club and we are thrilled to see it flourish under her management.
Left to right: CJ Richardson, Antoine Richards, Marcus Pimentel, Takara Dill, Kristin Divine, and Sandy Benevides. Photo by Ephraim Divine.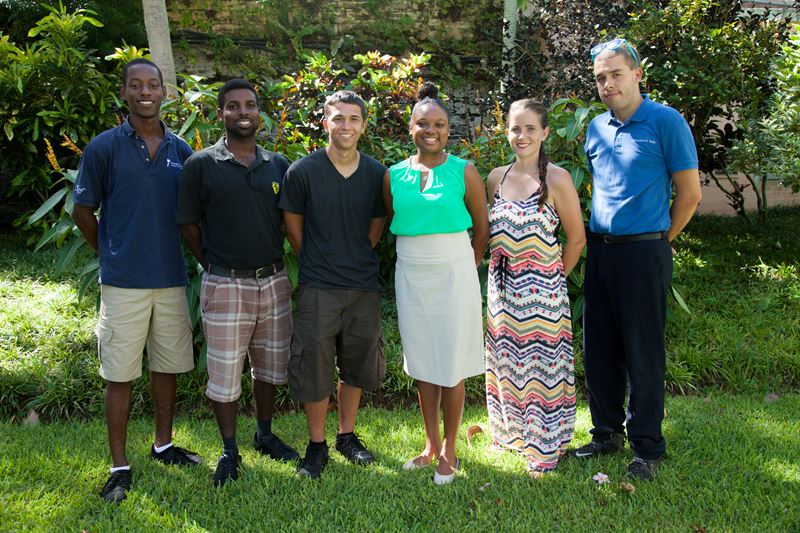 "The BMRC has also welcomed an enthusiastic group of new and returning committee members. In addition to BMRC President Takara Dill, the executive committee includes Antoine Richards as Vice-President and Kristin Divine as Secretary.
"Newly appointed subcommittee members include CJ Richardson as Clerk of the Course, Ephraim Divine as Public Relations Manager, and Sandy Benevides as Lead Tech Inspector with Marcus Pimentel on the Technical Team.
"The team is eager to begin a transformative overhaul of the Club with the goal of creating a far-reaching and inclusive community for sport fanatics of all ages. We are hoping to create an exciting family-oriented experience and incorporate new partnerships to build onto an already phenomenal Club.
"The BMRC is a Bermuda based national motorcycle racing series, founded in the early 1990s by David Jones, Sr. The club is dedicated to the development of motorcycle racing in Bermuda by providing a productive and safe environment for the motor sport within the community.
"Structured riding lessons are offered throughout the year to teach the basics of motorcycle riding, racing, and fundamentals of road safety while also promoting sportsmanship and respect for themselves and others. Students as young as 4 have gained invaluable skill and knowledge within the BMRC Riding Clinic 101 before advancing onto higher level programs.
"The club seeks to promote our supportive community and enrich the love of the sport. For more information on the Riding Clinic visit the website at www.bmrc.bm.
"All BMRC national race events take place at the Bermuda Motor Sports Park, located in Southside, St. David's [directly across from Clearwater Beach]. The official BMRC National Championship races run every other Sunday with this year's season running from May through October. There are 3 final races of the 2016 season on October 2nd, 16th and 30th. All race dates can be found in the Race Calendar section of the BMRC website.
"To find out more about the club, the Riding Clinic or how to get involved, visit their website or contact us at info.bmrc@gmail.com. "

Read More About