Bermuda College continues to make real progress "through innovative, quality teaching and research that enables students to enrich their lives intellectually, economically, socially and culturally," Bermuda College President Dr. Duranda Greene said.
Speaking to the Hamilton Rotary Club, Dr Greene said, "I am pleased to report that Bermuda College continues to make real progress towards its vision of being recognised as a centre of excellence locally and internationally, through innovative, quality teaching and research that enables students to enrich their lives intellectually, economically, socially and culturally.
"The College's commitment to this ideal was convincingly demonstrated last November when we were re-accredited until 2025 by the new England Association of Schools and Colleges Commission for Institutions of Higher Education.
"This stamp of approval means that the College has met the required international standards for recognised quality education in the following areas: compliance with established qualitative standards; integrity in statements to the public about its programmes; institutional commitment to improvement; and sufficiency of institutional resources.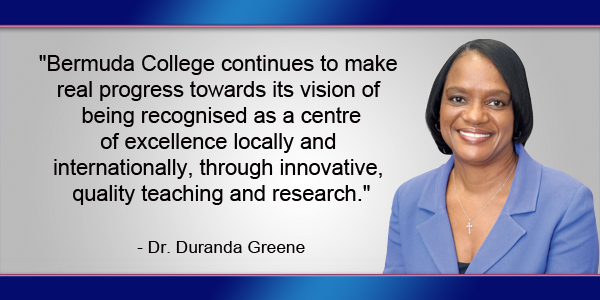 "There has been a lot of discussion of late regarding accreditation, so let me take the opportunity to highlight three facts about accreditation.
"1. The major focuses for the accreditation process are standards and outcomes. An institution or programme cannot simply open its doors or begin, and be accredited.
"2. Accreditation is a process normally requiring at least three years to complete, depending on the accreditation agency. In addition, as accreditation is about outcomes, the institution or programme is required to have at least two sets of graduates or at least two cohorts complete the programmes, before it is even eligible to be considered for accreditation.
"3. Accreditation is a voluntary process and is a common practice used in North American institutions where institutional accreditation is required in order to obtain Government funding. There are many countries that do not have an institutional accreditation process. And many institutions elect not to have their programmes accredited as it is a costly and time consuming process.
"Let me remind this audience that although Bermuda College graduates have been able to transfer their credits to overseas institutions since its inception more than 40 years ago, the College has only been accredited for the past 6 years.
"It is therefore noteworthy that the College's courses were accepted by numerous reputable institutions, such as Cornell, Dalhousie, Emory University, McGill University, Morehouse, New York University, and University of Western Ontario prior to it being accredited.
"Our accreditation has opened up opportunities for our students in so many wonderful ways. Just recently, Bermuda College negotiated in-state, rather than international fees, for our students to Georgia State University.
"Accreditation has also opened up avenues for workforce development initiatives and professional development partnerships with globally recognised organisations, thus ensuring first-class instructional competency and internationally standardised curricula.
"One example of this is the Boston University-based Streetwise "MBA" programme that saw its first cohort of 18 graduates last July. Bermuda College is the only international partner of this programme. Another example is the Regulatory Compliance Association [RCA] Certification programme that was developed last year by the RCA, Bermuda College, and local compliance professionals. Bermuda College is the first 2-year institution that RCA has partnered with.
"It should be noted that our Culinary Arts programme is also accredited by the American Culinary Federation. And as outlined recently in the press, the College's Associate in Science [Nursing] programme is currently going through the candidacy process as the initial stage of its accreditation journey.
"So Bermuda College is committed to accreditation as an institution, and for its programmes where applicable; however, we also understand and accept that when we embark on an accreditation journey, it is a long and time-consuming process and will not occur overnight; but, we also know that it will be well worth it for the benefit of our students.
"So whether seeking transfer credits to pursue further education overseas, or pursuing workforce and career development locally, Bermuda College has ensured, that Bermuda's students have multiple opportunities and options to attain their education and career goals; and, our accreditation has helped us tremendously.
"Let me now take a few minutes to highlight some of the other initiatives Bermuda College have been involved in since I was last here.
"Most of you would have heard that our last Commencement ceremony saw the historic graduation of four, pioneering dual enrolment students who were able to graduate with their associate degrees before they actually graduated from their public high schools with their high school diplomas!
"And we have at least seven more high school students on track to do the same thing next May. The dual enrolment initiative provides an alternative, and is a more cost effective pathway than the International Baccalaureate or Advanced Placement programmes, for outstanding students to engage in college-level courses.
"All four graduates are now at their respective universities, Georgia State University, St. John's University, University of Ontario Institute of Technology and the University of Perth in Australia having entered as transfer students with advanced standing.
"Two weeks ago, as classes began for the 2016-2017 academic year, Bermuda College welcomed 24 students to its new dual enrolment initiative for students in technical education. The recently developed Certificate in Applied Technology allows students to complete an entry level two-year technical education certification while still attending high school.
"During the second year of the programme the students will concentrate on a particular vocational trade such as: electrical wiring, heating, ventilation and air conditioning, information technology, motor vehicle technology or plumbing. They will also undertake a capstone project as part of their graduation requirements.
"Another technical programme that has proven popular with non-traditional students, and provides not only certification, but real employment potential is the Certificate in Major Appliance Service & Repair – first introduced two years ago, and which has since resulted in 100% employment for its graduates.
"Bermuda College is diligently securing strategic partnerships that will bring its technical education into the 21st Century. We have recently partnered with the well-renowned Savannah College of Art and Design or SCAD in Atlanta, to connect our Art & Design students with two baccalaureate degree programmes in Visual Communications and Fine Arts. SCAD has also offered scholarships in these areas to Bermuda College students.
"A pilot course has just concluded after a very successful partnership with Consolidated Engineering Bermuda to offer introductory photovoltaic or solar training to 21 certified electricians. By Spring 2017 the course will be expanded to include others.
"The College has also entered into an agreement with Kirkwood Community College, to offer Occupational Safety and Health Administration [OSHA] training on island. Working with the Bermuda Industrial Union and the Morgan's point contractors, this partnership will ensure that construction workers are trained in appropriate Health and Safety practices at the Morgan's Point Development.
"So as you can see technical education is alive and well at Bermuda College. There is a myth out there that since the Bermuda Technical Institute closed its doors there is no technical education going on in Bermuda.
"There may be very little technical education taking place for 11 and 12 year old boys, but Bermuda College has always offered and will continue to offer technical education at the post-secondary level; and, with our new dual enrolment initiative, we are also offering technical education to high school students on the Bermuda College campus.
"Bermuda College is about meeting the needs of our local community. Just as we are ensuring that locals will be safe and trained in best practices to develop the Morgan's Point site, and nurses are trained to meet the demand for more Bermudian nurses, we are also working with the Bermuda Gaming Commission and the Department of Workforce Development to ensure that Bermudians will be trained for this new industry.
"Another initiative that Bermuda College has embarked upon is the expansion of our testing centre. The College has always facilitated the adjudication of external examinations; however, we have recently developed a Testing and Assessment Centre that has been certified by Prometrics and Pearsons Vue to conduct many of their examinations on island.
"These include: GARP [the Global Association of Risk Analysts]; CFA [Certified Financial Analysts]; Automotive Service Excellence [ASE]; and the SOA [Society of Actuaries]. The more commonly known exams we are also certified to provide include, the GED, SAT, SSAT, ACT, TOEFL, PRAXIS and the GRE admissions test for graduate studies.
"We also invigilate a number of examinations for other educational institutions from around the world. So before your spend your hard earned money travelling overseas to write an examination, check with the College to see if the test can be done locally.
"These are some of the 'real-time' initiatives geared towards providing a college environment and experience that supports students, and increases opportunities for their learning success and career prospects.
"The community college philosophy underscores a teaching focus and the potential and willingness of a student to learn. For some students, it may take 3 or 4 years to complete their goals; others will do it in less time, but regardless of the length of the journey, each student will be provided with the resources and support to help them achieve their academic and career goals at Bermuda College. After all their success is our success!
"To mark the end of our 40th anniversary celebrations in 2015, we published our first scholarly, peer-reviewed, web-based journal, 'Voices in Education'. This is an annual publication sharing the voices of local educators from all levels of the academy.
"The second publication will be launched next week and will be available on our website. The Division of Arts & Science also produces an annual publication called Pillars with articles from the faculty in that Division.
"Over the past two years Bermuda College has also partnered with the University of West Indies to certify teachers in the areas of Mathematics and Science.
"Another initiative that Bermuda College will be embarking upon in the near future is establishing a National Educators Institute which is one of the action items in our strategic plan. This Institute will service educators at all levels from pre-school to post-secondary in both the public and private sectors by providing training and development opportunities and resources to assist in the teaching and learning process. More details will be shared at a later date.
"Over the past few years, Bermuda College has had the opportunity to partner with overseas organisations to host conferences. Next month we will be hosting the 5th Annual Colloquium on Blacks Males in Education organised by the University of Wisconsin—Madison. The Pre-Colloquium and Colloquium events will be held from October 4 – 7 at Bermuda College and the Fairmont Southampton Hotel.
"The theme for the conference is "Educational Transitions and Life Trajectories: Bridging Pathways to Success for Black Males". The colloquium will bring together world-class local and international scholars, high impact practitioners, policy makers, students and concerned citizens in order to exchange ideas and perspectives concerning the global dynamics of Black males in the educational pipeline.
"The Colloquium will serve to elicit intellectual thought, discussion and ideas that can be implemented to serve and improve the educational experiences of Black males in Bermuda and internationally. There will also be a special session with local educators and concerned citizens to discuss strategies to combat our local challenges.
"The pre-Colloquium activities will involve local high school students and local and overseas college students. One of the key note speakers will be Bermuda College alumnus, author and professor at the University of Missouri, Dr. Ty-ron Douglas. For more information on the Colloquium visit the website at globalcolloquium.org.
"Bermuda College has been busy meeting our mission of setting Bermuda's students on their paths to success even during these challenging economic times. Since 2010, the College's grant from the Government has decreased by 22%. As a result, we have learned how to do more with less and understand the concept of shared sacrifice.
"I want to take this opportunity to thank and commend the dedicated and committed employees of Bermuda College who have sacrificed to ensure that we have been able to present a balanced budget to the Board every year, even with the decreasing support from the Government.
"However, we do realize that in order for us to continue to meet our mission, we will have to seek funding from other sources. Thus, in order to raise funds, Bermuda College has established the Bermuda College Foundation.
"The initial, tactical focus for the Foundation will be our alumni; thus allowing them an opportunity to give back to the institution from which their journey began. But our appeal is also to anyone willing to donate, details of which will be available on our website and in the media at a later date.
"I consider it a privilege and a blessing to have been afforded the opportunity to serve as Bermuda College's 5th and first female President for the past 9 years. Undoubtedly, it has not been without its challenges but the good times have definitely outweighed the bad times.
"Someone once said, the real test of a true leader is in his or her ability to see what others can't; to believe when others don't; and to act when others won't. I am constantly inspired when I think about the students that we, as an institution, proudly serve; and when I reflect on my own personal story, it keeps me focused.
"I left the Berkeley Institute in 1979 at the tender age of 15. Having grown up with my elderly grandmother, there was no Heritage Scholarship Fund or college nest egg for further education; however, I was able to attend Bermuda College. After graduating from the College, I worked for a year to save towards furthering my education overseas.
"In 1982 I entered the 3rd year of a 4-year degree programme at Acadia University and completed the first of my 5 academic degrees in 2 years. I earned scholarships that covered the cost of my tuition, room and board and when I completed my two [2] bachelor's degrees, I was debt free.
"Had it not been for the Bermuda College and its affordability, I probably would have never gone on to further my education, as I was the first in my family to attend college. And if it was not for the strong academic foundation that I received at Bermuda College, I may not have earned the scholarships I was awarded.
"Although my story occurred some 37 years ago, this is the story of many of our students today. So, as I close this afternoon, my appeal to each of you is get to know what really goes on at the College, be an advocate for the institution—your community college, and support our students.
"Not just the high school graduates like I was, but also those non-traditional students who have been afforded an opportunity to obtain a post-secondary qualification through Bermuda College at a later stage in life. Let's all commit to putting our students first."

Read More About