Somersfield Academy is welcoming veteran educator Carlos Symonds as the new Head of the Montessori and International Baccalaureate School, as they celebrate their 25th anniversary.
"I am extremely honored to be appointed to the post of Head of School of Somersfield Academy," Mr Symonds said. "It is important to me that every­one who steps through our doors — staff, students, and parents — immediately feels how very special and inviting a place we have here.
"Students are happy and nothing says it more than a child's genuine smile! I've visited some of the best schools in the world, the heavyweights in the U.S., Canada and Europe, and [as a relatively young school] Somersfield compares with the best and punches well above her weight.
"At both the Montessori and Middle Years levels, there is simply nothing that compares to the level of engagement and interaction that is achieved within these walls – the positive, warm and nurturing environment at all levels of our school is simply incredible!
"This is directly attributable to the committed and passionate teaching team and the close partnership that has been developed with our families and community partners.
"I look forward to continuing the legacy of excellence and working in partnership with the families, faculty, staff and students of Somersfield Academy to fulfill Somersfield's Promise to honour the daring dreams and hidden talents of each of our Somersfield Stars!"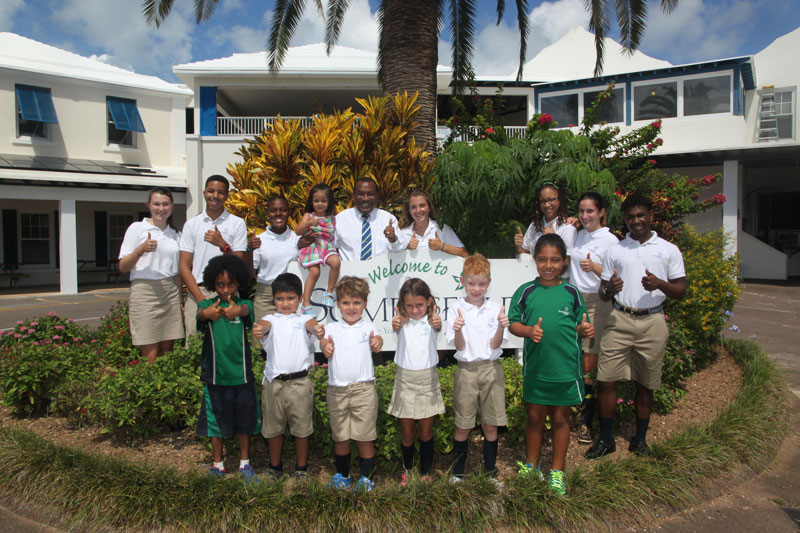 The Board approved Mr. Symonds' appointment in June last year, and he shadowed former Principal Peter Harding for the 2015-16 academic year, as part of the transition and succession process.
"We are pleased and excited to welcome Carlos to the Head of School position," incoming Board Chair Cynthia Thomas said.
"He is one of Bermuda's most talented, enthusiastic and inspiring educators who brings a wealth of local knowledge, an intimate understanding of international education and accreditation standards, and multilevel leadership experience to the role.
"Most of all, he is committed to our school and each of our students! Following an international search, Carlos was selected from over 50 candidates in a comprehensive interview process that included parents, teachers, support staff, administrators and the school Board."
Mr Symonds holds a bachelor's degree in English Literature and Education from Howard University, and a Master's Degree in Education with a concentration in Educational Leadership from Miami University of Oxford, Ohio, as well as multiple certificates in executive education and professional development.
An avid "technophile," he began his teaching career in Washington D.C. as the Communications Skills Coordinator of a state-of-the-art "Computer-Assisted-Instruction Program" sponsored by the U.S. Department of Education's C.E.T.A.
"We were a technology-based program that was using the internet before it had a name," he joked. "My students were communicating live with students at a Washington D.C. university via our computer network connection well before "Skype" was developed. In 1982, this was revolutionary technology!"
As a recipient of a Government teacher's training scholarship, Mr. Symonds was sponsored for 6 years, and returned to teach English Language and Literature at the Berkeley Institute where he remained for 20 years and moved up the ranks to become the Deputy Principal, before moving on to the Principalship of Clearwater Middle School.
It was at Clearwater, while exploring programs to improve Bermuda's Middle Schools, that Mr. Symonds became a champion of the I.B. Middle Years Program.
"There is nothing like it," he said. "It is far and above the finest program that has been developed for students of the age group. It's a student-centered, research-based, rigorous academic program that's internationally recognized in over 200 countries, and was developed by teachers for teachers and students of this audience."
"I attended the workshop for Principals at the Center for the Advanced Study of International Education at the Atlanta International School complex and that was it! I made a connection with the late Alex Horsley, former Head of CASIE and AIS' founding Head of School and he became my informal mentor, visiting Bermuda to try to obtain buy-in."
"My staff visited Somersfield's M5 Personal Project Fair and they became instant converts! I met with Somersfield's former Head of School on partnership opportunities and, shortly after, when the position of Head of Secondary became available, I leapt at the opportunity to contribute to this exceptional and transformative learning experience. The rest is history!"

Read More About