The Island Basketball League [IBL] has announced the launch of its 2016-17 season which commences tonight, Monday, October 10th. Games are being held at the CedarBridge Academy gymnasium starting at 7:00pm with surprise giveaways during game days throughout the season.
"We're all about bringing together the excitement of team sport and the quality time many families on the island are looking for," Kenny Simmons CIBL Commissioner said.
"Without the unwavering support of our title sponsor, fans and family, the opportunity for the basketball community to showcase and develop their skills sets in a semi-professional arena would not be possible" Lamumba Tucker, Vice President of the Bermuda Basketball Association [BBA] said.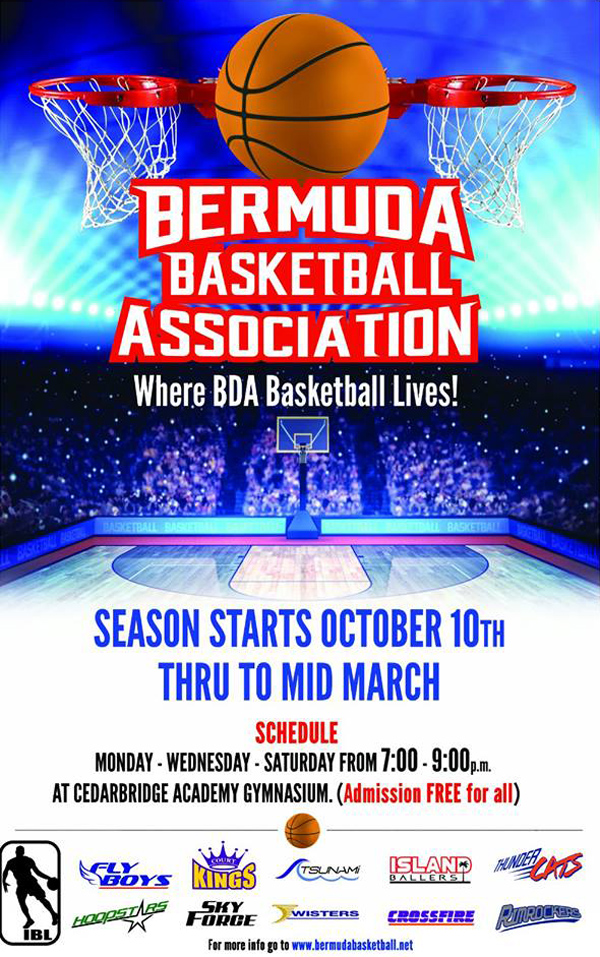 IBL league games are held three days per week [Monday, Wednesday & Saturday] from October 2016 through March 2017.  In addition to the regular season games, the best of the best will be selected to play in an All Star Game at the end of the season which will showcase player skill sets and potential candidates for Bermuda's national team.
Sanctioned by the Bermuda Basketball Association, the IBL now consists of ten men's teams. The sport of basketball continues to grow on island and games have proven to be intense and action filled.
The IBL invites all friends and families out to show support for the sport of basketball and support your favorite team and its players — from the Court Kings to the Flyboys to the new expansion teams which include the Island Ballers and Tsunamis; each of which will be showcased on the Island Basketball League Facebook Page and the Bermuda Basketball Association web page [www.bermudabasketball.net].

Read More About