The Hamilton Medical Center plans to open a new facility in Hamilton where walk-in patient care and diagnostic imaging will be available until 10pm seven days a week. The company said construction is set to begin, and the new Center is expected to open in mid 2017.
"The Hamilton Medical Center is expanding to become an urgent care facility offering blood testing and diagnostic imaging 'all under one roof', allowing for faster treatment and better patient outcomes," the company said.
"The new facility, which will be located on Burnaby Street, will boast state-of-the art technology including the world's most powerful truly open MRI, CT scanning, X-ray, ultrasound, mammography, bone density scanning and blood testing. Walk-in patient care and diagnostic imaging will be available until 10 p.m., seven days a week.
Rendering of the planned facility: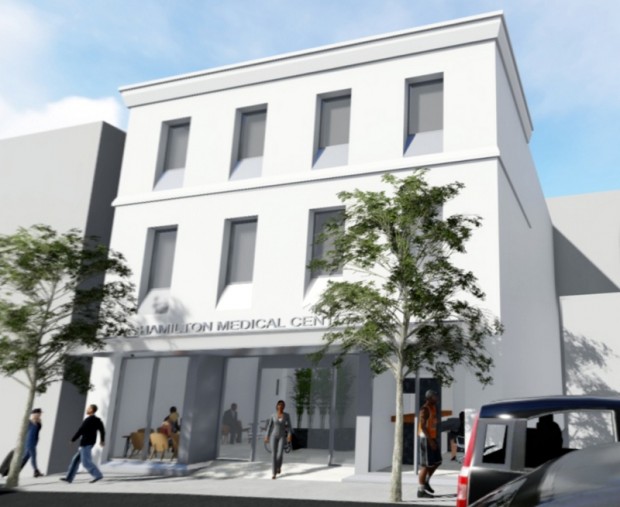 "The new Center, intended to make medical treatment more accessible to the public, will include services such as a free minibus designed to shuttle the physically challenged and seniors without transport to the facility.
"There will be an onsite radiologist for the immediate interpretation of X-rays, MRIs and other imaging for faster diagnosis as well as an onsite pharmacy.
"A major benefit of the new Center is that it will assist in reducing healthcare costs. One example includes videoconferencing technology that will allow for consultations with specialists without patients having to go overseas. This will also reduce delays receiving valuable specialist advice."
Dr. JJ Soares, Director of the Hamilton Medical Center Ltd, said: "As well as being a walk-in urgent care facility providing diagnosis and more immediate treatment, we also hope to provide a more convenient place for patients to have their MRI, CT, X-ray, ultrasound or other tests done as ordered by their own doctor. This means that people will not have to leave Hamilton to have their investigations".
"We have heard much of late about the burden that high-cost medical care is placing on the system. The testing done at our Center will be achieved at a much lower cost than if a patient were seen in the hospital emergency department and if the same testing were done there.
"The public may not be aware, but the hospital is currently reimbursed for testing at a much higher rate than when the same test is done at a private medical facility.
"As healthcare providers, we must meet the challenge of finding innovative solutions to keep costs down while keeping patient care at the forefront. I firmly believe that the private sector is the best vehicle by which to achieve this.
"The opening of this facility will serve as a 'win-win' by delivering state-of-the-art service for patients whilst helping to keep costs low," added Dr Soares.
"In addition to the kind of care upon which Hamilton Medical Center has already established its excellent reputation, the new Center will serve as an urgent care medical treatment facility where we can treat patients and refer to the hospital or a specialist as necessary.
"The key to the success of this model is having on-site imaging and diagnostics at our fingertips – we are modeling this after similar kinds of treatment facilities in the United States and other countries," he added.
"We had a very productive meeting last month with the Minister of Health where I shared detailed plans for the Center, and she was quite supportive of the concept.
"We are aware of general concerns surrounding the overutilization of equipment, and will be working with the Bermuda Health Council to ensure that best medical practices are strictly adhered to," said Dr. Soares.
"We see the new Center as providing a supportive role to the hospital by allowing it to do its job even better in what can be considered an example of the public and private sectors working together to improve patient outcomes while simultaneously reducing costs."
The company said, "The planning phase of the Hamilton Medical Center is complete, with construction to begin immediately. The new Center is expected to open mid 2017."

Read More About