[Part of the Bermuda Tourism Authority's 'Tourism Forward' series]
The irrefutable growth in young visitors this year is not an accident. It's deliberate. It's traceable to a fresher, more vibrant brand launched in January and the integrated marketing strategy that is delivering new brand messages to the marketplace.
The Bermuda Tourism Authority's [BTA] #BermudaSummerFridays campaign is a prime example. This past year the promotion introduced east coast metropolitans to the idea of escaping off to Bermuda on a Friday while their co-workers battled traffic on their way to driveable weekend getaways. To get the attention of consumers there were novel partnerships with Uber, Thrillist, Refinery 29 and others.
A pre-dawn beach-themed dance party with an event promoter called Daybreaker was especially out of the ordinary as a Bermuda tourism marketing tactic. That notwithstanding, it seemed to have a sizeable impact on the people it touched. Bermuda-inspired décor, music, giveaways and, in some cases, gombeys performing live were all woven into Daybreaker experiences in New York City, Boston and Washington, DC.
BTA Chief Sales and Marketing Officer Victoria Isley said the team was drawn to Daybreaker because it gave attendees the chance to "test drive" Bermuda experiences like gombeys and beach parties. She also explained: "the people who attended the event were young professionals who are about having fun," not unlike the audience the BTA is trying to attract to Bermuda.
Ashley Les of New York, who is in the 25 to 34 age group, attended a Daybreaker event and walked away with a free trip to Bermuda. She had been to Bermuda previously on a cruise, but never by air. She said she didn't fully appreciate the island life experience Bermuda could offer until attending the Daybreaker Bermuda-inspired beach party.
Ms. Les' winning photograph [courtesy Daybreaker]: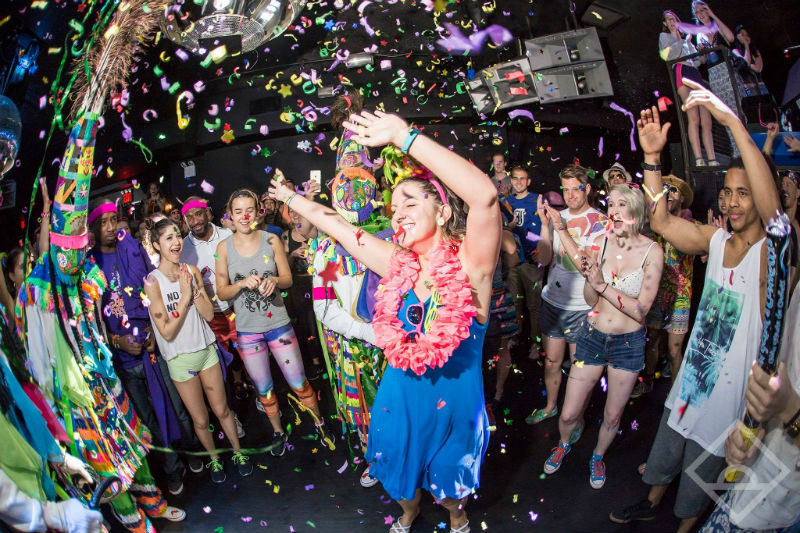 "I think younger people think it's an old, colonial English feel – which is great – it makes it safe, it makes it beautiful," said Ms Les. "But people don't realise the nightlife… There are things to do and I think maybe people only see pretty beaches and fancy hotels and don't realise the life here – it's a fun, safe environment to come to. From New York, it's an hour and a half. It takes some people longer to commute to work than the flight to Bermuda."
Source: BTA/Immigration Landing Cards

Through the first two quarters of 2016, 78 percent of the visitor growth has come from travellers under 45 years-old. They represent the next generation of travellers, a group that eluded Bermuda tourism marketing efforts for many years.
The BTA's adjusted marketing strategies seem to have gotten the attention of younger travellers without losing any ground with older visitors who have traditionally adored Bermuda.
Watch the Tourism Forward video series online at the BTA's Vimeo channel. Tourism Forward also airs on cable on Channel 82.

Read More About
Category: All, Entertainment, Music, News