As a result of postponement due to inclement weather last Saturday, October 22nd, the Uptown Cultural Committee has decided to reschedule the opening night of Movies in the City to this Saturday, October 29th from 7pm – midnight.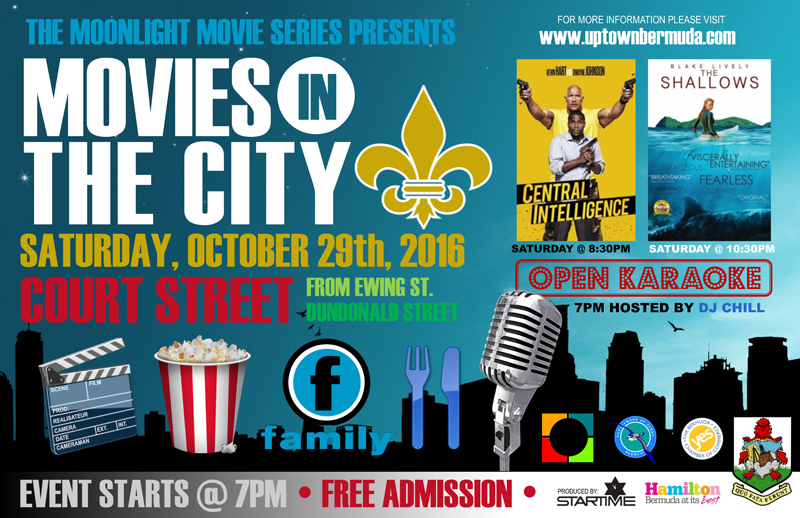 "The event will begin with an Open Mic Karaoke Session hosted by DJ Chill of Chill Entertainment as part of the preparation and promotion for the Uptown Karaoke Competition boasting $10,000 in cash prizes," they said.
"Uptown Karaoke will now start on Court Street next Saturday, November 5th at 7pm. Registration is $25 and applications are available at the BEDC Office or online at www.uptownbermuda.com. After the karaoke session, the Moonlight Movie Series will be screening an impressive double feature.
"The opening film, at 8:30pm, is Central Intelligence [PG-13], a hit comedy featuring Dwayne Johnson and Kevin Hart and the late film, at 10:30pm, is The Shallows [PG-13], an action-packed thriller featuring Blake Lively and Oscar Jaenada.
Trailer for Central Intelligence
"We encourage the entire community to come out with your chairs and blankets for a great family night filled with fun activities, fabulous food, excellent movies and live karaoke performances that promise to entertain.
"Uptown Saturday Nights is a collaborative initiative brought to the community by BEDC, the UpTown Cultural Committee, the City of Hamilton, the Bermuda Chamber of Commerce, Emperial Group, Spanish Town Entertainment, Startime, Global Art TV, Chill Entertainment, Island Events Group, His and Hers Entertainment, and Gina Spence Productions to support N.E. Hamilton business owners and residents in bringing sustained quality events to the area all aimed at fostering economic development and greater social cohesion.
Trailer for The Shallows

Read More About
Category: All, Entertainment, Films/Movies