Against the backdrop of an active Atlantic Hurricane Season, the Minister of National Security Jeffrey Baron welcomed an official from the White House Office of Management and Budget to the Ministry to discuss Bermuda's best practices and emergency response protocols when dealing with a serious storm.
Samantha Medlock is the senior advisor for resilience in the White House Office of Management and Budget, coordinating across the Executive Office of the President and the Administration to reduce the risks and costs of disasters – with an emphasis on strengthening standards and prioritizing the needs of vulnerable populations.
National Disaster Coordinator Stephen Cosham, Samantha Medlock and Minister Baron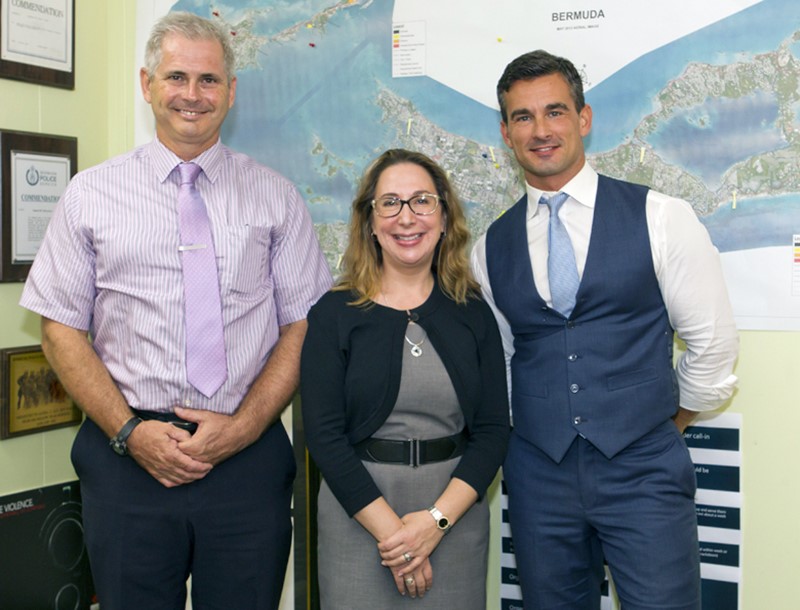 The meeting, which took place prior to Hurricane Nicole in late September, afforded Minister Baron the opportunity to discuss with Ms. Medlock Bermuda's process of mobilising its emergency services, its preparation and public awareness efforts, and its response and recovery protocols in the event of a serious storm or hurricane
Also participating in the conversation was the Ministry of National Security's National Disaster Coordinator, Stephen Cosham, who provided an overview of his role.
Ms. Medlock shared with the Ministry some of the critical work she does on behalf of the Obama Administration, such as her role in staffing the President's State, Local, and Tribal Leaders Task Force and launching the Insurance Partnership called for in the President's Climate Action Plan to reduce economic risk and drive resilience-based codes and standards.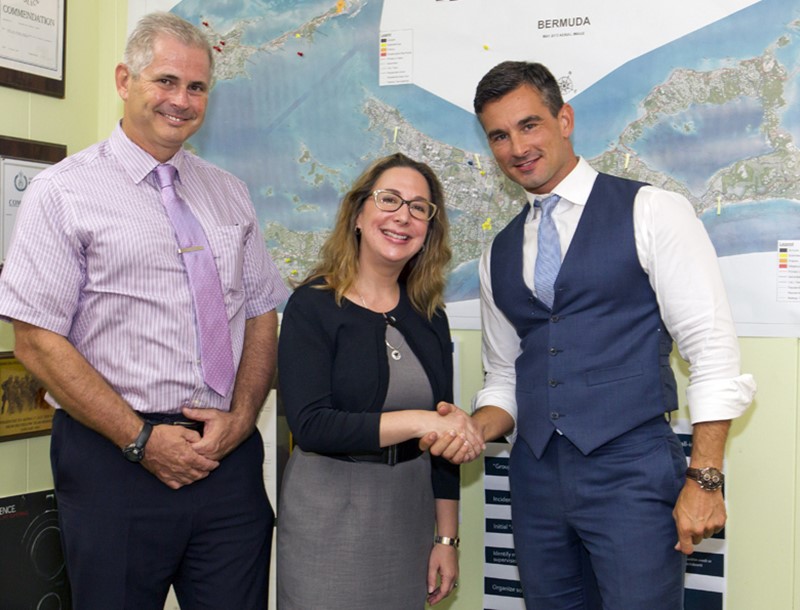 Minister Baron said, "Ms. Medlock is responsible for some significant aspects of disaster management at the highest levels of Government in the United States, and it was gratifying to share with her some of our Emergency Measures Organisation planning and preparation efforts.
"Since Ms. Medlock's visit to Bermuda, she has been involved in some very critical disaster management related work.
"She shared with us that she was based in Florida to assess the effects of Hurricane Matthew, in particular the flooding associated with that storm in the affected east coast states. She was also very supportive of Bermuda earlier this month by extending her well wishes to us as our Island dealt with Hurricane Nicole.
"She has since which shared that she has been very impressed with our resilience and recovery efforts so soon after Hurricane Nicole. So overall, the Ministry of National Security viewed this a very productive relationship building opportunity for Bermuda, and we look forward to actively furthering key discussions ‎with Ms. Medlock and her team."
Ms. Medlock also met with Premier Michael Dunkley at the Cabinet Office during her visit to Bermuda
Read More About
Category: All