St. George Skates — the island's first ever synthetic ice skating rink –  will have its grand opening in Somers Garden in St George's on Saturday [Nov 26] – featuring entertainment from Olympic ice skaters.
Entertainment at the event, which is free for the public, will be provided by American Olympic ice skaters Tiffany Scott and Philip Dulebohn, starting at 2pm, thanks to generous sponsorship by Butterfield Bank.
The skate rink itself, which will be open for the whole community to enjoy on scheduled dates until January 2, was made possible by two-year presenting sponsors, RUBiS and Bermuda Gas.
Tickets for an hour of skating, $20, are already on sale at www.ptix.bm, however with the purchase of gas from any RUBiS station on the island you can get an additional $5 discount coupon.
Preparations underway in Somers Garden yesterday afternoon: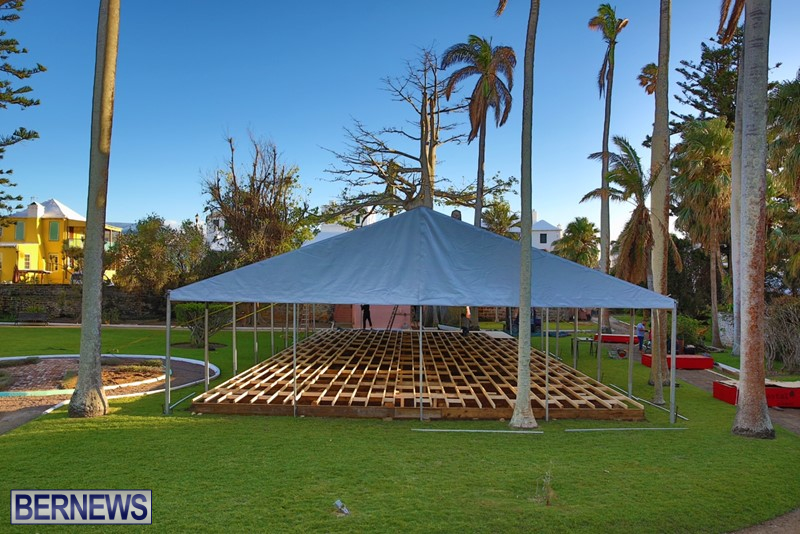 Cher Przelomski, of local event management company Planning Factory Bermuda, the creators of the event, said the Grand Opening would feature lots of family-friendly fun and excitement.
"Thanks to the generous sponsorship of Butterfield Bank, we were able to bring down two world class Olympic skaters, Tiffany Scott and Philip Dulebohn, to entertain the crowd," she said.
"This component has added a new dimension to the Grand Opening of St. George Skates and allowed us to take this community event to the next level.
"Saturday's event serves as a kick off to the holiday season and will bring residents and tourists a fun winter time activity that's never been offered before on island. There will be a DJ, food vendors and a fun Holiday atmosphere to enjoy, so we encourage people to try something new, enjoy themselves and pay a visit to St. George."
Light snacks will be on offer by The Bermuda Sugar Cookie Lady Confections; while a festive beverage of spiked and un-spiked eggnog will be provided in a café hosted by Bermuda Premium Spirits.
Preparations underway in Somers Garden yesterday afternoon: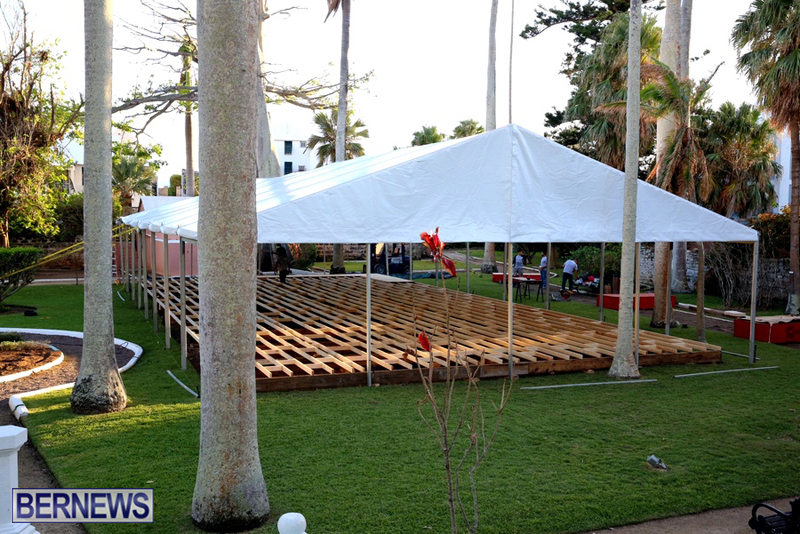 Graham Redford, Managing Director of RUBiS said they were proud to be lead sponsors of the event and "extremely happy" to see this innovative event come to life.
"We would like to thank Cher Przelomski and Kathryn Massa of the Planning Factory for all of their hard work putting this together, as well as Erica Smith, Raymond Lambert and the exceptional team at Bermuda Economic Development Corporation for the support," he said.
"We would especially like to thank the Mayor and Corporation of St. George for sharing the vision necessary to make an event like this happen. I'd like to encourage residents of Bermuda to take full advantage of this opportunity brought to you by RUBiS and Bermuda Gas- and come on down to the East End and get your skates on!"
Butterfield Bank's Sean Lee, the Executive Vice President and Head of Retail Banking for Cayman and Bermuda, said he was pleased to welcome US Olympians Ms Scott and Mr Dulebohn to Bermuda to open this exciting attraction.
Preparations underway in Somers Garden last night: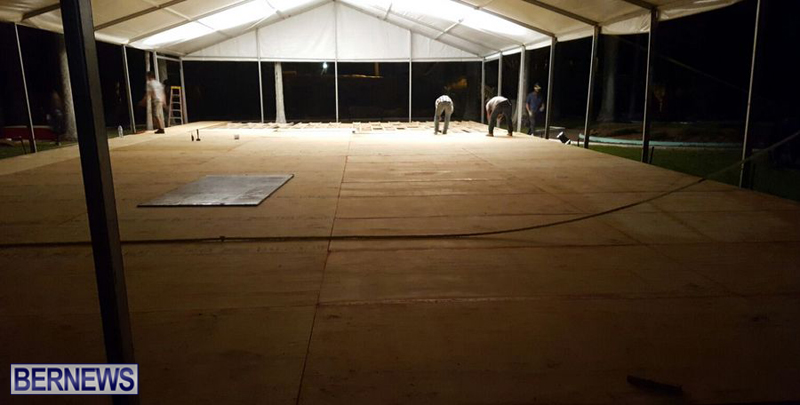 "St. George's is a great place for a family outing during the Holidays, and Butterfield has helped celebrate Christmas in St. George's with our support of the Walkabout for years," he said.
"With the addition of the rink in Somers Garden, there's even more reason to make the journey to the East end and experience the hospitality of the Old Town.  It's our hope that seeing Tiffany and Philip perform will inspire Bermudians who've never tried ice skating before to give it a go—especially the kids.
"We congratulate the Town of St. George and the Planning Factory for having the vision to bring a new and unique experience to Bermuda."
For more information, visit sgs.planningfactory.com.
Read More About
Category: All, Entertainment, News