[Written by Larry Burchall]
In May 1916, about halfway through the First World War [1914 – 1918], an augmented company of what was subsequently re-designated the Bermuda Contingent Royal Garrison Artillery [BCRGA], left Bermuda to serve on what was then being called the Western Front. This contingent followed the First Contingent of the Bermuda Volunteer Rifle Corps [BVRC].
Each Bermudian man had specifically and freely volunteered for service in what was later called the Great War. Except for the five accompanying officers, all were black Bermudians. Racially, that is the way it was that time.
There is a striking coincidence that occurred very soon after Great Britain declared war on Germany and widened and started a war that lasted fifty-one months. It was a war that stopped only after Germany, already collapsing economically and dangerously near total social collapse, had requested and accepted an Armistice that was set to begin at 11:00am on November 11th 1918.
In that war, the very first shot fired on land by any British commanded troops anywhere in the world is recorded as being fired by Regimental Sergeant Major Alhaji Grunshi of the British West African Frontier Force. The RSM fired that first shot of billions of later shots on 12th August 1914.
[RSM Grunshi story in "The Worlds War – Forgotten Soldiers of Empire". Chapter 3, page 101. Published 2014. Author: David Olusogam historian and BBC producer.]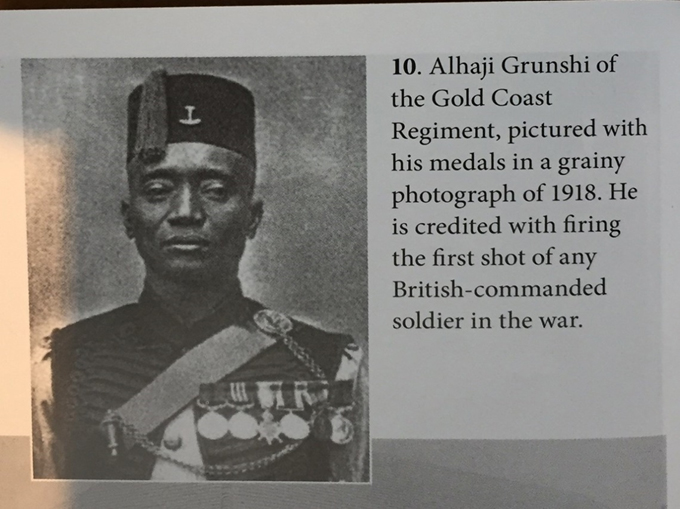 RSM Grunshi was from what was then called the Gold Coast and was, at the time, a British colony and part of British Empire. Today, that particular patch of West Africa is known as the independent country of Ghana.
RSM Grunshi survived that long four year war.
In Europe, 3,000 miles away and ten days after that first African shot, Trooper E Thomas was riding, in advance of the main body of following infantry. Tpr Thomas was part of and with C Squadron of the 4th Royal Irish Dragoon Guards.
After being alerted by forward scouts: "Enemy coming down road", Tpr Thomas picks up the tale and tells his short story that began a long war.
Tpr Thomas: "I saw a troop of Uhlans coming leisurely down the road, the officer in front smoking a cigar… They halted as if they smelt a rat … They turned quickly back … Captain Hornby got permission to follow with the sabre troop, and down the road they galloped … We could see the 1st troop using their swords and scattering the Uhlans left and right … Captain Hornby gave the order; "4th Troop, dismounted action …"
[Trooper Thomas story in: "I Was There. The Human Story of The Great War." Volume 1, p 41. Published 1936.]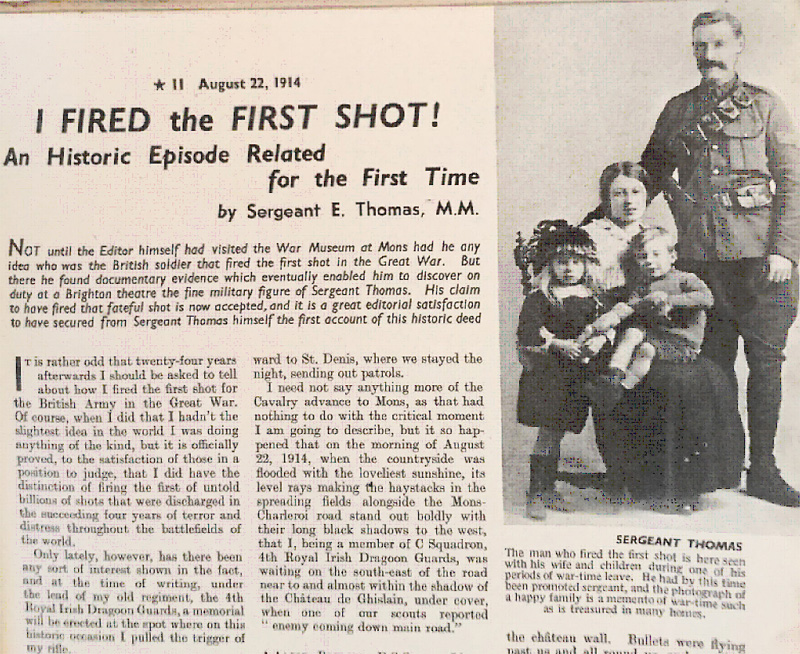 The action got more chaotic. Tpr Thomas again: "Bullets were flying past us … I was first in action … I could see [an] officer some four hundred yards away … Immediately I saw him I took aim, pulled the trigger … it seemed instantaneously he fell to the ground…"
"That was the first shot that was fired by a rifle in the British Army … at the time it seemed to me more like rifle practice on the plains of Salisbury."
That British action on the European or Western Front happened on 22nd August 1914
Tpr Thomas rose to Sergeant, earned the Military Medal, and survived fifty months of the Great War.
The coincidence? The two men who fired those "first shots" ended up surviving a war in which it is estimated that over seventeen million people, civilians and soldiers, died; and a war in which Bermuda lost 50 of the Bermudian soldiers who volunteered for overseas service.
- Larry Burchall
Read More About