Local singer and songwriter Valerie Sherwood has released two videos to correspond with her "Be Fabulous" album, including visuals for tracks 'The Railway Song' and 'The Aquarium Song.'
To date, Ms. Sherwood's works include two musical albums, along with three visual products and a selection of poetry, most of it "whimsical for kids, but also some serious poems for adults."
When asked about her history with music and art, Ms. Sherwood told Bernews, "My sister Wendy took me to the Bermuda Folk Club, where I was exposed to a range of international folk songs including English, Irish, Scottish, Canadian and American. In the 70s, I listened to Joan Baez and Judy Collins; I hugely admire our own Heather Nova. "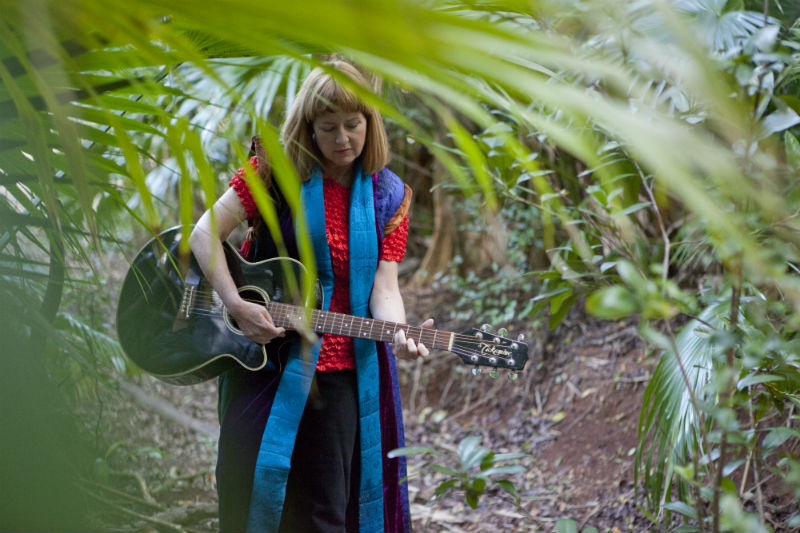 "I had guitar lessons and have written over 60 songs, performed at most local pubs, as well as Chewstick, facilitating a songwriting workshop for them last year on Paget Island.
"I probably do one of my songs to every two cover songs, with some adaptations of cover songs for humour. I write about what matters to me; love songs, social commentary, and environmental issues. I recorded first in the United Kingdom. My first CD of original songs, "Never Tell Them Why," came out in 2004, produced by Bermudian Michael Spencer-Arscott.
"John Woolridge was producer and arranger of my most recent album, "Be Fabulous," in 2013.I was honoured to be one of nine local artists in the Bermuda Entertainer's Showcase put on by Gina Spence Productions in partnership with Communications Plus in May of this year."
The Railway Song
When asked what drives her to celebrate Bermuda in particular, Ms. Sherwood said, "Growing up in a small family-run hotel meant helping visitors enjoy my island home. I was inspired by the beauty and particularly the bright colours which lent to my most popular song, "Colours of Bermuda," on my Be Fabulous CD.
"I was involved in developing the Railway Trail in the 1980s, and that put me in a perfect place to write about it authentically twenty years later. A recent focus has been on the marine side with the Aquarium Song, promoting the island to our overseas visitors and locals. Finally, we have such amazing characters, from Johnny Barnes to Neil Burnie – I call them local legends.
"I am also passionate about conservation, having worked for the Bermuda National Trust, and appreciate our culture.
"My next performance will be at the Bermuda Folk Club on Saturday, November 19, followed by Thursday, December 1 at the Neil Burnie Foundation Night at Mariner's Club, and Friday, December 2 at the Bermuda National Trust St. George's Walkabout, where I have sung at the Perfumery for the last seven or eight years."
The Aquarium Song
"My CDs are available on my website and also at Brown & Co, Masterworks, Hand Made in Dockyard, and Memories in St. George's. I would like to express my appreciation to the local radio stations who make a huge effort to give airplay to local artists, especially David Lopes on Inspire 105.
"What's next? I have just finished the manuscript for a book of true Bermuda cat stories about my experience helping to found a local cat charity and fostering lots of kittens. I am looking for an illustrator. The book is firstly humourous, but also educational and about Bermuda, and will contain a selection of my original songs and poetry to match the stories."
For more information, visit Ms. Sherwood's website.

Read More About
Category: All, Entertainment, Music, News, Videos