Bermuda will have a chance to 'meet' the newly appointed Bermuda Tourism Authority [BTA] CEO Kevin Dallas, as he introduces himself to the public during a live video chat on Bernews Facebook page at 12.20pm this Thursday [Nov 17].
Mr Dallas, a Bermudian, is going through a corporate transition process as he prepares to take over as chief executive in January 2017, once current CEO Bill Hanbury completes his contract.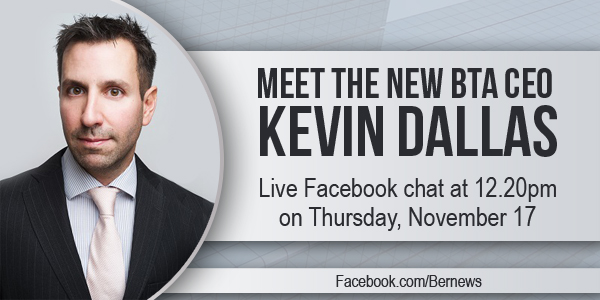 In making their selection of Mr. Dallas as CEO, the Board of the BTA said they were "keen to ensure that given the evolving global tourism marketplace, for Bermuda to stay ahead of the curve it had to move beyond traditional marketing."
"In the new digital tourism game, the BTA needs to know how digital platforms like AirBnB, Expedia and Google really work, so we can play to win," said David Dodwell, Chairman of the BTA.
"Kevin Dallas is a proven leader in cutting edge digital marketing and strategy at an innovative global technology company where he learned the inner workings of the online travel industry. We are thrilled that he is bringing this expertise to the BTA."
On Wednesday, Mr Dallas is expected to meet tourism industry stakeholders at the annual Tourism Summit, and on Thursday he'll engage with the wider public via social media.
You can watch the video live on Bernews Facebook page from 12.20pm – 12:30pm on Thursday, and we will post the replay here on our website on Thursday afternoon.
If you have a question for Mr Dallas please feel free to leave a comment on our Facebook page and we will try and have them answered during the chat, and any we cannot get to during this initial chat we can 'save' for a following interview, as he is expected to give in-depth media interviews once he takes on his new role early next year.

Read More About