On Saturday, twenty-eight National Sport Governing Bodies [NSGBs] assembled at the CedarBridge Academy to formally establish the Association of National Sport Governing Bodies [ANSGB].  The ANSGB was formed unanimously following the work submitted by the National Sports Committee.
The newly formed Association said, "The ANSGB was approved by the Sports Governing bodies because [1] the National Sports Policy, accepted by the Bermuda Government, requires that it be formed; [2] there is a need for a unified voice for issues that relate to NSGB's collectively; [3] advocacy for sport needs to happen on a broader level than individual sports organizations; and [4] the collective body of experience of all NSGB's could help deliver a greater product to more sports.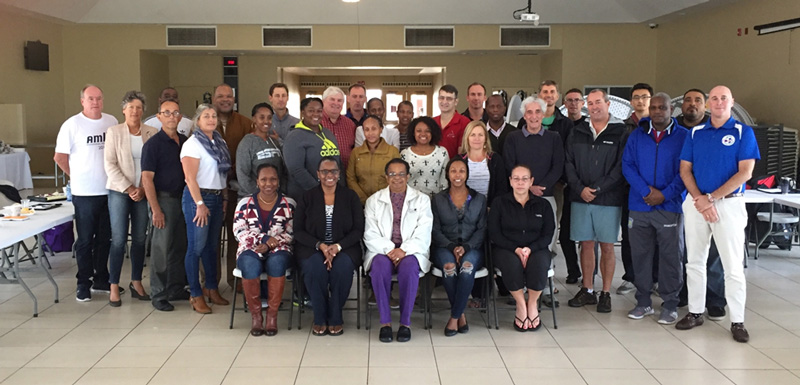 "In order to arrive at this historical milestone the National Sports Association Committee went through a five step process that included [1] "In principle" approval of the concept by authorized NSGB representatives at the Department of Youth and Sports Mini Sports Conference in April 2016; [2] preparation of the draft Constitution and operating guidelines; [3] circulation of documents to NSGB's for comments; [4] final draft Constitution distributed to NSGB's in advance of meeting; and [5] the formal creation of entity and election of the ANSGB Executive Board.
Elected to the Executive Board were the following persons:
President: David Sabir
Vice President: Peter Dunne
Treasurer: James Davis
Secretary: Pam Roye
Members: Mia Black, Sean Field-Lament, Ben Smith
The ANSGB said they aim to:
Advocate on behalf of all NSGB's on matters relating to Government, sponsorship and community.
Provide advice and strategic direction centered on the National Sports Policy to the Ministry and the Department.
Provide leadership and support to all local sport partners.
Develop programs and methods of delivery for the vision of the National Sports Policy.
Improve public awareness of sporting activities [consolidated calendar of events].
Facilitation of resource exchanges between NSGB's.
Develop best practice guidelines for NSGB's and assist in implementing them.

Read More About