The Ministry of Public Works is urging local residents to consider the safety of our trash collectors when disposing of their household waste, saying that this "comes after 15 incidents resulting in injuries to workers were logged so far for 2016 alone, totaling 1,019 hours of lost time."
"Some of the more common injuries workers experience are ergonomic injuries, such as muscle sprains, strains and tears as well as cuts from sharp objects, while some of the more serious injuries have included a herniated disk injury, shoulder dislocation, and chemical exposure to the face," the Ministry said.
"Items that people throw in the trash which cause the most injury include sharp items such as broken glass, hypodermic needles and construction materials.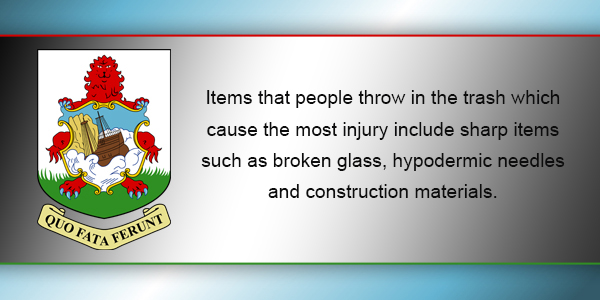 "The public can help to keep our garbage collectors safe by not placing hazardous waste items [e.g. compressed gas canisters, lead acid batteries, chemicals and hypodermic needles] with regular household waste. These items put collection staff at risk for injuries such as chemical burns, cuts and punctures.
"Additionally, construction debris and building materials [e.g. concrete block, rubble] should not be put out for collection. These items can be very heavy and often result in muscle sprains and strains. Often these materials will fall through the bottom of the bag resulting in impact injuries to the worker's body.
"Below is a list of items you should not place in your garbage or recycling bags:
Animal waste – must be flushed down the toilet or dried and wrapped in paper, placed in plastic bags, then dropped in the bin at Tynes Bay
Compact fluorescent light bulbs or fluorescent tube lights – must be dropped off at Tynes Bay
Consumer electronics [cell phones, computers, etc.] – can be recycled at the Tynes Bay public drop off
Household batteries – can be disposed of at grocers, pharmacies, hardware stores, and service centers around Bermuda
Items containing mercury, such as thermometers, thermostats and switches
Vehicle batteries and motor oil – can be disposed of at service centers around Bermuda and at the Tynes Bay public drop off
Bulky waste – can be disposed of at Tynes Bay public drop off.
"More information on garbage and recycling can be found on the Bermuda Government website at www.gov.bm/garbage-and-recycling or by calling 278-0560. Workers not only have to deal with hazards in terms of what is put out in household trash, but also when it comes to unsafe driving maneuvers by fellow road-users."
"People throw some pretty crazy stuff in their household garbage," said Safety and Health Officer for the Ministry of Public Works Derrick Simmons.
"In the past, this has included caustic cleaning products, such as hydrochloric acid and, more recently, a bowling ball was thrown out in household trash which broke through the bottom of a trash bag and injured an employee's leg.
"The collection staff wear protective gear to limit contact with some hazards associated with the job; however, we need our community to help to reduce some hazards often concealed among regular household waste."
"We have had several near misses involving our employees and the motoring public," said Mr. Simmons.
"We actually had two incidents this summer where employees were struck by passing motor vehicles while on a collection route, which amounted to 180 hours of lost time.
"We need the motoring public to exercise patience and caution when approaching a collection vehicle; slow down as you attempt to overtake a stationary collection vehicle. Our staff are likely nearby busily going about their work."
Read More About