The Royal Bermuda Regiment's latest recruits started their careers as soldiers at the weekend with a special parade and prizes for the top achievers.
Private Umar Durrant of 8 Platoon who won the award for best recruit, said: "I didn't expect that at all – but I was a Junior Leader, so I think a lot of muscle memory kicked in."
The leaders of champion 7 Platoon line up with some of the awards won over Recruit Camp.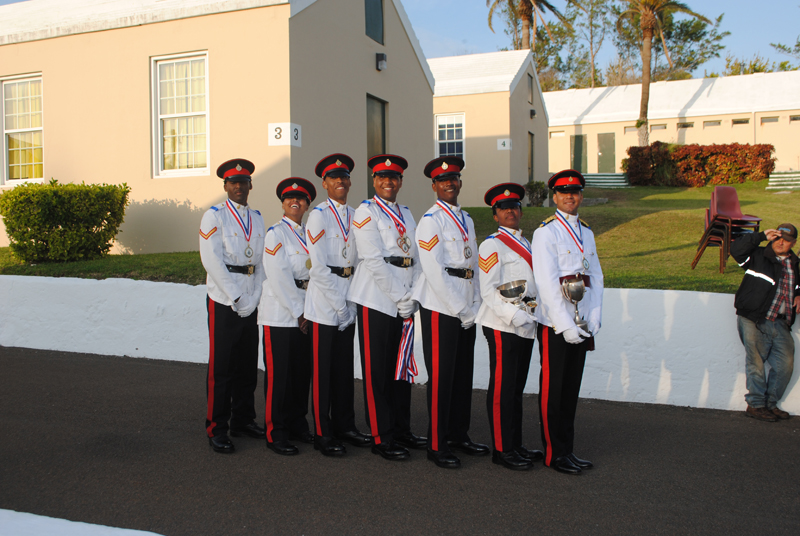 The 22-year-old supermarket employee from Warwick added: "There were a lot of other people they could have chosen. I think it was the drill that helped me – with any activity you do, you want to get the basics. After that, everything comes naturally."
Lance Corporal Ryan Eve, who joined the RBR just two years ago and led a section in 7 Platoon, picked up a string of awards for his own performance and that of his troops, including champion section, best section leader and another for the inter-section drill competition.
Private Umar Durrant, who took the prize for top recruit, with proud parents Tuere and Milton Smith.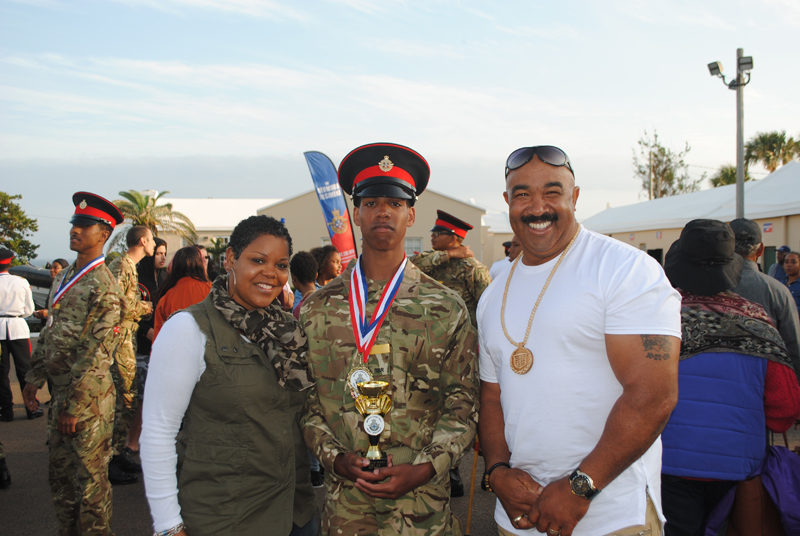 L/Cpl Eve, 24, from Southampton and an underwriter at insurance firm Argus, said: "It was a great effort by all. Everybody put their best foot forward and really showed character."
And he put his success down to "teamwork and keeping the troops motivated – but I will be glad to get home tonight."
2nd Lieutenant Samuel Hewitt, 24, who works in customer service for Argus, led 7 Platoon to champion platoon status after finishing officer training at the prestigious UK military academy Sandhurst only three months ago.
The family and friends of new RBR recruits watch the passing out parade at Warwick Camp.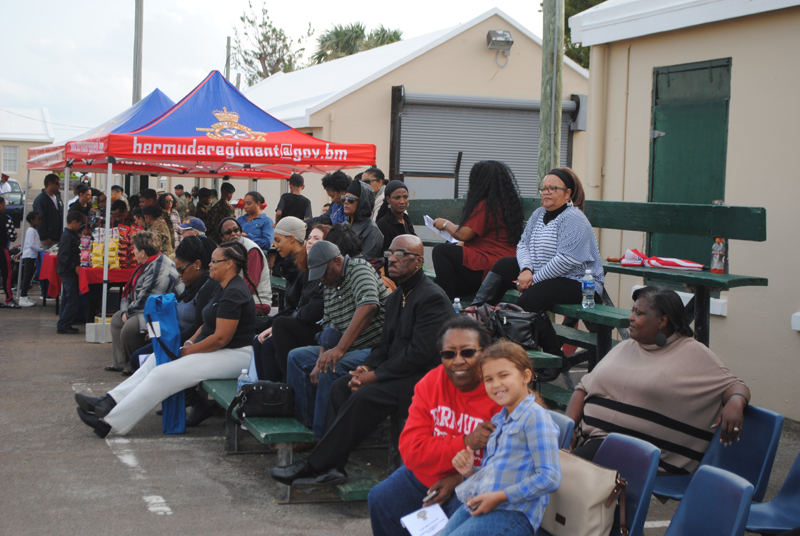 2/Lt Hewitt said: "I'm very pleased – everybody worked extremely hard for this and they deserve all the awards they've got. I could see the morale. They worked together as a team.
"It was tough for them, but they still wanted whatever they came here for, whether physical or mental. They dug deep."
The passing out parade was attended by Governor John Rankin, Acting Premier Bob Richards, Minister for National Security Jeff Baron, other dignitaries and proud family and friends of the newest generation to join the ranks of the RBR.
Governor John Rankin, escorted by RBR CO Lt Col David Curley and senior members of the Regiment, arrives for the start of the Recruit Camp passing out parade.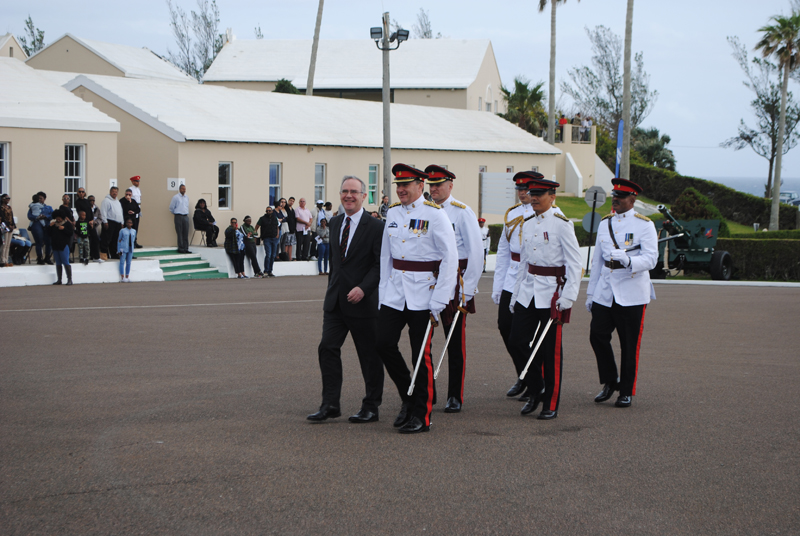 Mr Rankin, who is Commander-in-Chief of the RBR, told the crowds: "I was pleased to meet the new volunteer recruits and to ask them how they felt about what they had experienced in what was then their first 36 hours in camp. The most common complaints were the new boots were hurting and there wasn't enough time for sleep."
But he added he had been impressed by troop morale and their determination to overcome obstacles and difficulties.
Dignitaries watch soldiers on parade as this year's Recruit Camp draws to a close.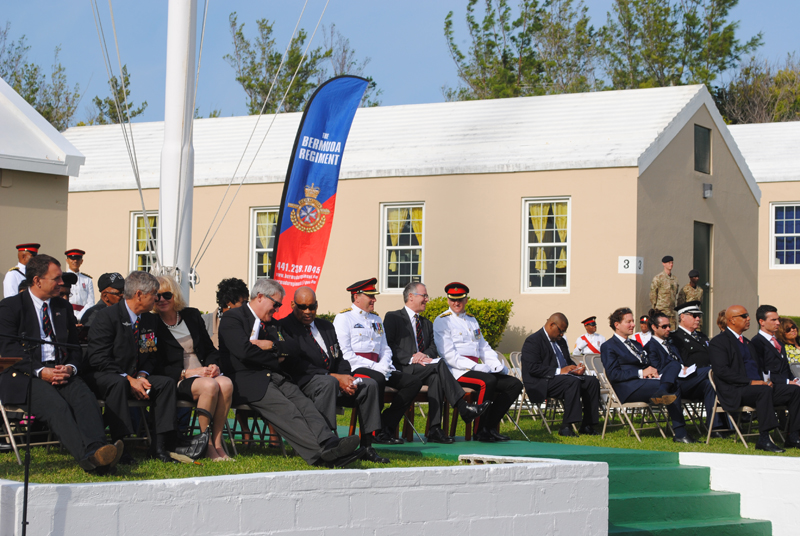 Mr Rankin told the troops: "I'm sure it was hard work, but I'm equally sure it was hard work that will stand both you the country in good stead in the future."
And he added: "I should also thank the families of the recruits for their support. Your continued support as they carry out their service in the Regiment will also be needed.
"The Regiment, I know, is a family and you are now part of that wider family."
New RBR soldiers take part in the final drill competition as the Band and Corps of Drums stand by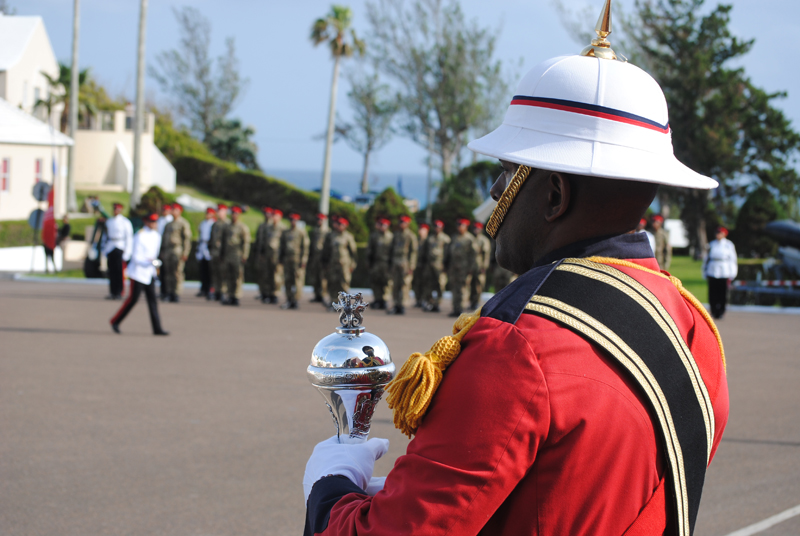 Mr Richards said his visits to Warwick Camp always reminded him of "when I was a young man marching up and down the square of this very same camp."
He added: "I have a very good appreciation of the hard work, pain, discipline and camaraderie you have experienced here. I'm sure when you leave here you will remember more the good times rather than the challenges and difficulties."
And Mr Richards said: "In fact, Bermuda really does love the Royal Bermuda Regiment and whenever they are in action, we all feel proud, just the way we feel proud this afternoon."
Soldiers of Recruit Camp 8 Platoon show of their drill at the Recruit Camp passing out parade.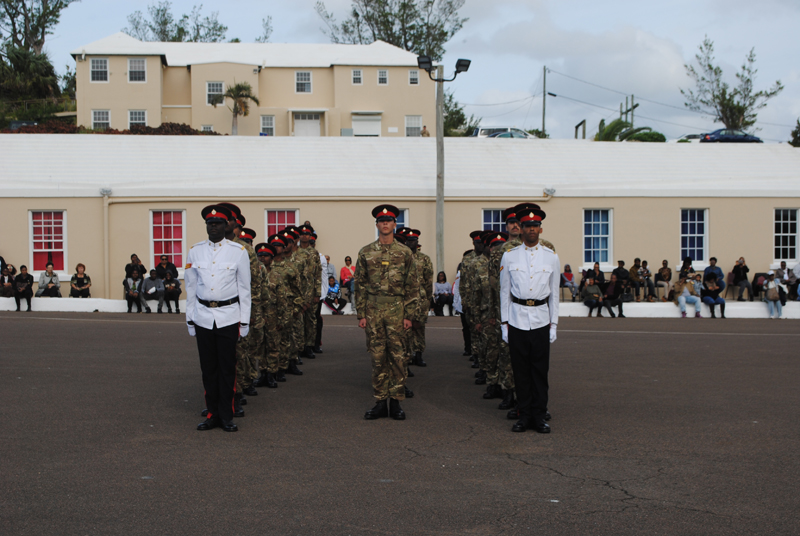 Col Curley said: "This year's intake of 60 soldiers is special because, for the first time, there was no ballot last fall. The men and women you see here before you took it upon themselves to come forward and volunteer."
He added: "The Royal Bermuda Regiment has been embodied on average once every two years. We are citizens of a small, remote and beautiful little island of limited resources and are defined by our friendly nature, can do attitude and independent spirit.
"In times of crisis, your Regiment stands ready to respond, be it by assisting the Bermuda Police Service, clearing roads after a storm or patrolling our waters."

Read More About