A commitment to strengthening friendships and strategic relationships were some of the sentiments shared by the Minister of National Security Jeff Baron, when he met Jamaica's Prime Minister Andrew Holness at the Jamaican Defence Force's [JDF] Change of Command ceremony yesterday [Jan 21].
Minister Baron is in Jamaica this weekend representing Bermuda at the ceremonial event, which saw incoming Chief of Defence Major General Rocky Meade succeed Major General Antony Anderson.
Minister Baron and Prime Minister Andrew Holness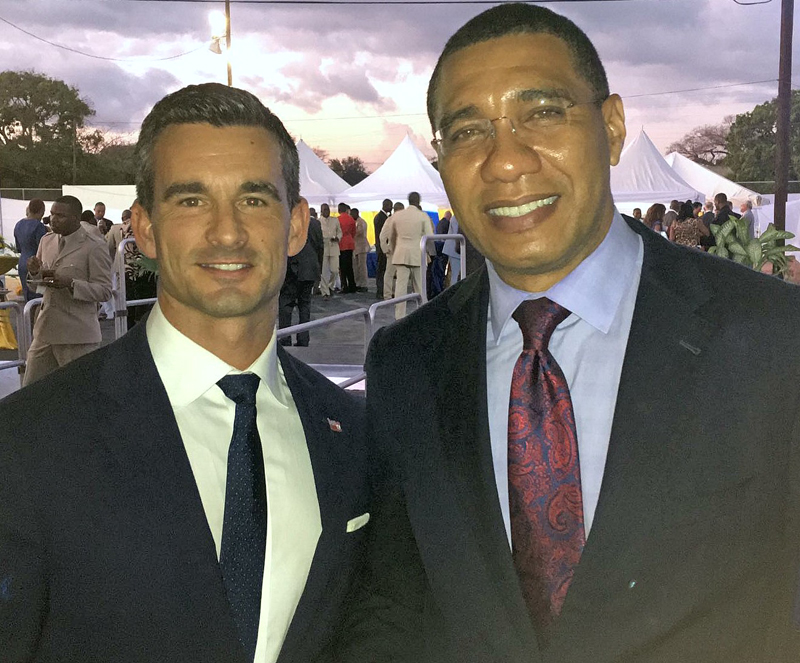 Major General Anderson who served as Chief of Defence Staff since 2010, is now Jamaica's first National Security Adviser.
During his speech at the Change of Command ceremony Major General Meade highlighted his determination to increase support for the police as Jamaica continues to tackle issues of crime and violence.
Following the ceremony Minister Baron had an opportunity to meet and speak with Prime Minister Holness.
Minister Baron and Jamaica's National Security Minister Robert Montague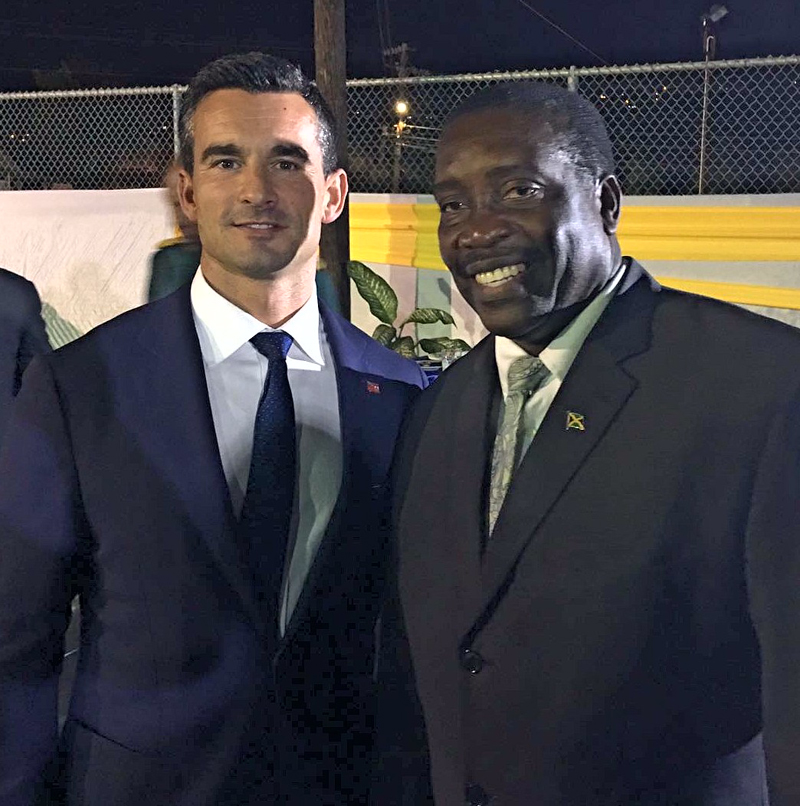 During the exchange Minister Baron extended well wishes on behalf of Bermuda and expressed his commitment to strengthening and expanding Bermuda's relationship with Jamaica.
Minister Baron also met Jamaica's Minister of National Security the Hon. Robert Montague yesterday. And the two discussed a range of safety and security matters relative to both Bermuda and Jamaica.
National Security Adviser Major General Antony Anderson with Minister Baron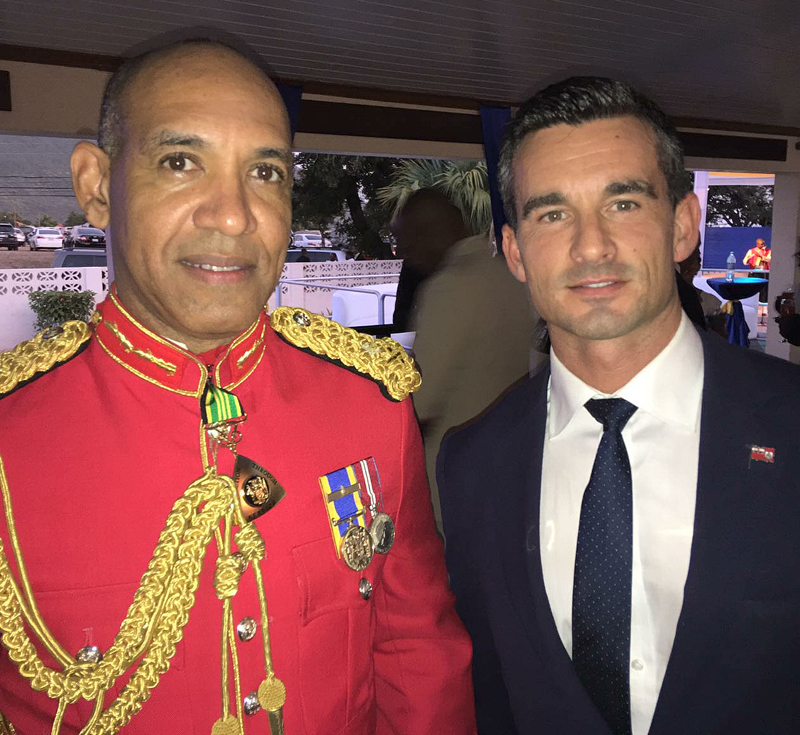 Minister Baron said, "Jamaica is such a vibrant country with a deep, rich history and culture and it was truly a pleasure for me to be a part of the Change of Command experience.
"One of the key highlights of the visit was having the honour and opportunity to meet Prime Minister Holness and Minister Montague.
"We had good, productive exchanges on a range of matters, and I extended invitations to both the Prime Minister and Minister Montague to visit Bermuda so that we could further our discussions."
Minister Baron with JDF Chief of Defence Major General Rocky Meade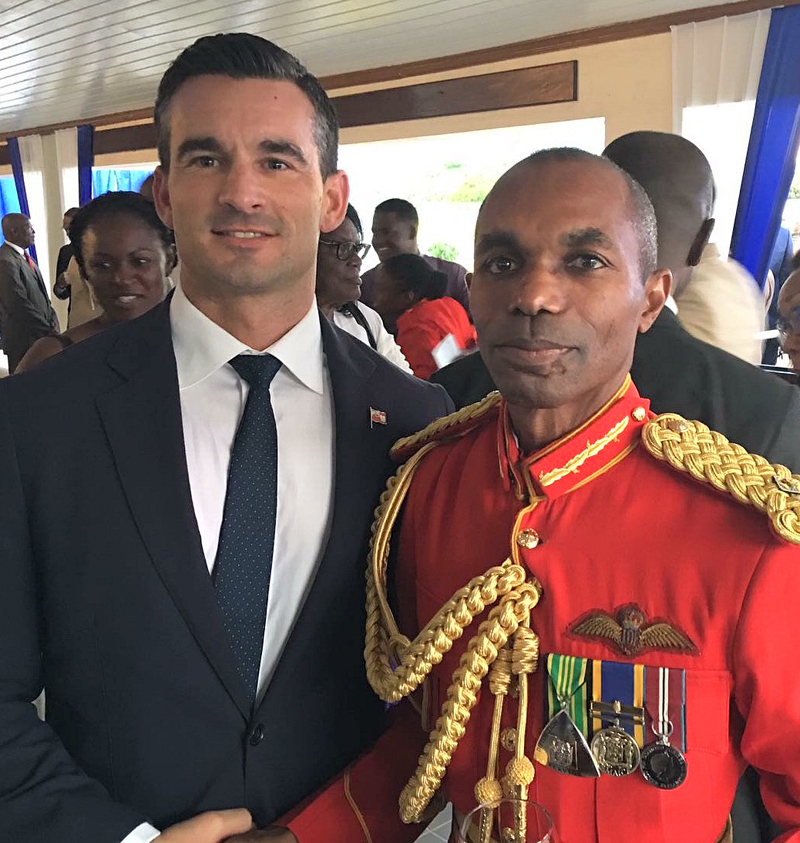 Yesterday, Minister Baron attended the funeral of Hazel Dalley in Montego Bay. For nearly 50 years, Hazel Dalley was a great source of support and assistance to generations of the Bermuda's Regiment leadership and soldiers who annually trained in Jamaica.
During Ms. Dalley's funeral, Royal Bermuda Regiment [RBR] Lt. Col. David Curley spoke about Ms. Daley's legacy and what she meant to the RBR.
Minister Baron, who was accompanied to Jamaica by Lt. Col. David Curley, returns to Bermuda today.
Read More About