The Salvation Army has extended their thanks to the community for the "enormous support" this past Christmas, saying the donations "made a huge impact in making peoples' lives better."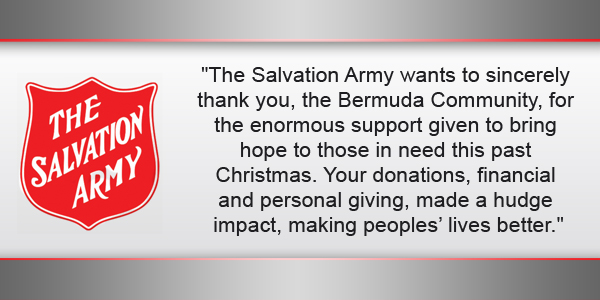 Salvation Army Divisional Commander Major Frank Pittman said, "The Salvation Army wants to sincerely thank you, the Bermuda Community, for the enormous support given to bring hope to those in need this past Christmas. Your donations, financial and personal giving, made a huge impact, making peoples' lives better.
"Thanks to the many schools, businesses, churches, International Companies, community groups, and the regular person on the street, The Salvation Army was able to assist over 1600 families at Christmas.
"A special thanks to the management of the businesses that hosted our Christmas Kettle locations and to the media for their coverage of the Christmas campaign.
"We give God thanks for the blessing given through you. While it may be to early to calculate final results for the 2016 Christmas Campaign, we know that the demand for our services will continue to increase throughout the year.
"The Salvation Army is committed to stretch donations as far as possible to help the most people this year and beyond. We continue to provide 'Hope' through our community and social programs that focus on nurturing the capacities, skills and strengths of individuals rather that just lending a hand out.
"The help the Salvation Army provides at Christmas and throughout the year is a direct reflection on God's blessings and the generosity of the people of Bermuda. Thank you for helping us show God's Love and Hope through your gifts of volunteerism, donations, and giving.
"Thank you Bermuda and God Bless."

Read More About
Category: All