The Bermuda Tourism Authority's [BTA] strategy to attract sports teams to the island for training in the shoulder season is providing a boost for local transport companies and other small businesses, the BTA said today.
A swim team of 74 visiting Bermuda have hired Titan Express for the duration of their stay. Titan's fleet of buses are transferring the 74 Indiana University swimmers as well as their coaches and support staff to and from the airport and to and from practices at the National Sports Centre [NSC].
They also planned runs into Hamilton for shopping and meals.
"Titan Express told us if not for this team coming to train in late December and early January, their buses would be parked," said Glenn Jones, the BTA's director of public and stakeholder relations.
"They hire drivers who don't have full time jobs and those drivers don't expect to get much work this time of year. So naturally, they're excited for these work hours in the winter. This is putting money in their pockets."
Image of Titan Express bus fleet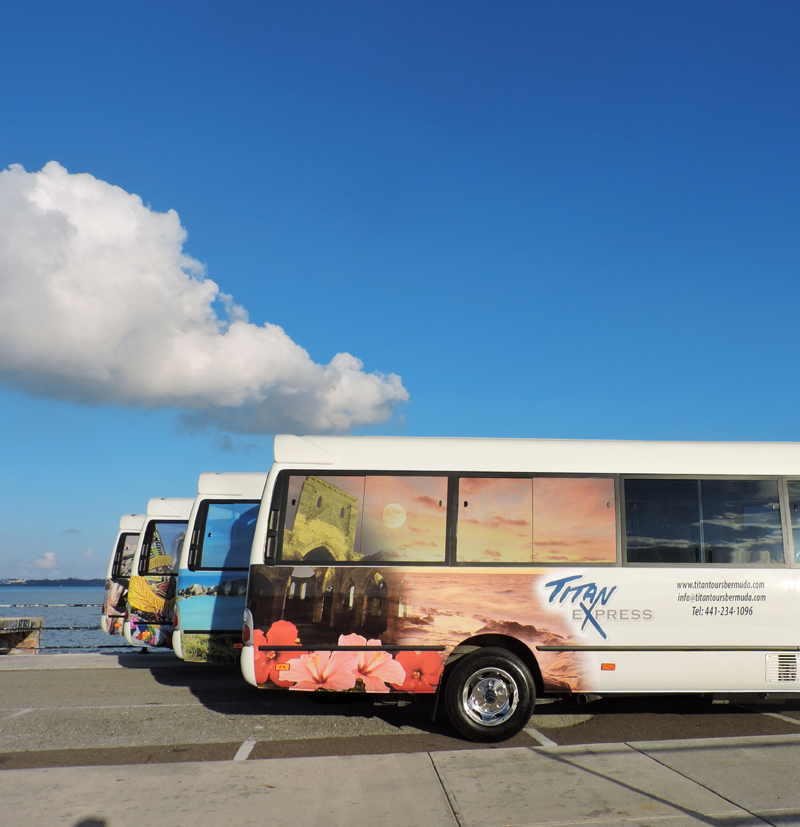 Indiana University is training in Bermuda alongside swimmers from Germantown Academy. About 100 visiting athletes will overlap at the aquatics centre between December 27, 2016 and January 5, 2017. It represents the largest contingent at the pool as part of the BTA-NSC sports tourism partnership which began two years ago.
Ahead of their visit, Germantown's Director of Communications Carla Zighelboim had no concern about sharing facilities with the larger team from Indiana.
"We have a long-standing relationship with the coaching staff at IU, and are very excited to see them while we are in Bermuda," she said. "When our team is not training we plan to visit area attractions, go snorkelling, swim, relax on the beach and go cliff jumping."
Germantown booked GAR Tours to transport its team of 30. GAR can carry up to 48 passengers. Owner George Albert Ratteray has created a niche for sports teams having also transported the Danish National Swim team when it trained here in January 2016.
"GAR Tours got rave reviews from the Danish coaching staff," said Daniel Johnson, BTA's assistant product development manager for sports. "Mr Ratteray understands the kind of service we need for sports teams and he delivers it reliably and at a good price.
"The amount of work now available to transport companies in the shoulder season is a good example of how the BTA's sports tourism strategy has a positive economic impact across the community."
"Private bus and mini bus operators are typically busy between April and October shuttling cruise ship passengers as well as air visitors in Bermuda for group travel. Between November and March the volume of business lightens," the BTA said.
"Sports teams in the shoulder season, like the swimmers from Indiana University and Germantown Academy, help to fill the gap and keep Bermudians working. Some restaurants, visitor attractions and retail outlets also experience a positive economic impact."

Read More About