Jill Husbands, Lawrence Michael Murphy, and Patrick Tannock were inducted into the Company of Honorary Fellows of Bermuda College, before a small gathering of family, friends and honorary peers at a ceremony held at the Coco Reef Hotel and Resort this past weekend.
"It was the last such ceremony for outgoing Chairman of the Company of Honorary Fellows, Mr. Walwyn Hughes, who, with his customary wit and candour, reflected fondly on his five-year tenure. He will be succeeded as Chairman by Randolph Horton with Mr. Gary Phillips deputising the role," the College said.
Dr. Duranda Greene, President of Bermuda College; Mr. Walwyn Huges, outgoing Chairman of the Company of Honorary Fellows; Mrs. Jill Husbands, Honorary Fellow; Mr. Patrick Tannock, Honorary Fellow; Tucker and Lucy Murphy [son and wife of Lawrence Michael Murphy, Honorary Fellow]; Mr. Peter Sousa, Chairman of the Board of Governors.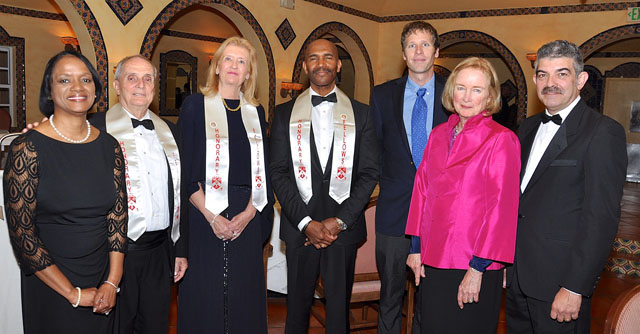 "Mrs. Husbands chose the insurance industry as a career early in her life, at the time when it was a dominantly male industry. She armed herself with the requisite qualifications, and was subsequently invited to apply for a job in Bermuda in 1978. She has been domiciled here ever since, working at Marsh in various capacities for the last twenty years, most recently as chairman in 2016.
"In 2013, Mrs. Husbands was appointed Chair of the Board of Governors of Bermuda College, distinguishing herself as the first female in a role that again, had been dominated by men.
"She served for three and a half years, and throughout her tenure underscored her belief that the College is a great place to educate Bermuda's children, allowing them to take their place in the world, often citing the number of young Bermudians currently serving in the insurance industry as an example.
"Mr. Murphy, who was absent from the affair due to a professional commitment overseas, and was represented by his wife, Lucy and son Tucker, grew up in New Jersey, and received his post-secondary education from the University of Notre Dame, where he graduated with a degree in accounting. His formal studies continued at the University of Mexico, and the Georgetown Law Center, where his concentration was tax law.
"He came to Bermuda in 1972 as the General Counsel for AIRCO, the first publicly traded reinsurer to be based in Bermuda, which later became a subsidiary of the insurance giant AIG.
"Throughout his career, he was significantly involved in the development of the captive insurance market in the 1970s, the drafting and enactment of Bermuda's very first insurance act in 1978 and the negotiation and ratification of the US/Bermuda Tax Treaty in 1988 among other achievements.
"In 1982 he formed and managed what is known today as The Association of Bermuda Insurers and Reinsurers [ABIR], and served pro bono as its CEO until 2006. In 2010 he was honoured by his peers with a Lifetime Achievement Award by the Bermuda Insurance Institute.
"Mr. Tannock is Managing Director of XL Group, and a member of the XL Leadership Council. He also serves as CEO of XL Bermuda Ltd, Insurance Operations, with responsibility for strategic direction, underwriting profitability and leadership. He also serves as President of the XL Foundation, the company's philanthropic arm.
"He began his academic journey at Bermuda College, and continued to the Austin D. Barney School of Business and Public Administration at the University of Hartford, where he later became the first Bermudian to be inducted into the Hall of Fame there in 2011. He also holds a certificate from the Executive Management Program from the Graduate School of Business at Stanford University.
"He has served in several leadership positions throughout his 30-year career in insurance and reinsurance, including as Executive Vice President, and Chief Underwriting Officer and Director of that company's specialist directors and officers.
"He is currently Chairman of the Association of Bermuda International Companies [ABIC], and is a founding member of the Financial Intelligence Agency Board. He has served as a former member of several boards, including the Bermuda Hospitals Board, the Board of Education and the Board of Directors at Butterfield Bank."
Read More About