Elizabeth Mulderig — also known by her pen name Betsy Bermuda — has written a new children's book entitled "Tiny Wins the America's Cup in Bermuda", which details Tiny's triumphant victory in which he overcomes trials and tribulations including sailing backwards and seasickness.
The book is the latest Tiny the Tree Frog adventure by Ms Mulderig, and not only includes children in the excitement of the race, but also highlights the beauty of Bermuda.
The story is a humorous one. Tiny does not excel at sailing but wants to try his best to win the America's Cup for Bermuda. Donned in Bermuda shorts, and a bright orange life vest, he sails to the starting line the wrong way and starts out backwards.
He then gets seasick, however, nothing deters Tiny from persevering. Even though the wind causes him to spins out of control, and he is almost eaten by a few birds, Tiny keeps going.
And in the end the very wind that hampered him helps him, and after much trial, tribulation and one very strong sneeze, Tiny wins the America's Cup for Bermuda.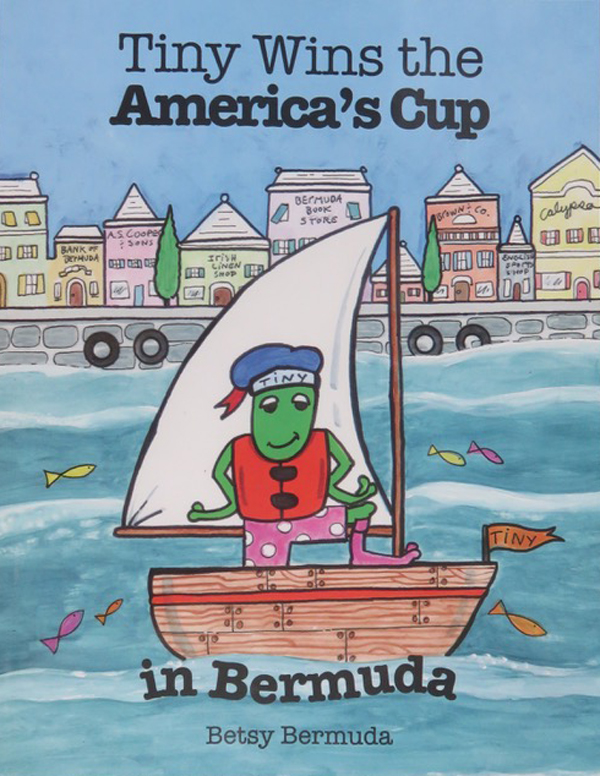 The author notes she isn't exactly very accomplished sailor saying, "I won the drama award in sailing camp and the most improved tennis player award as well. So, writing this book was a bit cathartic."
However, her husband Hubert Watlington is a very accomplished sailor, having represented Bermuda in the Olympics, and she said, "It's a good thing Hughie knows so much about sailing, he corrected a few of my illustrations where I had drawn the boats incorrectly!".
After the book was approved by the America's Cup licensing committee, Ms Mulderig worked closely with them. They helped her edit the book, along with her brother Robert Mulderig, who is also an accomplished sailor.
"I am so proud to be a part of the America's Cup especially since this is the first book for young children of it's kind. I hope that children and parents alike will enjoy the book and have a laugh or two," Ms Mulderig said.
The author has been trying to encourage reading for children in Bermuda by basing all of her stories on the island and infusing humor into them
"I make sure to show off this beautiful island in all my books," she said. "Bermuda will be highlighted in such a positive way by the America's Cup. It is very exciting that we ended up hosting such an important, internationally renowned event. And even more exciting that Tiny wins!"
Ms Mulderig's book are available at Bookmart, Bermuda Bookstore, Pulp and Circumstance, A.C. outlet, A.C. Shop and other stores throughout the island, and online at www.betsybermuda.com

Read More About
Category: All, Entertainment, News, Sports