As part of the Earth Hour Campaign in Bermuda, Greenrock will be hosting a Living Green Expo at City Hall on Saturday, March 25th from 9:00 am – 6:00 pm.
This event has been designed to connect local businesses in the green economy by providing them with a framework that encourages collaboration, sharing ideas, creating opportunities, and providing valuable information to the general public about the many products and services that can help us all Live Green.
Greenrock Director and Chairman of the Earth Hour Council, Eugene Dean, stated that "From a consumer perspective, many families and individuals interested in living green, need assistance finding practical ways for them to take their first step.
"Others, who have already started living more sustainably, need advice on how to improve beyond the basic practices that they have already employed. From a business perspective, being in front of a captive audience is always a benefit.
"However, interacting with other business owners and managers from the industry about the unique challenges and opportunities relevant to our geographical location can be considered invaluable and extremely beneficial to the growth and sustainability of any enterprise."
Video showing the Bermuda Earth Hour celebrations in 2015
.
The event, which will take place both inside City Hall and outside in the front lawn, will include free lectures and presentations about new practices, technologies and solutions for sustainability in our ever-changing world.
Greenrock will also be creating an Online Green Business Directory that will be available on their website. Their goal is to encourage healthy and sustainable lifestyles whilst promoting technologies that pollute less, use water more sparingly and consume less energy.
All businesses and / or individuals with products or services in the green economy are welcome to participate in the Living Green Expo and the general public is welcome to attend the event free of charge.
Earth Hour and the Living Green Expo are both key components of Greenrock's continued efforts to raise awareness about Climate Change whilst providing educational programs and initiatives that teach us to live in a more sustainable way.
If you would like to participate in the Living Green Expo as a vendor, presenter or sponsor please contact Eugene Dean at 516.4226 or eugene@greenrock.org.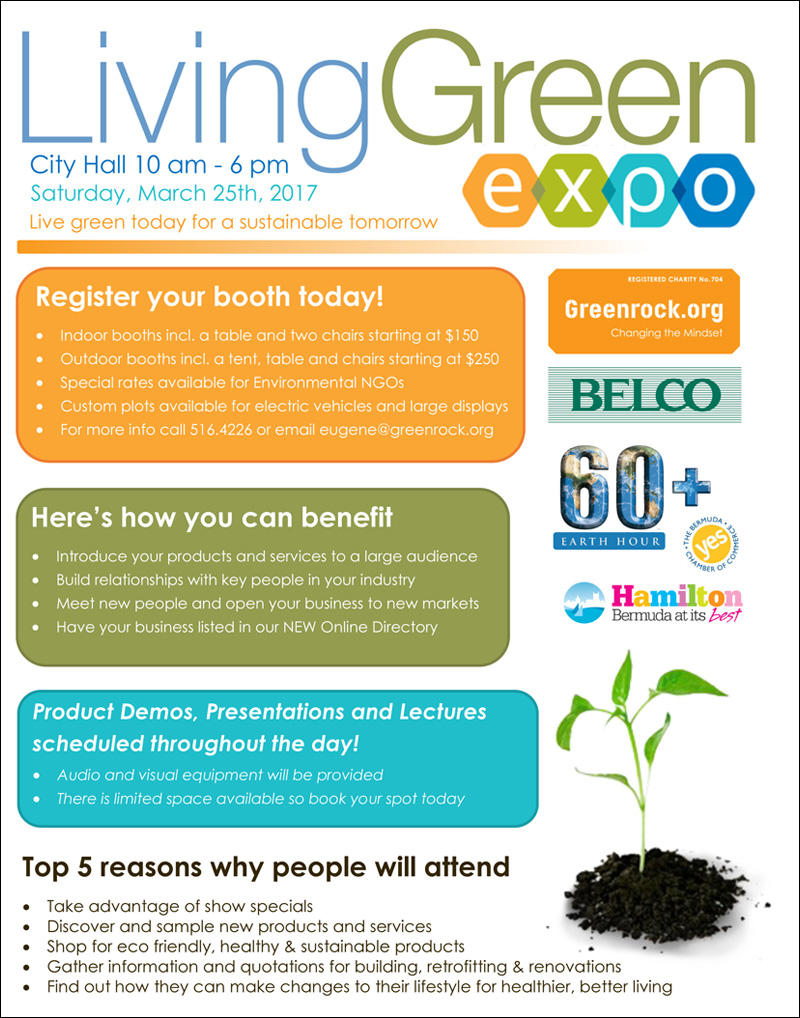 Read More About
Category: All, Environment