MJM's Employment and Immigration Team led by Director Fozeia Rana-Fahy presented to over 70 members of the Association of Bermuda International Companies [ABIC] and the Association of Bermuda Insurers and Reinsurers [ABIR] on a range of topical Employment and Immigration Law topics on January 30th.
The presentation addressed the practical impact of the Protection of Personal Information Act 2016 upon the [re]insurance industry, implied contracts where employees are seconded within group structures, constructive dismissal in the context of mergers and acquisitions, the enforceability of bad leaver provisions in light of changes on the law of penalties, recent developments with regard to team moves and enforcement of restrictive covenants, an update on immigration law, an update on employment tribunals and considerations for the industry in light of practice changes to access to court records.
Fozeia Rana-Fahy, Jennifer Haworth and Jordan Knight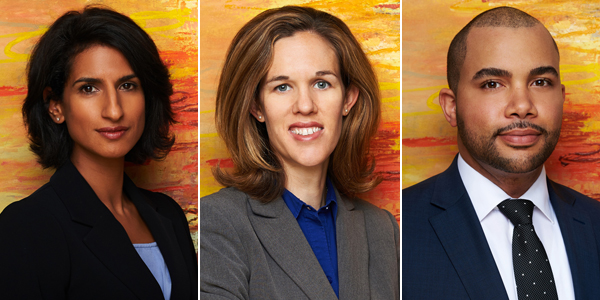 Attendees confirmed that the presentation provided precise, current and informative details for employers in an ever-changing industry.
The MJM team of attorneys, including Jennifer Haworth and Jordan Knight, was led by Fozeia Rana-Fahy who is a Director at MJM. She acts for both international and local clients in a wide range of complex disputes including general commercial matters, banking, employment/immigration, insurance, insolvency and high-value trust litigation cases.
She routinely advises and gives presentations on topical issues for the banking, insurance, trust and private client sectors in Bermuda. She also has a successful mediation practice and is actively involved in the Bermuda Business Development Agency Trust & Private Client Group Executive.
Jennifer Haworth is a Senior Associate in the Litigation & Dispute Resolution Group. Her practice encompasses all aspects of civil and commercial litigation including employment/immigration, banking, mortgage enforcement, property related disputes, insolvency, insurance, judicial review and public law. She is experienced in both mediation and arbitration and is a skilled negotiator.
Jordan Knight, is an Associate in MJM's Litigation & Dispute Resolution Group. He practices in the area of civil and commercial litigation and advises on a range of matters including employment matters, customs & immigration, property disputes, personal injury, debt collection and mortgage enforcement.
Read More About