"Because of our country's debt and the burden of servicing that debt, we've had to be very disciplined about allocating funds," Minister of Health & Seniors Jeanne Atherden, adding that, "as of April 1st, this Ministry's budget will be cut by 13%, or $23.6 million."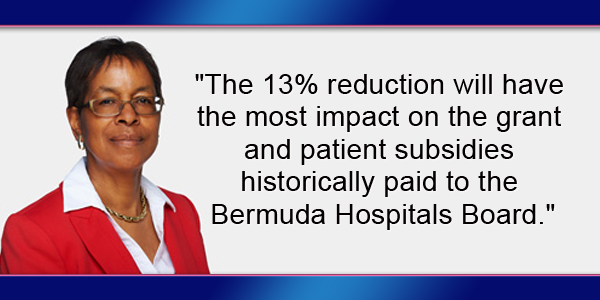 Minister Atherden said, "You will all be aware of the recent outbreak of flu, and how this put a strain on bed capacity at King Edward VII Memorial Hospital. Difficult decisions had to be made in order to optimize available bed space.
"I would like to use those difficult medical decisions as an analogy regarding the Ministry of Health and Seniors and the new budget. Because of our country's debt and the burden of servicing that debt, we've had to be very disciplined about allocating funds.
"Just like the professionals at KEMH in the face of the flu outbreak, we made some difficult decisions in order to optimise what we can do for the people of our island.
"As of April 1st, this Ministry's budget will be cut by 13%, or $23.6 million. In fact, for the first time ever, paying down the country's debt has become the most expensive item in the budget, with the Health and Seniors Ministry the second largest spend.
"The 13% reduction will have the most impact on the grant and patient subsidies historically paid to the Bermuda Hospitals Board. BHB is a quango established under the Bermuda Hospitals Board Act 1970, and is under the purview of the Ministry of Health and Seniors. Thanks to continued modernization, cost-cutting and other efficiencies as well as reserves that can tide them over, we will be able to manage this reduction. I am encouraged by their hard work to bring greater efficiencies in the delivery of healthcare.
"Make no mistake, the cost of healthcare in Bermuda is high. In fact, Bermuda's per capita health care costs rank 2nd highest in the developed world, second only to the United States. We have been working to curb those costs everywhere we can. The National Health Accounts Report 2016 shows that Bermuda started to bend the cost-curve in 2011 and we are now seeing sustained reductions in total health expenditure. The latest report shows a 1% decrease in total health spending since 2015.
"We are working to ensure this reduction translates to lower premiums for the population. We count on the support of private health insurers to reflect similar trends when premiums are adjusted over the next couple of months.
"Healthcare providers are the lifeblood of any health system. Strong collaboration between public and private healthcare providers, and economies found by working together cooperatively, will enable us to reduce costs while sustaining quality.
"The Ministry continues to collaborate with stakeholders to right-size KEMH. The hospital's primary role is to provide care for people who are seriously sick or injured. In addition, it provides a host of essential services for the community, including provision of diagnostic testing for private, independent physicians. This is an important source of revenue and this year we will be bringing the hospital's diagnostic imaging fees in line with other testing facilities on the island.
"The other issue being addressed is long term care capacity concerns. The scope of long term care is very broad as it includes seniors as well as disabled persons. As we have seen, the country's acute care capacity is being impacted by changing demographics and I have to restate the call for the whole community to rally together to take care of our elders.
"Now it's our turn to give back to this generation and provide the loving attention and care that will keep them well and at home. Our one acute care hospital is not meant to be used for housing, and the recent flu outbreak reminded us that beds are needed for the acutely ill, rather than for persons who could safely be cared for at home by their families or in another appropriate care situation. Long term care is not just about institutions, beds and bricks and mortar. It is just as much about skills, capacity and social support systems that enable those affected to have good quality of life.
"That's why long term care is a priority for the Ministry and we are working through our Action Plan to address concerns with education and capacity building. I will keep the public updated as we make progress in these areas.
"As Minister of Health and Seniors I spend a great deal of time considering the cost to the country of unhealthy residents. We want you to be healthy and happy so you can enjoy life but also for another incredibly important reason: to manage the cost of healthcare.
"The Ministry continues to work on healthcare reforms through our Bermuda Health Strategy and Action Plan. These reforms aim to improve quality, access and sustainability through essential measures like controlling chronic non-communicable diseases.
"We all have a part to play because each one of us with a preventable chronic condition like diabetes or hypertension contributes to increased costs. Making healthy choices and seeing your doctor to manage these conditions better means a better quality of life and lower healthcare costs.
"The Ministry partners with many non-Governmental agencies that promote better health, and I encourage everyone to take advantage of their phenomenal expertise. Primary care physicians should also be at the top of your list when looking for non-emergency care, rather than the emergency room. Remember that the cost savings you generate by living a healthy life and making appropriate choices for your healthcare enable us to address any gaps and deficiencies in the healthcare system. After all, it's the only system we have and we want it to function for us in the best way possible.
"I can't stress enough how important good health is to contain healthcare premiums. If we are in good health, we need less treatment, which means fewer costs and lower premiums.
"For this reason, my Ministry takes very seriously the expression 'actions speak louder than words'. We are developing and implementing initiatives to address chronic non-communicable diseases in particular, in order to help those afflicted and reduce costs.
"Our Enhanced Care pilot programme provides chronic disease management and medications for persons with conditions like diabetes, hypertension and asthma. Better management of conditions in primary care settings will result in less hospitalizations and better health outcomes for these patients.
"We are working to put in place a Chronic Disease Register to better track and manage persons with these conditions.
"BHB has put in place its Patient-Centred Medical Home to assist under-insured persons in need of chronic disease case management and control.
"We are looking for ways to enable more kidney transplants so that expensive dialysis costs can be curtailed.
"In addition, we have also introduced insurance benefits through HIP and FutureCare to assist families in caring for loved ones at home, which reduces the need for hospitalization.
"We continue to look at ways in which we can regulate healthcare in order to improve quality and safety for our population
"As you can see, we are about making meaningful change and we are trying a range of measures to tackle the challenges head-on. I believe we are making progress and I believe the National Health Accounts Report* demonstrates that the combined efforts are starting to bear fruit. We will continue to use the funds available to our Ministry to inform, educate and empower people about health issues, especially amongst the most vulnerable populations.
"I would like to thank everyone who has helped Bermuda bend the healthcare cost-curve. It has been achieved through sacrifice, and we must all be proud of what we've accomplished. We are not yet out of the woods and we must continue to improve our health behaviours and use healthcare services appropriately so we keep bringing costs down.
"Finally, I want to thank everyone in healthcare for working hard to help us all be well.
"I want to call on all of Bermuda to make healthy lifestyle choices and good healthcare choices. Without individual change we will not unlock the significant investment we are making in health. Healthy people are productive people.
"With everyone working together, the vision of our Bermuda Health Strategy will become a reality: Healthy people in healthy communities."

Read More About