Bermuda Motors are hosting Kia Technical Training at Bermuda College for Bermuda Motors Service Team, Works & Engineering Staff, Bermuda College Students and overseas guest from Cayman, Belize and Barbados. A total of 27 people will take part in the 5-day course which commenced on March 27, 2017.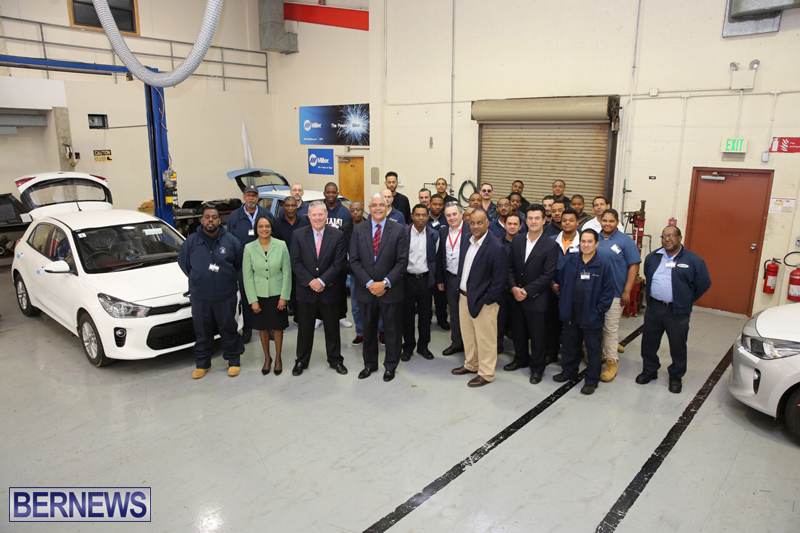 At a press conference held this morning,Bermuda College President Dr Duranda Green welcomed the trainees to the campus and expressed her delight that the training was being held on the Bermuda College Campus.
Dr Green also thanked Bermuda Motors for extending the invitation to her students to take part in this unique and invaluable training experience.
Minister of Public Works Craig Cannonier said, "I just want to say a word of thanks to Bermuda Motors for organizing this invaluable training and for including four members of staff from the Ministry of Public Works.
"This is not the first time the Ministry of Public Works has partnered with Bermuda Motors to assist in the training of Bermudians in the automotive industry and we look forward to working with them in the future."
The 8-minute live video replay of today's press conference:
David Gibbons, Chairman of Bermuda Motors, stated, "With Kia being the number 1 vehicle on the roads here in Bermuda this training is essential. This manufacturer training is the first step in Bermuda Motors' reinvestment into our workforce.
"Without such training Bermuda Motors technicians would be reliant on Kia Motors International but ultimately this training will enable our technicians to diagnose issues more efficiently and service our customers vehicles quicker. Thank you to General Manager, Kris King, and his team for their work on pulling this together."
The training will be conducted by Kia Motors International Trainer Nazzareno Mascetti [Reno], and will cover system diagnosis, theory, repairs, diagnosis practice, reporting, and electric vehicle diagnosis. At the completion of the training attendees will be certified Kia technicians."

Read More About