Bermuda's young men have a voice and something powerful to say – now it's our turn to give them that spotlight.
That's the inspirational message behind Impact Mentoring Academy's Spoken Word event taking place this Saturday.
Eleven students at the all-boys school will be sharing motivational poems and speeches to an audience of family, friends and community supporters.
Monies raised through the initiative will help to send a group of IMA students to volunteer with Feed My Lambs Ministries in Haiti from March 22 until April 1.
"It's going to be a must-see event," said Chris Crumpler, the school's executive director.
"One of the most common fears is public speaking and we regularly talk about the marginalization and disenfranchisement of men, particularly young Bermudian men, who are polarized and sometimes fear speaking out in public about who they are and what they can offer.
"There aren't a lot of platforms and not a lot of people who show they care about these young people's voices, at least that's what they tend to believe.
17-year-old Jarryd Simmons and 16-year-old Zuhri Burgess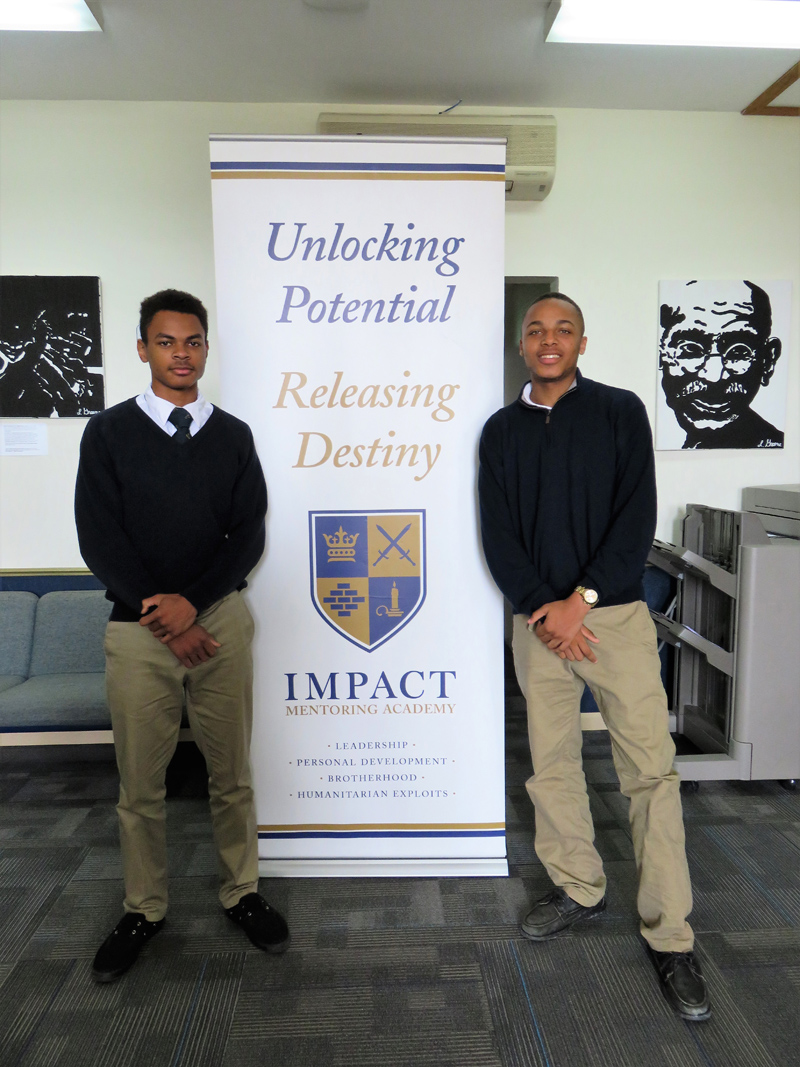 "That is why this Spoken Word event is so important. It allows us to create a platform, in front of the public, and put them on a stage to showcase how talented they are and hear what they really have to say."
Mr Crumpler said guests can expect to leave feeling "incredibly inspired" and "educated".
"People will leave and never be the same," he explained. "That's what our boys do. They change you for the better. You become stirred by seeing them take the knowledge they've learned and really soaring with it to make positive changes in their lives."
In addition to the performances, included in the $40 ticket price is dinner and dessert served by students. Also taking the stage as a guest musician will be John Seymour; while music will be provided by local DJ Brotha Richie [Lynwood Richardson].
S4 student Jarryd Simmons, 17, said he was looking forward to capturing the audience with his speech on what it means to be successful.
"Everyone thinks you have to have money, cars and all these expensive things, but the speech reminds us that success is a lot more than that. It's about raising a family and contributing to your community."
He admits he didn't think that way before joining IMA three years ago.
"I thought life was about being rich and having money," he said. "We have something here called Circle Time where we dig deeper into certain topics and one day we were talking about success and how it's not about money or material possessions.
"It impacted me because I always thought we were supposed to prove something to other people and show them you're a success by what you have or the clothes you wear, but now I see that's not the absolute truth. It's more about your character."
Zhuri Burgess, 16, will also be sharing his talents on Saturday, with a piece called 'The Fear Inside'.
Touching on topics like never giving up, digging deep and pushing past fears and doubts, the poem speaks to Zhuri personally.
He's had to overcome a lot of reservations in the past three years. First when he went away to study at IMG Academy, a sports school based in Florida, and had to deal with the academic pressures of a college preparatory course.
Another learning curve came when moved back to Bermuda and joined Impact two years ago.
"Impact has helped me to sharpen up my leadership skills and really humbled me. Before I was never able to speak about my flaws and what I needed to work on, for instance my pride. Now I can admit it's a problem and am learning how to work on it."
Zhuri encourages people to come out and show their support for him and his fellow students. "I hope people leave feeling encouraged and that all of us students will showcase our talents to the best of our abilities."
IMA's Spoken Word Night, kicking off on Saturday at 7pm, will take place at St Paul AME Church on Victoria Street, Hamilton. For more information, call 747-4621 or e-mail info@imabda.bm.

Read More About