In honour of the two year anniversary of the Public Access to Information [PATI] Act, the Information Commissioner sponsored a Public Debate by the Bermuda National Debate Team, with the students debating whether individuals should be able to file PATI requests anonymously.
The PATI Act went into effect on 1 April 2015, and grants Bermudians and residents of Bermuda the right to access public records, subject to certain exemptions set out in the PATI Act.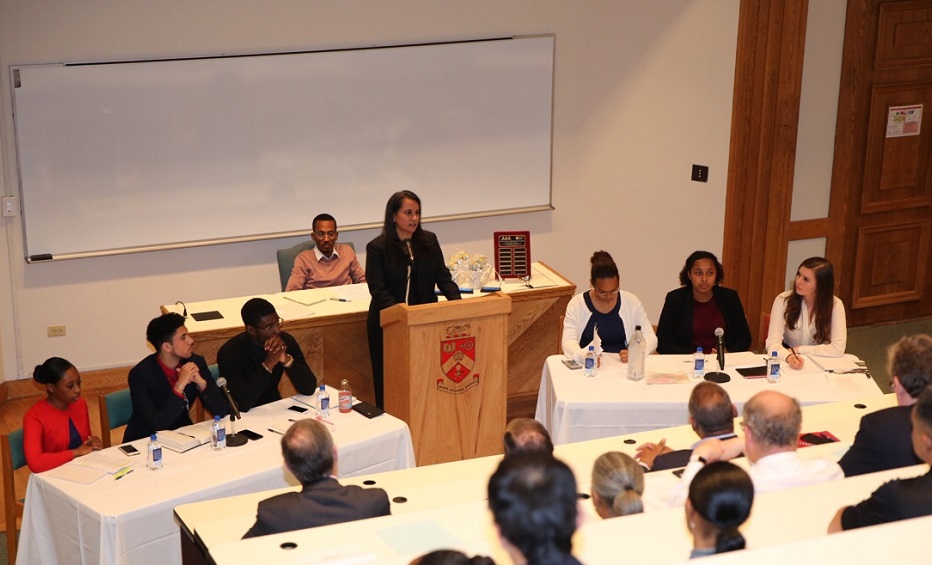 "Currently, individuals cannot make anonymous PATI requests to public authorities because the requesters must show they are Bermudian or residents of Bermuda. This limitation has raised concerns about protecting the confidentiality of a PATI requester since the PATI Act went into effect," the ICO said.
The Information Commissioner sponsored the debate to help the team with its preparation for its next international competition, with Information Commissioner Gitanjali S. Gutierrez saying, "This is a question about the evolution of the PATI Act. Who better to begin our discussion than our future political, community, and professional leaders on the Bermuda National Debate Team."
90-minute live video replay of the debate
Held at the Bermuda College, those in attendance at this evening's debate included Governor John Rankin, Premier Michael Dunkley, Opposition MP Walton Brown, former Premier Dame Jennifer Smith, John Barritt, Magistrate Juan Wolffe, lawyer Eugene Johnston, Ombudsman Victoria Pearman, former Youth Premier Ryan Robinson Perinchief and more.
The 2017 Bermuda National Debate Team members are: Yasser Baia [The Berkeley Institute], Sierra Brangman [The Berkeley Institute], Tyrese Coakley [The Berkeley Institute], Erin Jones [The Bermuda High School], Megan Sutcliffe [The Bermuda High 2 School], and Asha Symons [Warwick Academy]. They are preparing to represent Bermuda at the 2017 World School Debating Championships in Bali, Indonesia.
Read More About