Bermuda's Carifta Team will be representing the Island this weekend in Curacao, and in advance of their departure, Minister of National Security Jeff Baron and Minister of Social Development & Sports, Nandi Outerbridge presented the Bermuda National Athletics Association [BNAA] with $25,000, with the funds part of the Cash Back for Communities programme.
Minister Baron, Minister Outerbridge, BNAA President Donna Raynor, BNAA Director of Athletics Devon Bean, Youth and Sport Director Norbert Simons.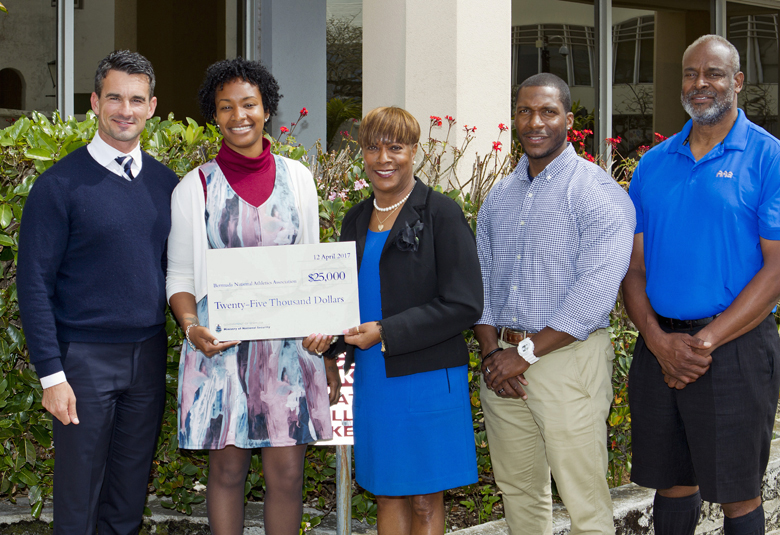 Receiving the donation on behalf of the BNAA was its president Donna Raynor. The Cash Back donation will assist Bermuda's athletes in covering expenses associated with the trip, and in making the presentation, both Ministers commended the team for their dedication and wished them success as they represent Bermuda at the Games.
The Carifta Team was also acknowledged by Premier Michael Dunkley who hosted the athletes at a Camden reception earlier this month.
Premier Michael Dunkley and members of Bermuda's Carifta Team at a Camden reception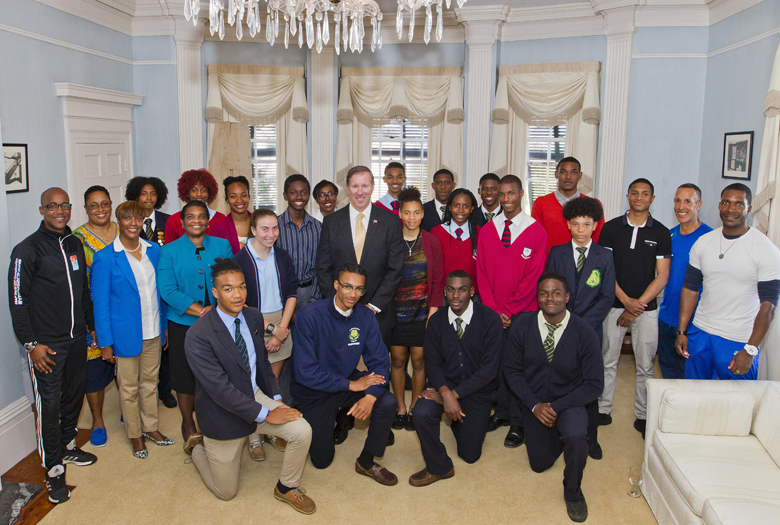 The BNAA announced its 2017 Carifta Team late last month, with 20 athletes set to represent the Island.
U18 Girls
Teliah Wears – 200m
Lyndsey Palmer – 3000m
Sakari Famous – HJ
Inshanne Smith – HJ
Zekiah Lewis – LJ
U20 Girls
Tiara DeRosa – SP, Discus
Brianna Mendes – 3000m
U18 Boys
Deneo Brangman – 400m, 4X100m, 4X400m
Johndell Cumberbatch – 3000m 1500m
Aaron Jacobs – 800m
Quincy Kuzyk – 3000m
Ryan Outerbridge – 1500m
Suresh Black – 200m, 4X100, 4X400m
Lejuan Matthews – 400m, 4X100m
Clevonte Lodge – 200m, 4X100m 4X400m
Mycal Dill – 4X100m, LJ
U20 Boys
Kevin Miller – HJ
Elisha Darrell – HJ, LJ
Stephan Dill – 100m
Isaiah Bell-Phillips – 800m

Read More About