As part of the Cash Back for Communities initiative, Premier Michael Dunkley presented cheques to five local charity and community organisations today [Nov 10], with the Lorraine Rest Home, St. George's Cricket Club, Chain Reaction, Dare2B, a and Matilda Smith Williams Seniors Residence home all receiving cheques.
The Cash Back for Communities programme is possible through the Confiscated Assets or proceeds of crime initiative, where seized funds are given back to worthy organisations who are doing good work in the community.
Premier and Minister of National Security Michael Dunkley said, "The beginnings of success in our economic recovery have not addressed every need in our community. Confidence is growing in our country and slowly, but surely, genuine growth is returning to Bermuda.
"While we work every day to improve the lives of all Bermudians there remain some who need our help more than others. As we grow this economy we are determined to forget no-one and to provide, where we can, for the most vulnerable in our community.
"As often as we can, this Government will honour its commitment to provide funds seized as a result of disrupted criminal activity back to the community for greater purposes.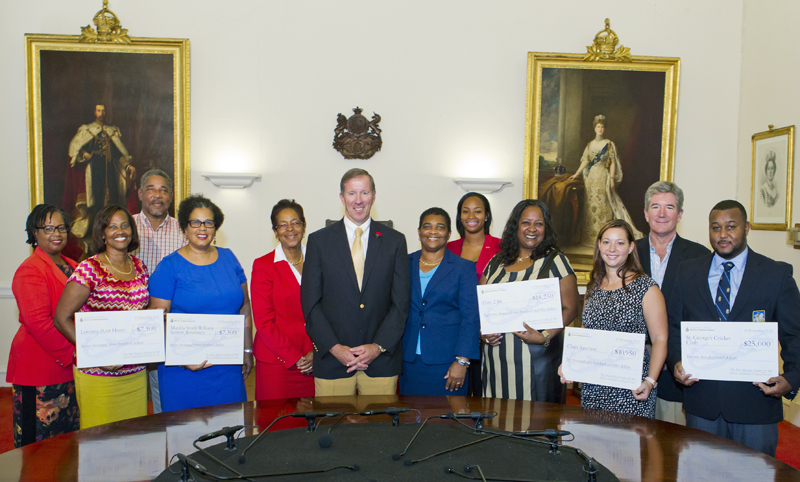 "Today I am joined by representatives of five organisations who have tremendous track records of success with their target populations.
"Lorraine Rest Home is a vibrant facility providing quality care to our senior citizens.
"St. George's Cricket Club is the core of sporting and social life of the east end and through it's programmes enriches young lives with a path to success.
"Chain Reaction is a program focused on inspiring and equipping students and teachers to prevent bullying and violence, all while cultivating a culture of kindness in schools and local communities through profound and thought-provoking assemblies.
"Community Driven Development, now Dare2B, was established in 2013 with the aim of helping those without a job, or who are underemployed, to become self-sufficient. The Programme's vision is that in collaboration with the Bermuda Government and other local charities, people will be empowered to realize their economic potential through personal transformation, education, soft skills development and to create opportunities for employment and financial independence.
"Matilda Smith Williams Seniors Residence has grown from humble origins to become a vital part of the senior care framework and continues to provide comfort to its residents who deserve nothing less in their golden years.
"In each of these cases, these funds provided today will support the work of community based organisations who are committed to positively impacting the lives of those they serve. Their strength is our strength and in helping them we help ourselves.
"I am pleased to make these presentations and to join the parents, residents and families impacted by your work in thanking you for your sacrifice and dedication," the Premier concluded.
Read More About