In the fifth, and final, in a series of profiles of the young men competing in this year's Alpha Beautillion, we spotlight Garyn Simons.
"Life is very complicated, so don't try to find the answers. Because when you find answers, life changes the question" – "Balance is not something you find, Balance is something you create."
"These are quotes that Garyn says guides his life Whenever life decides to knock him down, the quotes above are what he uses to pick himself back up," his profile, courtesy of the Alphas, says.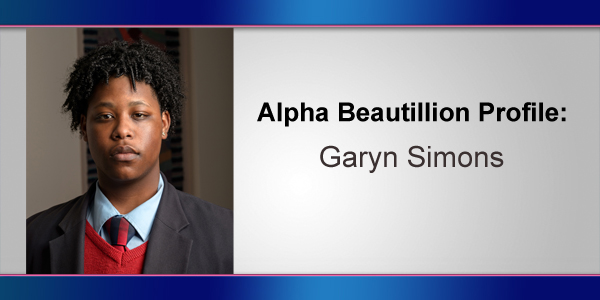 "Garyn is an exceptionally young individual who is hardworking and trustworthy. Garyn was born on February 3rd, 1999 to Brenda and Eugene Simons and is the youngest of six siblings.
"He is a fun-loving person who enjoys hanging out with friends, playing music, and enjoying new experiences. Garyn has played the saxophone for 5 years and has played the drums for 13 years. And whenever he is not having fun with friends or playing music, he is always busy working.
"Garyn attended the St. Georges Preparatory Primary school, and then went on to attend Clearwater Middle school where he finished at the top of his class in Mathematics and Social Studies at the age of 14.
"Currently, Garyn attends the CedarBridge Academy and is preparing to graduate in July. After graduating from high school, Garyn plans to further his studies at the Bermuda College before going overseas to attend Johnson & Wales University in Providence, where he has already been accepted to study culinary arts.
"Garyn has attained quite a few notable achievements. He is a graduate of the BHI's START Program. As a result of his participation in this initiative, he acquired a wealth of knowledge regarding Hospitality Industry.
"Also, through the program Garyn became a Certified Restaurant Server and CTA Certified [Certified Tourism ambassador]. Garyn has been on the Honor Roll from 2013 – 2015, and has received an award in CedarBridge's Award Ceremony in 2015 and 2016. Additionally, Garyn has performed for the Earl of Wessex with the CedarBridge Academy Band.
"Garyn Simons has plans to graduate from Johnson and Wales University, Providence, with a Bachelor's degree in Culinary Arts, and to become a Certified Culinary Educator [CCE]. He plans to travel the world extensively in order to learn about different cuisines.
"After he has traveled, Garyn intends to return to Bermuda and open his own restaurant offering authentic Bermudian cuisine that locals and tourist can enjoy. Garyn Simons is someone we will have to look out for in the future."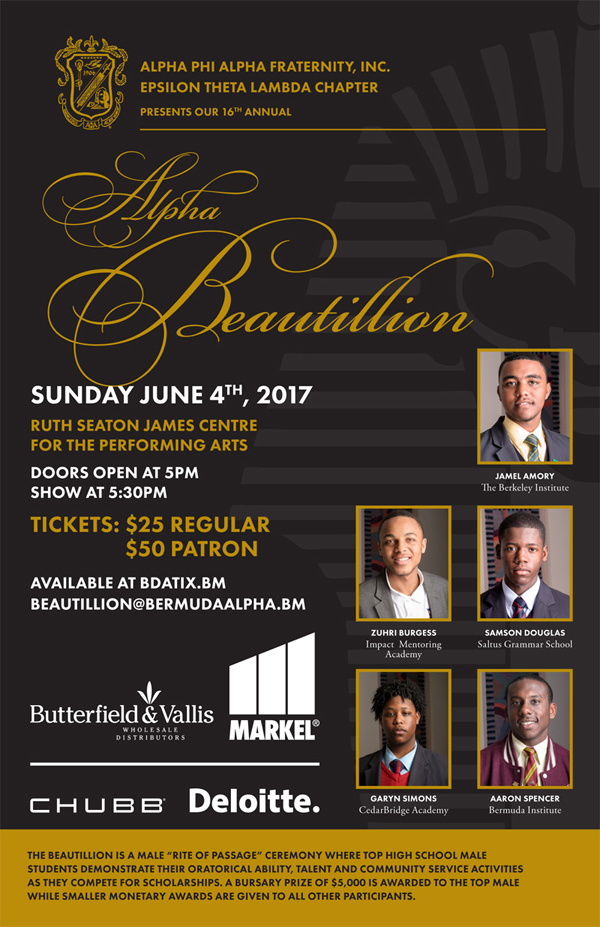 The Alpha Beautillion is a "Rite of Passage" Ceremony where top high school male students demonstrate their oratorical ability, talent, and community service activities as they compete for scholarships, with a bursary prize of $5,000 awarded to the top male and smaller monetary awards given to all other participants.
The 16th Annual Alpha Beautillion will be held on Sunday June 4th at the Ruth Seaton James Auditorium, with regular tickets costing $25 and patron tickets costing $50.
Tickets are available at bdatix.bm, and for more information please email beautillion@bermudaalpha.bm. For all our coverage of the Alpha Beautillion click here.

Read More About