"Human Rights means human rights for all humans," lawyer Rod Attride-Stirling said, adding that "same sex couples who want to marry can now do so," and "Bermuda owes a huge debt of gratitude to the two brave young men who brought this action, Winston Godwin and Greg DeRoche."
Mr Attride-Stirling served as counsel to the Human Rights Commission during the recent legal challenge by a gay couple, and he said "it was a privilege for me to appear and argue the case for marriage equality."
The HRC was an 'intervener' in the case, which the couple brought following their marriage application being declined by Bermuda's Registrar-General.
The court made a landmark ruling [PDF] in their favour paving the way for same sex couples to be married in Bermuda, with the Court's conclusion stating that "common law discriminates against same-sex couples by excluding them from marriage and more broadly speaking the institution of marriage."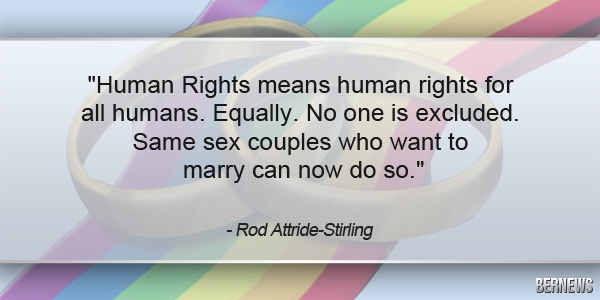 Mr Stirling said, "As counsel to the Human Rights Commission, it was a privilege for me to appear and argue the case for marriage equality. I believe the HRC will want to make its own public statement and I will leave that to them.
"But speaking for myself as counsel in the case, I can say that whilst the case involved complicated issues, the decision reached by the judge was inevitable, in the face of the now developed jurisprudence in the surrounding area of human rights law. It is a matter of great shame that the legislature did not act in this matter to put the issue beyond doubt.
"It is also a matter of great shame that the AG fought the case in the manner in which it was fought, ignoring the Bermudian cases on the proper interpretation of the Human Rights Act. This should not have been so.
"The AG should have advised the Registrar General that he was legally obligated to give the Applicants in this case, a marriage license. He did not and forced the expenditure of a great deal of money and resources for us to get to this point. We hope that this issue is now put to rest.
"I am glad see that the Bermuda court has followed the courts, first of South Africa, which decided this issue in 2005 and then the United States, which followed suit in 2015.
Mr Attride-Stirling said he is proud to see that we have followed the approach of Nelson Mandela and rejected the approach of Donald Trump and "the people behind Preserve Marriage Ltd."
"The message of hate and exclusion has been rejected. Human Rights means human rights for all humans. Equally. No one is excluded. Same sex couples who want to marry can now do so.
"Bermuda owes a huge debt of gratitude to the two brave young men who brought this action, Winston Godwin and Greg DeRoche. They will always be remembered as heroes of the human rights movement.
"I and my firm, ASW Law Limited, were happy to be associated with this case," he concluded.

Read More About