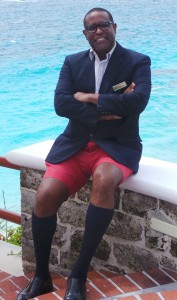 The Coral Beach & Tennis Club has appointed Marcus Jones as its new Rooms Director.
A spokesperson said, "Mr Jones, who took up his appointment on April 3rd is Bermudian and has a wealth of experience in the hotel industry.
"His responsibilities will include the operations of the front desk and housekeeping departments; coordinating the organization and administrative functions of the rooms division; ensuring that staffing is maintained at an appropriate level to match business demands; handling all guest complaints; participating in the formulation of strategic business plans and providing solutions to improve problem areas.
"Since 2012, he has been the Tour Director of MJ's Island Tours, which conducted curated tours for hotel and cruise line clients around Bermuda. Previously, he was the East End Project Leader for the Bermuda Economic Development Corporation in which role he worked on rejuvenating St George's as a tourism and business destination.
"From 2007 to 2010, Mr Jones was Manager, Hotel Administration for the Department of Tourism, and he was previously General Manager of the 9 Beaches Resort in Somerset.
"Mr Jones' other roles in hospitality have been at Grape Bay Beach Hotel, The Wharf Executive Suites, Novotel Toronto Center, Elbow Beach and Pompano Beach Club.
Mr Jones said: "I am excited to be joining Coral Beach & Tennis Club as it continues to establish itself as the best private club in Bermuda. As Rooms Manager, I am looking forward to working with the Coral Beach management and ownership team as they renovate the Club's rooms and cottages.
"I am very impressed with the way the Club combines the relaxed elegance it has always been known for with the amenities the modern traveler expects in its new rooms."
Coral Beach & tennis Club General Manager Nik Bhola said: "We are very excited to have a hotelier with Marcus's experience and knowledge on the Coral Beach team and look forward to him contributing to continuing to raise the standards of the property and delivering the product our members and guests have come to expect."
Read More About