Coral Beach & Tennis Club announced the promotion of Scott Simmons to the position of Evening Manager.
A spokesperson said, "Mr. Simmons initially started working for the Coral Beach & Tennis Club as a contractor and then joined the Maintenance Department as a full-time team member in August 2015. He was recognized as the Colleague of the Year for 2016 and was later promoted to Maintenance Supervisor later that same year.
"Ownership is pleased to recognize Scott's contributions to the success of our operations once again, with his new appointment to Evening Manager. In this capacity Scott will be in a more guest interactive role and will have the opportunity to further enhance our Member and Guest experience.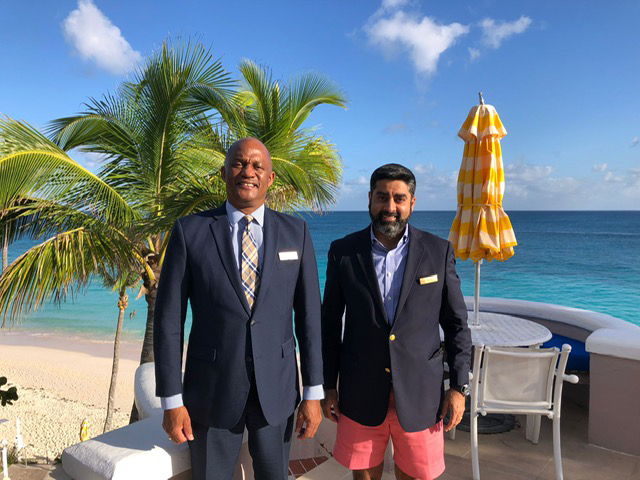 On his promotion, Mr. Simmons said "I have enjoyed the past six years at Coral Beach and am grateful for the confidence placed in me by the Club, and I look forward to this next exciting chapter.
"Hospitality can be a challenging and rewarding industry, and I encourage more young Bermudians to pursue a variety of careers within it. I have seen firsthand how the training and development being offered can lead to progression."
Nik Bhola, General Manager of Coral Beach & Tennis Club added "As we look forward to the growth of the Club in the coming years, we are putting in place a structure that will support it. In this newly created capacity, Mr. Simmons will also be well positioned to provide an additional level of leadership support to all colleagues, our most valued asset, and the foundation of the exceptional service reputation we strive to uphold."
The company said, "Mr. Simmons, currently the Member of Parliament for Constituency #32, Southampton West, has already started in his new post and has embarked on a new training program tailored to set him up for success in his new capacity.
"Scott Simmons was educated at Bermuda Institute, Bermuda College and the University of Toronto. His professional career began with the Bermuda Police Department, where he served as a police cadet and a police constable, and further developed at the Bank of Bermuda, specifically in Corporate Banking, Corporate Trust and Global Custody.
"He joined the hospitality industry at Princess International's Group of Hotels in Bermuda as Night Manager, Assistant Manager, Director of Security and then Assistant Manager. His experience in smaller hotels included professional development at Cambridge Beaches and the Coral Beach & Tennis Club. Scott was a candidate in the last three elections.
"He has also served as a Public Relations Officer of the PLP, and was appointed Press Secretary to the Premier and Senior Advisor for Media Relations. Following this, he was asked to serve on the Boards of Tourism, Works and Engineering, Immigration and Bermuda National Parks.
"Scott is the Chairman of the Board of Immigration and is a Director of the Bermuda Airport Authority. He has one daughter and lists fishing, running and reading as personal pursuits when time allows.
"Coral Beach & Tennis Club is a private members Club situated on 26 acres along the South Shore in Paget, Bermuda."
Read More About