There's no one-size fits all formula to getting people passionate about the hospitality industry, but if you ask Coral Beach Club they would say it boils down to valuing each team member's unique skills and talents – and recognizing their hard work.
The private members-only club has been committed to training and developing its staff for the last two years – since coming under new management. In March 2015, they hosted a job fair and hired 30 new Bermudian team members.
"We definitely have a passion for showing Bermudians, but especially young Bermudians in particular, that the hospitality industry is one worth getting involved in," said Andrea Bhola, the club's training manager.
"So many young people want to get into actuarial science or business, but the hospitality industry is a very fulfilling industry and there are huge opportunities for young Bermudians to take advantage of.
"We are hoping if we instill this passion in them over the summer months that will encourage them to join the industry later on, because at the end of the day not everyone can be an actuary or accountant.
"We want to make sure we expose them to all aspects of the industry and really do our bit to show them how great it is."
In order to accomplish their goal, Coral Beach Club started working closely with Bermuda Hospitality Institute in February 2015.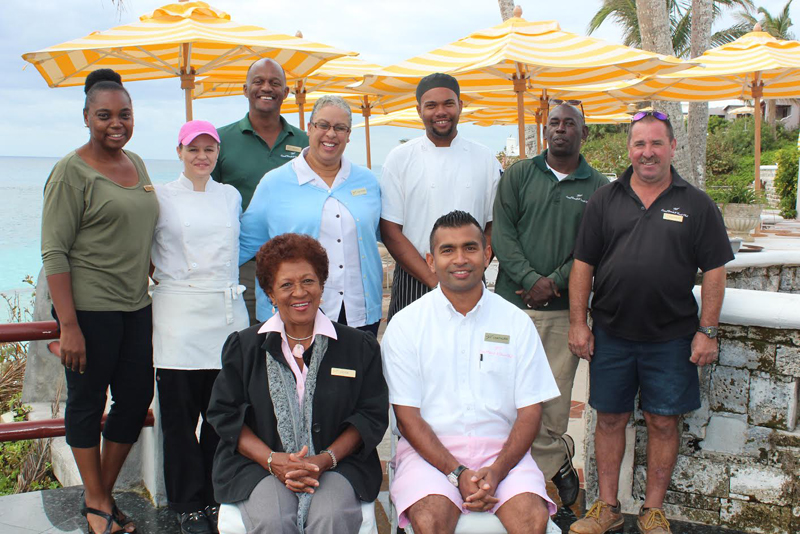 Through the BHI's Career Pathways programme, they were able to expose two CedarBridge Academy students to the industry – one interested in the culinary arts and another in the administrative side of hospitality.
"We've also had a handful of students join us for the START programme over the past two years who come in and work with us on Saturdays," Mrs Bhola explained. "We put together a varied schedule so they could work in different departments and have a good overview of the property over the four months.
"They were here from 9am and would stay for four hours and instead of them being just at the front desk or in food and beverage, we moved them around so they could sample various different parts of the hotel.
"It allowed them to see the diversity of the product we have because sometimes when people think of hospitality they think of front desk, the kitchen or housekeeping, but we have so much more to offer here."
Three local students in particular excelled in that: Gianluca Guglielmucci, Kairah Woolaston and Ramsay Saggar.
"START gives young people a chance to get out of a classroom where a teacher is telling them about something and actually get to experience it in an operational setting," Mrs Bhola said. "You see them taking on more responsibilities and growing in confidence with each passing week."
Mrs Bhola decided herself at a young age to pursue a career in the hospitality sector.
"From an early age, probably in my teens, I decided I wanted to be a chef," she said. "I had a huge passion for cooking when I graduated from high school in South Africa, but sometime after going back to my country in Ireland for college I was convinced to get into the business side of hospitality instead.
"I did a Business and Technology Education Council qualification, which is a two-year diploma that covers all aspects of hospitality from being in a kitchen to hospitality management. After that I decided to go to University of Surrey to study hotel and business management.
"I've been a strong supporter of this industry ever since. There is so much opportunity for travel and to use your skills – and no two days are ever the same."
The biggest reward is making other people happy. Mrs Bhola still gets a rise out of seeing a positive guest comment card describing how much they enjoyed their stay.
"I really love when I see a team getting mentioned for doing something positive or when we have a wedding here and the bride and groom leave happy – those are the moments you remember," she said. "Those are the moments that help people form a connection with the island and the people here, which lasts a lifetime."
One of her priorities as training manager has been to learn about each staff member and figure out ways to get the best out of them.
"Our culture is to make our team happy," she said. "We do our best to take care of staff and have incentives like a Colleague of the Month programme and something we call 'Coral Cash'.
"With 'Coral Cash' if we catch a team member doing something right and going above and beyond for our guests, making a 'wow' moment, we present them with these cash coupons. They can save these up and cash them in for a gift card for gas or to top up their phone.
"It's nice to give people a pat on the back, but it's also a way for us to show them we appreciate what they do. It motivates them to keep up the good work and go the extra mile to make visitors feel welcome."
For more information on BHI's training programmes, visit www.bhi.bm.
Read More About