[Updated] The Preserve Marriage group — which has been campaigning against same sex marriage — will be holding a "peaceful demonstration" from 12:30pm to 1:30pm on Thursday, May 25th at the Parliament Grounds.
"All people of Bermuda [Faith & Non-Faith] are being invited to take a stand for marriage to be One Woman and One Man," a promo the group posted online said.
Preserve Marriage supporters gathered at a press conference today: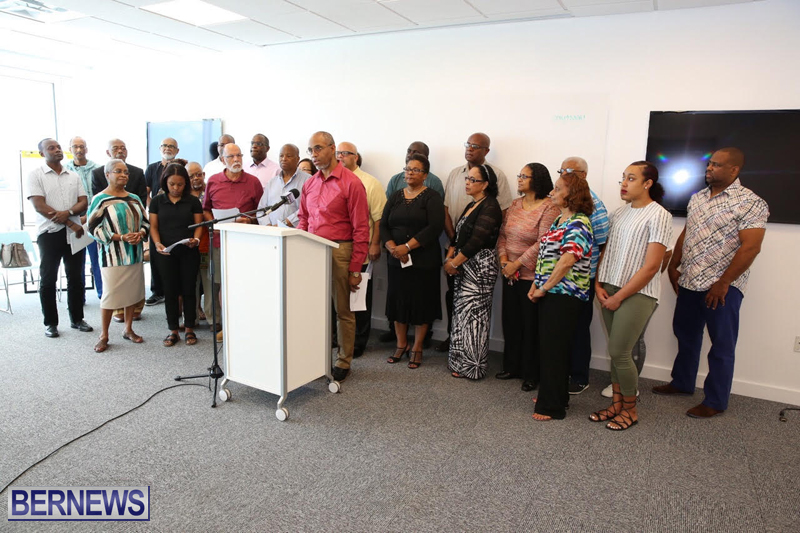 This scheduled demonstration follows after a landmark court ruling paving the way for same sex marriage, which was subsequently followed by a Private Members Bill brought by MP Wayne Furbert which seeks to define marriage between a male and a female.
Winston Godwin and Greg DeRoche filed a legal challenge after their marriage application was declined by Bermuda's Registrar-General, and the court ruled in their favour , saying that the "common law discriminates against same-sex couples by excluding them from marriage and more broadly speaking the institution of marriage."
Following the ruling, Minister of Home Affairs Patricia Gordon Pamplin said the Government  "will not lodge an appeal against the judgment" and "will implement the necessary steps to ensure compliance."
Preserve Marriage publicly stated they do not agree with the decision not to appeal, and called on the Government to "responsibly appeal the current ruling."
Live video replay of Preserve Marriage's press conference today:
However according to three lawyers involved in the legal case, an appeal was unlikely to succeed anyway, with lawyer Rod Attride Stirling stating, "the Government had no prospect of succeeding on an appeal."
Following the court ruling, MP Wayne Furbert brought a Private Members Bill seeking to make an amendment to define marriage between a male and a female. This will be his second attempt to bring such a Bill, with the first attempt back in 2016 passing in the House, but being stopped in the Senate.
Update 5.36pm: A police spokesperson said, "The Bermuda Police Service [BPS] is aware that appeals are being made for the public to show support at a planned demonstration at the House of Assembly regarding same sex marriage between 12:30pm and 1:30pm on Thursday 25th May.
"A policing plan has been developed to accommodate a peaceful gathering while ensuring the functions in the building are not interrupted.
"The public can expect to see an increased police presence in and around the House of Assembly to assist with managing the anticipated activity.
"Currently, the plan is to keep the streets open around the House of Assembly, but this may change if the need arises. The media will be kept informed of our plans, and the public can receive updates via our social media feeds.
"Business owners in the vicinity, and anyone planning to attend those businesses, should plan for additional activity in the area.
"The BPS has been communicating with the event organisers to share these plans and ensure that everyone knows what to expect on the day.
"We anticipate that any activity in relation to this public demonstration will be conducted peacefully and lawfully and any questions in this regard should be directed to the Operational Planning Unit on telephone 247-1362. "

Read More About