Kingdom Dynamics Bookstore will host a book signing on Thursday, July 27 from 4.30pm to 7.30pm with Rev. Dr. Deborah R. Evans, who recently released the book "Nuggets of Inspiration."
The books introduction says, "The Bible says, 'Pleasant words are as a honeycomb, sweet to the soul, and health to the bones.'
"During various seasons of life, sometimes there is a particular song, a cliché, a saying, a defining thought or idea; that can be a motivator; and that can provide the energy and the fortitude to keep on moving, when it would be easier to stand still and do nothing.
"The Word of God has been just that for me. There have been many a times when the Spirit of God would drop a thought, an idea, a nugget, that would remain with me and become the fuel in me to keep striving, reaching and possessing all that was for me."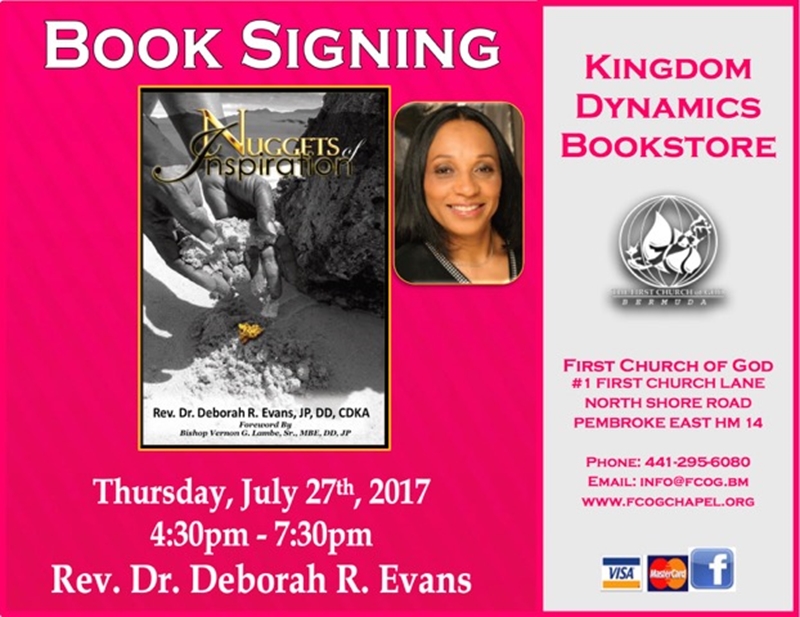 "A nugget is a valuable or significant thought, idea or fact. Thus, "Nuggets of Inspiration," are excerpts that have been extracted, from messages that God has granted me to preach and teach, over the past thirty years, in Bermuda, USA, Caribbean and Africa.
"I am honored that God has given this assignment at this particular season in my life, and has provided the opportunity to share some of the scenes of my life through these "Nuggets," that encompasses, the good, the bad and the ugly. To also share experiences of how living a life in and for God, He can move you from the ashes to anointing, mess to ministry and shyness to significance, for His glory and to be a blessing to others.
"My prayer is that "Nuggets of Inspiration," will inspire you, and give you something of value to hold on to from my experiences through the Word of God.
"Deborah R. Evans is the only daughter of four children to Joyce Daniels [Darrell]. She is the wife of some 43 years to Kuhn Evans Sr. and the mother to three sons, Kuhn Jr., Deforest and Kelljon, and the grandmother to Debre', Re'yne, Kauai, TaeJi, Michael, Matteo and Amir.
"She was saved on April 12, 1981 under the ministry of Bishop Rev. Dr. Vernon G. Lambe Sr., at the First Church of God, Angle Street. When the North Shore church was built in 1981 she moved there with Bishop Rev. Dr. Vernon G. Lambe.
"Pastor Debbie has been involved in various ministries at FCOG-North Shore, choir member, Sunday school teacher, worship leader, coordinator of Children's ministries, Coordinator of Christian Education, developer and teacher of new members and discipleship classes, counselor, television ministry, prison ministry [a mentor for over 30 years at CO-Ed Facility], women's ministry.
"While Dr. Evans has been through much adversity in her life, she believes that 'adversity is the fuel for achieving.' And that one must not settle for being successful, but should strive to become significant in the lives of others,
"Sis. Debbie, Aunt Debbie, Momma Debbie, Elder, Pastor Debbie, Pastor Evans, Pastor D., Dr. Evans loves the Lord, loves her family and has a special passion for studying, teaching and preaching the Word of God. Her heart's desire is to win souls into the Kingdom of God and fulfill God's ultimate purpose for her life. God has blessed Dr. Evans with the gifts of administration, pastor, and she ministers under the apostolic and prophetic anointing of God.
"Join us at Kingdom Dynamics Book Store on Thursday July 27th 4.30pm to 7.30pm. as we host the book signing for Rev. Dr. Deborah Evans and celebrate her new release."

Read More About
Category: All