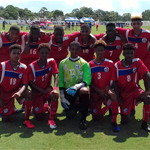 Bermuda began competing in the CONCACAF Under 15 Boys Championships in Florida, playing to a 2-2 draw against Martinique.
Bermuda Starting Line up: Ayleal Dill, Dennis Zuill, Nahje Smith, Arnezha Astwood, Nazuri Dailey, Jayden Ebbin, Jai bean, Ne-Jai Tucker, Canijzhae Nesbitt, Seke Spence, Jayce Fraser – Substitutes: Jayce Basden, Zaire Smith, Malachi Trott, Leroy Lewis, Kashe Hall, Diione Millett, Zavier Smith
Bermuda's opening game in the CONCACAF Under 15 Boys Championships was delayed due to a thunderstorm that moved through the area, however the match got underway, with Bermuda matching up against Martinique.
Martinique scored twice in the first half, and took a 2-0 lead into the half time break. However, Bermuda pressed hard in the second half, and with 15 minutes left in the game Bermuda pulled themselves back into the game when Ne-jai Tucker scored. Minutes late Bermuda would find the equalizer as Spence scored from some 20 yards out.

Read More About