The Bermuda Debate Society entered a team into the World Schools Debating Championships, this year held in Bali, Indonesia.
Following a competitive selection process, a team comprised of Megan Sutcliffe [18, Bermuda High School graduate], Tyrese Coakley [17, Berkeley Institute], Yasser Baia [17, Berkeley Institute], Sierra Brangman [16, Berkeley Institute], and Asha Symons [16, Warwick Academy] were put forward for Team Bermuda.
L-R: Asha Symons, Megan Sutcliffe, Tyrese Coakley, Yasser Baia, Sierra Brangman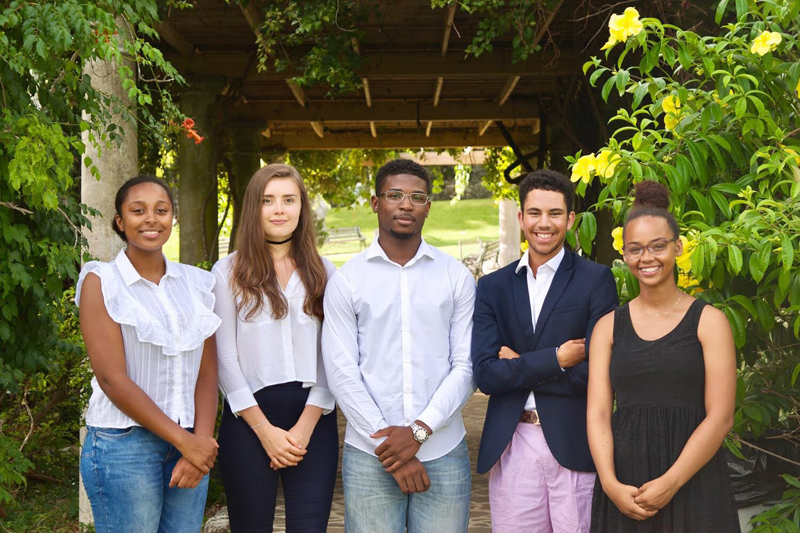 The group had an early success against highly skilled hosts, Team Indonesia in preliminary rounds before suffering close losses to England, China, the Czech Republic and Estonia. The team was unable to complete the preliminary rounds as three members of the team suffered injury or illness, with one debater requiring hospitalisation.
The withdrawal was unforeseen and unfortunate in circumstances when debates were planned previously with Peru and Sweden. Those two teams ultimately had a bye-round for the rounds against Bermuda, with the results calculated based upon the majority of the team's results in the seven other rounds.
This is Megan Sutcliffe's last year debating for Bermuda at the schools level as she heads to a joint programme between Sciences Po and University College London. The remaining team members are all eligible for competition at Worlds next year, when Croatia and Slovenia will host, together. The debaters are committed to working hard to achieve more conclusive wins next year, and the change of format to power-pairing on a trial basis is believed to assist in that goal.
The team would like to publicly congratulate their Bermudian peer, Kenza Wilks, part of the runner-up Team England, last year's champions. Mr Wilks is a recent graduate of Dulwych College and is the son of local businessman, Glen Wilks. Mr Wilks won the top speaking prize of the hundreds of world-class debaters, effectively certifying him as the best schools- level speaker in the world.
The team was coached by Akilah Beckles and Wanda Gibson went to the tournament as a judge.

Read More About