The EY Bermuda Coastal Cleanup in support of Keep Bermuda Beautiful [KBB] will be held on Saturday, September 16.
A spokeperson said, "The annual island-wide event gives volunteers an opportunity to enjoy time spent outdoors combing the beach, snorkeling or diving underwater to remove litter and marine debris and maintain Bermuda's beaches and coastline which are known for being beautiful and pristine.
"Participants who join the EY Bermuda Coastal Cleanup will be part of a global effort to reduce ocean pollution. It is the 32th International Coastal Cleanup and people will be participating in similar cleanups on the same day all around the world.
"Participants are asked to be 'citizen scientists' for the day and, not only clean up, but categorize and tally each piece of litter on a data collection card. The information from the data cards is collated by KBB, which is the country coordinator for Bermuda, and then sent on to Ocean Conservancy's headquarters in Washington, D.C."
KBB mascot "The Litter Critter" kicks off last year's EY Bermuda Coastal Cleanup: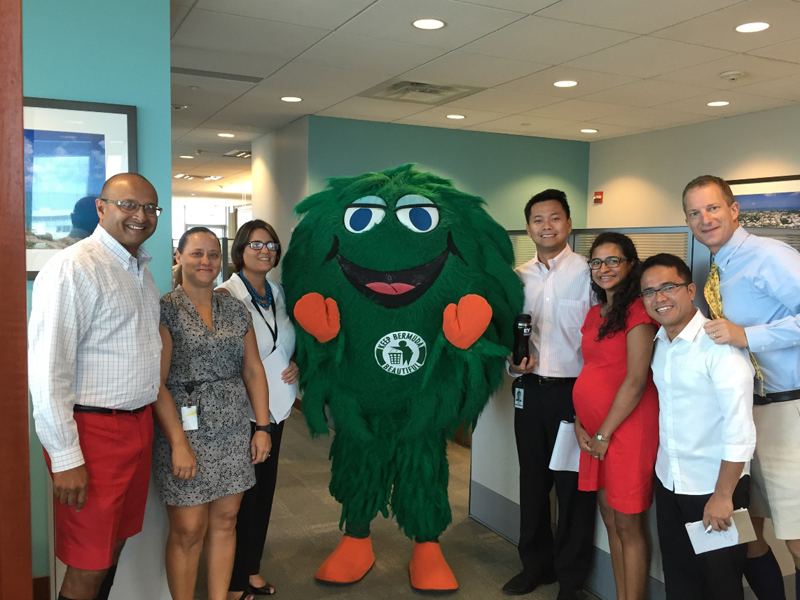 "Ocean Conservancy reported that, in 2016, 112 countries participated and more than 504,500 volunteers picked up over 18 million pounds of trash worldwide. Bermuda's results for the 2016 EY Bermuda Coastal Cleanup showed that 429 people in 31 locations picked up more than 8,151 pounds of debris from Bermuda's shoreline."
Anne Hyde, KBB Executive Director said, "More people are becoming aware the problems of trash and ocean pollution and want to do something about it. It is easy to join the EY Bermuda Coastal Cleanup. Simply gather a team of family, friends and colleagues.
"Select a location or ask KBB to assist with selecting a location. Register your team by calling 295-5142 or register at www.kbb.bm. Individuals are also welcome to join the event but you must register and find out when to pick up supplies and the data collection cards.
"There is a list of suggested locations, but these are only suggestions. It does not necessarily mean that there will be a team at every location on the list. That is why it's important to contact KBB, so you know where to help out on the day of the event."
EY employees and the debris collected from the shoreline last year: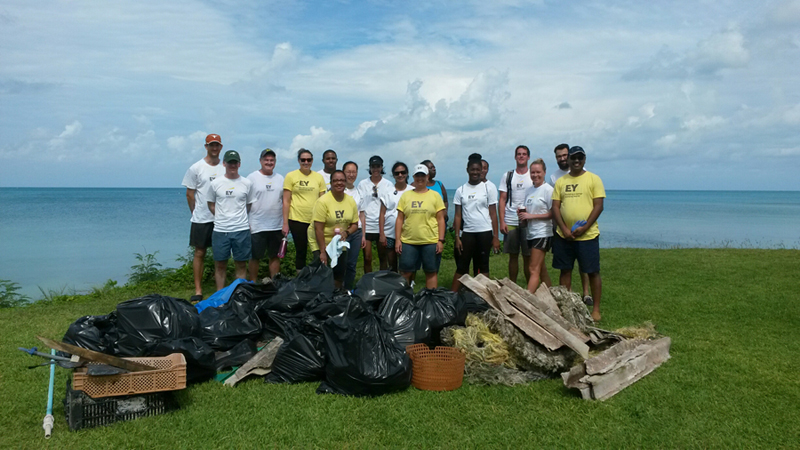 "The EY Bermuda Coastal Cleanup will be kicked off at EY's offices on Bermudiana Road with a visit from KBB's mascot, the Litter Critter. EY Bermuda are the title sponsor of the event. Additional sponsorship is being provided by Butterfield Bank, BGA and Butterfield & Vallis."
A KBB spokesperson said, "We are pleased to not only have the financial support for this annual Island-wide event, but the sponsors are keen to form teams and get their employees out participating in the cleanup, too." EY Bermuda teams will be at Tobacco Bay in St. George and Horseshoe Bay in Southampton.
"Butterfield Bank employees will be tackling Warwick Long Bay, while Butterfield & Vallis have chosen a location on North Shore in Devonshire.
"EY is very proud to sponsor the coastal cleanup as part of our firm's global focus on environmental sustainability," said Jessel Mendes, Partner and Regional Growth Markets Leader, EY-BBC. "We are delighted to, once again, play such an important role in maintaining the beauty of the island.
"We look forward to having the entire Bermuda community join us in this important initiative. Having participated with my family and colleagues in the past, it is so rewarding knowing that you are making an immediate difference. Please come out and join KBB and EY in this important and fun community event."
All this debris is either local litter or has washed ashore coming from other countries: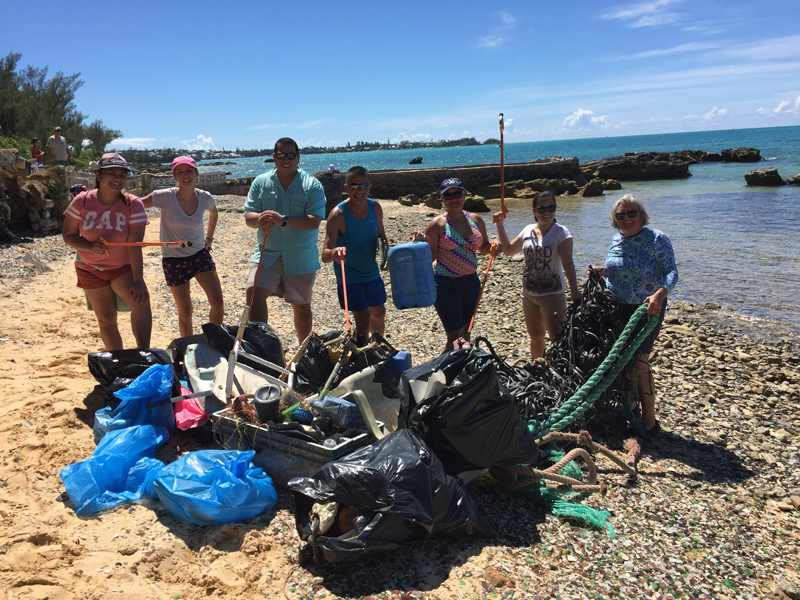 "Billed as an event for everyone, corporate organizations, sports and civic groups, schools, families and neighbours are encouraged to sign up. Students can earn credit for community service. Participants will be provided with event t-shirts, trash bags, blue recycling bags, disposable gloves, data collection cards and instructions.
"Volunteers are asked to bring along their own re-usable drink container this year and the team leaders will provide a cooler and ice to keep drinks cold. The collected debris will be trucked away by hired truckers as well as Department of Parks."
Registration is now open for all volunteers to sign up for the event through KBB's website or by calling 295-5142.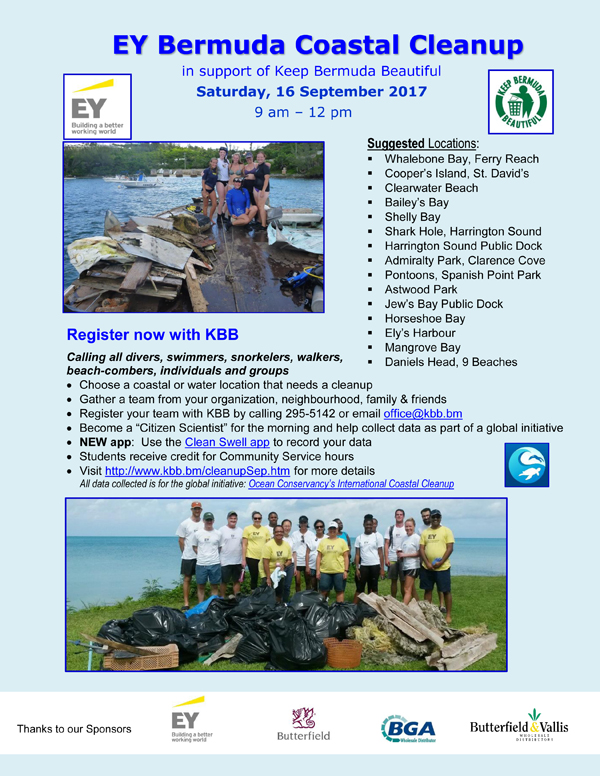 Read More About
Category: All, Environment