Last month, the 10th International Conference of Information Commissioners [ICIC] in Manchester, UK, passed a resolution calling for the need for more robust transparency surrounding public services outsourced to private sector entities.
The ICIC is a convening of Information Commissioners from around the world every two years to address a broad range of access to information issues. This year's ICIC was hosted by the UK Information Commissioner and Acting Scottish Information Commissioner, with the theme 'Trust, transparency and progressive information rights.'
A spokesperson said, "Information Commissioner Gitanjali Gutierrez attended the 10th ICIC and joined her international colleagues in supporting the resolution, Right of access to information and accountability of public services.
"The ICIC Resolution notes that outsourcing has substantially evolved in recent years into non-public entities providing core government services, such as public utilities and infrastructure services. It also notes the challenges of scrutinizing these public expenditures and contract performance.
"The Resolution further notes the impact this has on accountability, transparency and the pursuit of the public interest. The ICIC Resolution stresses the importance of transparency in the contracting and procurement process to ensure accountability for public funds and prevent corruption."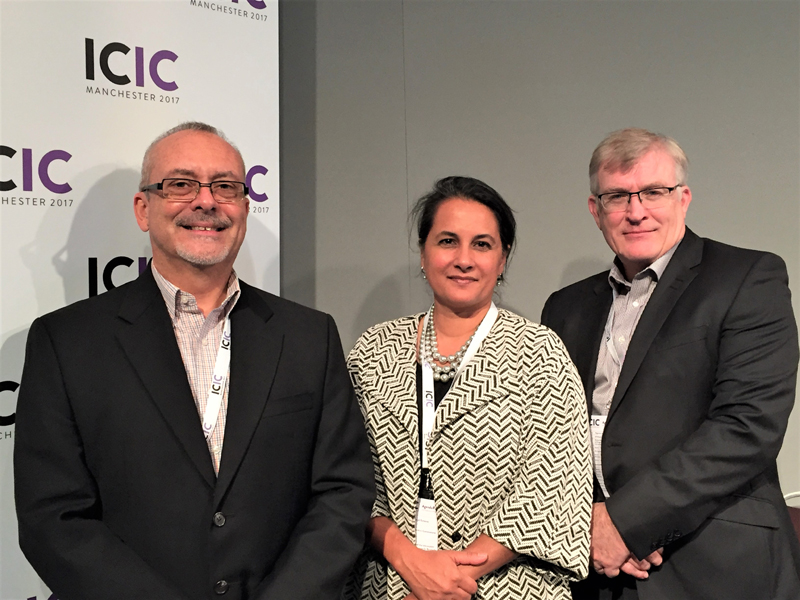 Information Commissioner Gitanjali Gutierrez said, "The ICIC Resolution is timely for our island. We are not alone in tackling concerns about accountability and public spending with the outsourcing of public services. It is crucial that outsourcing arrangements, especially for significant services, involve open contracting standards and a transparent procurement.
"These processes are promoted here by the Office of Project Management and Procurement, and include the publication of opportunities and clearly identified selection criteria. The proactive publication requirements under the Public Access to Information Act [PATI] are also an important step in this direction.
"The proactive publication of the details of contracts over $50,000 enables the public to know what bidder was successful and to ask for further access to records concerning service delivery and contract management."
"The ICIC Resolution encourages 'initiatives and programmes to improve access to information legislation in relation to contracted out services and service delivery by non-public organisations' as well as promotes 'global initiatives that provide standards for open contracting'.
"The International Conference of Information Commissioners has also committed to a working group to share best practices at the 11th ICIC conference in 2019.
Information Commissioner Gutierrez said, "Open contracting and public accountability are more than words. They refer to specific steps in public spending that all public bodies should strive to achieve.
"Access to information is key to the accountability of outsourced services. Public accountability for public bodies and outsourced contractors creates an opportunity for feedback that can lead to improvements in public services. Accountability isn't always about getting it right every single time; it's about seeking input to identify improvements to public spending and services as entities move forward.
"Overall, the 10th ICIC offered great ideas on deepening the capacity of civil society organisations to work with access to information laws, the areas of further development for the PATI Act, and many practical steps that our ICO can take to progress our work
"I look forward to putting them into action at home."
"Following the 10th ICIC, Information Commissioner Gutierrez and former Scottish Information Commissioner Rosemary Agnew hosted a round table session for new Information Commissioners.
"Together with the Information Commissioners from Canada and Albania, they presented an overview of the various challenges, opportunities, lessons learned, and international resources available for jurisdictions with new access to information laws and for new Information Commissioners appointed to existing offices. Twenty Information Commissioners from Asia, the Caribbean, Europe and South America attended."
Iain McDonald, Isle of Man Information Commissioner, said, "Having been appointed Information Commissioner for the Isle of Man in September 2015, I was the newest Commissioner at the international conference. I found the session, jointly hosted by the Commissioners from Bermuda and Scotland, for new Commissioners particularly helpful. Lots of useful advice and tips including potential pitfalls were provided.
"As the session occurred as a 'round table' discussion, new Commissioners were made to feel welcome and included. I have no doubt that the contacts made with fellow Commissioners from similar island jurisdictions including the Cayman Islands and Bermuda will be invaluable in the future."
Information Commissioner Gutierrez said, "Our Office has received a great deal of support from our overseas colleagues to establish a new public oversight body. It has been invaluable resource and is allowing us to create an Office consistent with international practices for the long-term benefit of Bermuda.
"This was an opportunity to give back to the international community and strengthen our Office's relationships with other jurisdictions that have emerging access to information laws."
The full ICIC Resolution follows below [PDF here]:
Read More About
Category: All