[Updated] Bermudian actress Lana Young is set to appear in an episode of the popular 'Law & Order SVU' television series this evening [Nov 29].
Ms. Young posted the graphic below on Facebook and said, "Thanks Kathy Olsen and the Encompass Arts team! It's a wee role so don't blink, but I'm thrilled to be a part of such a New York institution."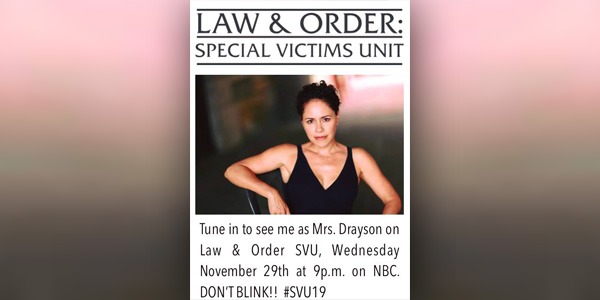 The poster stated, "Tune in to see me as Mrs. Drayson on Law & Order SVU, Wednesday November 29th at 9pm on NBC."
According to her official website, her "work includes the recurring roles of Mrs. Douglas in The Vampire Diaries [CW], Dr. Jacinta Butler in Greenleaf [OWN], Gloria Ruiz in The Inspectors [CBS]; Guest-star roles in Gone as Detective Michele Hodiak [NBC] and Linda in Kevin Can Wait, co-star roles in Jessica Jones, Blindspot, Satisfaction, Nashville, Law & Order, just to name a few.
"She's had the absolute pleasure to work with some of the greats, performing with Christopher Plummer and Ewan McGregor in the Oscar-winning film Beginners [her first feature film], playing Gloria the nanny opposite Jake Gyllenhaal and Rachel McAdams in the boxing drama Southpaw, playing a fertility doctor opposite Emily Blunt and Justin Theroux in the feature film The Girl on the Train and most recently opposite Cate Blanchett in Richard Linklater's feature, Where'd You Go Bernadette."
According to IMDB, Ms. Young's other personal resume entries include roles in "Faux Paws", "Plan 9″, "Danger. Zombies. Run.", "Conservative Kink", and "Killer Flood: The Day the Dam Broke", along with voice acting credits in video games such as "FearFighter" and "Neverwinter Nights: Shadows of Undrentide".
When she's not booking acting and voice roles in film, television, and other media, Ms. Young offers services to aspiring actors and actresses, including self-taping, coaching, and career consulting.
Update Dec 4, 12.35pm: Ms. Young appeared on the episode of Law & Order SVU, with a clip showing Ms. Young, below:

Read More About
Category: All, Entertainment, Films/Movies, News