The Bermuda Economic Development Corporation, in collaboration with the St. George's Rotary and the Corporation of St. George announced the winners of the Annual St. George's Window Display Contest. The contest was kicked of on November 25th during the Lighting of the Town Event with the winners announced this week.
Andrew Roberts SG Rotary President, Cathy Roberts of Bermuda Linens and Gifts, Helen Francis of Surprise, Tara Cassidy of La Garza, Erica Smith Executive Director BEDC and Ray Lambert BEDC Officer. Photo by Jarae Thompson.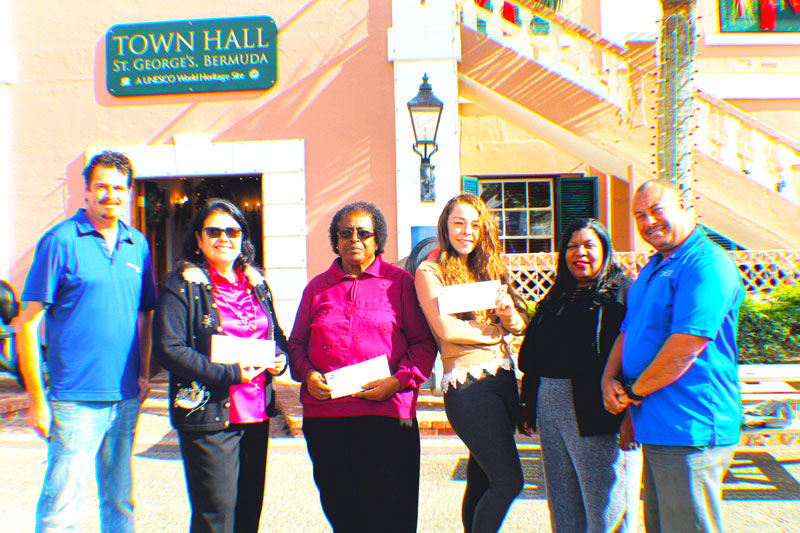 According to BEDC officer Ray Lambert, "BEDC is pleased to assist with this event. It's a fun way to reward those businesses who do a great job decorating their stores, which helps to enhance the overall atmosphere and shopping experience of the town".
Best Overall Winner – Ms. Cathey Roberts of Bermuda Linens and Gifts says, "I love Christmas and enjoy decorating and participating in the contest. I am honored to have won this year".
According to St. George's Rotary President Andrew Roberts "the St. George's Rotary enjoy judging this contest and work to support positive events in the east end. We look forward to supporting again next year".
The winners include:
Best Overall: Bermuda Linens & Gifts winning the Rotary Trophy and $150 cash
The People's Choice: Surprise winning the Mayor's Trophy and $150 cash
Most Original: La Garza winning $100 cash

Read More About
Category: All