East End Group [EEG] and Decisions Limited today announced a merger between their organizations, saying there "are great synergies between the two organizations teams and services," with the company also noting that there will be no redundancies in either company due to the merger.
EEG is the proprietor of East End Telecom [EET], the leading public safety and wireless communication provider in Bermuda and the owner of the new wireless internet service provider, Bluewave.
EEG President Nick Faries said, "The East End Group is pleased to merge with Decisions, Bermuda's award-winning IT service provider. This partnership allows EEG to leverage synergies between the companies, especially for our high-speed internet service Bluewave.
"In addition to their skilled team of technicians, installers, and engineers; Zach and Chris bring a wealth of business experience and knowledge to EEG. I look forward to working with them to grow both our organizations."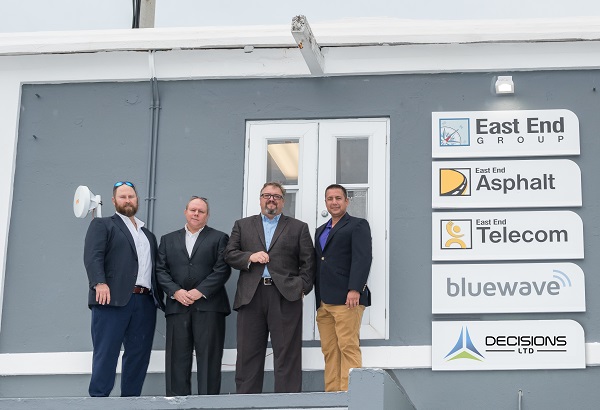 The merger between the two companies will see Decisions' Chief Executive Officer Zach Sagurs become EEG's new Chief Sales Officer. Speaking about the alliance, Mr. Sagurs said, "Decisions and EEG share a similar ethos and we both make a concerted effort to hire and develop Bermudians. Both companies are 100% Bermudian owned and operated, and are staffed with 99% Bermudians; many who have been with us for many years."
"This strategic partnership provides both of our organizations with the opportunity build on each company's strengths to enhance their reputation for innovation and world-class customer service," Mr. Sagurs added.
Decisions' co-owner and Chief Operating Officer Chris McLeod will assume the role of Chief Information Officer for the EEG and become the Managing Director of both EET and Decisions.
Commenting on the merger he said, "The merger is an exciting opportunity for our combined clients. There are great synergies between the two organizations' teams and services, and the Bermuda market is going to greatly benefit from our combined offerings and products.
"We anticipate a seamless integration and expansion which will result in a stronger and more vibrant set of companies under the EEG umbrella particularly for the growth and expansion of Bluewave.
"Bluewave's advanced wireless network is revolutionizing the local internet market. I look forward to leveraging that state-of-the-art technology to develop new products and services for Bermuda."
The EEG said they are "pleased to report that there will be no redundancies in either company because of this merger."

Read More About
Category: All, Business, technology