Hamilton's Town Crier is treating visitors to more than just city tours this year; he's also aiming to assist them with their island shopping.
A spokesperson said, "Town Crier Ed Christopher's baritone voice and long strides are leading visitors into retail stores all over Hamilton every Thursday in the Bermuda Tourism Authority-created Shopping Tour Experience.
"It's a pilot project which began this past winter. The objective is to expose travellers to unique Bermuda items they can't find in other destinations. TABS, Davidrose Jewellery, Della Valle, & Partners, Alexandra Mosher Studio Jewellery and Lili Bermuda are among the stops on the free 2.5-hour tour."
"The data shows Bermuda's visitors are spending less on retail than in years past and at the Bermuda Tourism Authority we see this as an opportunity," said Pat Phillip-Fairn, product and experiences development officer at the Bermuda Tourism Authority.
"On the Shopping Tour Experience, we hope visitors make Bermuda-inspired discoveries and those discoveries inspire purchases at the register.
The Town Crier with shoppers in Hamilton: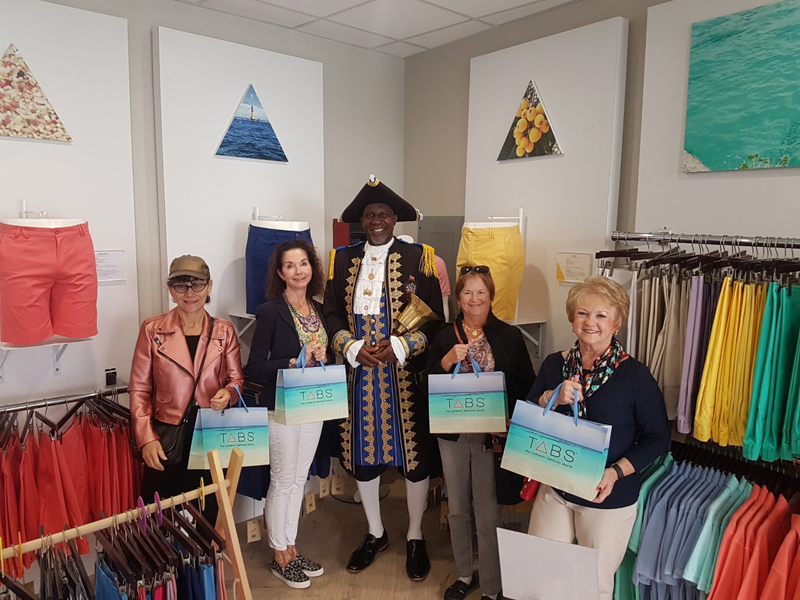 "Our objective right now is to get word out about the tour. We encourage hoteliers and vacation rental owners to make sure their guests know about this new option, listed on our website events calendar."
"Shoppers are often treated to delights from shopkeepers along the tour – champagne and mimosas are not uncommon. Among the visitors to try the new experience thus far, sales conversion is strong. Additionally, Ham Ed Christopher's charisma and knowledge of Hamilton makes the footsteps between stores a positive and memorable part of the tour for visitors."
The Town Crier said, "I like to call the Shopping Tour the triangle of tours because it brings together Bermuda entrepreneurs, Bermudian hospitality and I add a little Bermuda history. It's been a welcomed addition to the experience of Hamilton and I hope to see it grow and expand."
"The Shopping Tour Experience pilot will run every Thursday through October, departing from the Queen Street entrance of Queen Elizabeth Park. Based on the popularity and effectiveness of the tour, the Bermuda Tourism Authority will evaluate expanding the offering – possibly including additional stores and other locations around the island."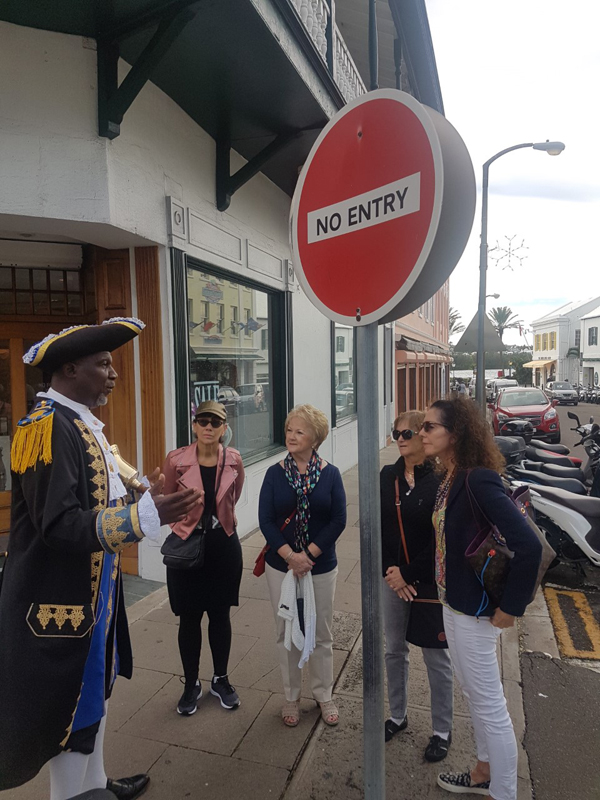 Participating Stores:
"TABS: The Authentic Bermuda Shorts designed by a Bermudian in Bermuda and inspired by the island.
"Davidrose Jewellery: Delicate bridal jewellery and handcrafted statement pieces are tempting reasons to visit Davidrose, a jewellery boutique, newly in Hamilton.
"Della Valle: Handmade sandals that are Bermuda-inspired, customised to fit only you.
"Partners: A contemporary gift and design store showcasing beautifully crafted housewares, gifts and minimalist jewellery
"Alexandra Mosher Studio Jewellery: Art jewellery designs inspired by the beautiful motifs found in Bermuda's flora and fauna, ocean, architecture, history and culture
"Lili Bermuda: An artistic reflection of Bermuda where each fragrance represents the island's natural beauty: from the pure scent of wind and fresh salt spray of the ocean to its luscious botanicals such as Bermuda cedarwood, spring freesias and juicy loquats."
Read More About