The founder of CultureShock, Keith Simmons, has announced the return of its annual concert event, set to be held at Snorkel Park on Saturday, July 7th.
Mr Simmons said, " This year's event, known as CultureShock 18, features icons PopCaan backed by Ruff Kutts Krew Band, Ifrica and I-Octane backed by Riddim 2000 Band. Also performing are Bermuda's own B.L.A.C., General Kaution, Jesse Seymour, C Daynger, backed by D.I.A. Band. Sponsors include and Goslings, Chivas, Hennessy and Amarula.
"Advance tickets go on sale the second week of May, and can be purchased for $85 online at ptix.bm, and Audio Visual [both branches], or $100 at the door. Gates open at 7.00pm with juggling from 7.00pm to 9.00pm.
"Barry G Music, Three The Hardway DJ Donnie, DJ Gibbo, DJ Blacka Nights. Hosted by MC Richie B out of HOT 102 FM Jamaica. Showtime begins at 9.00pm. No re-entry, no videos, and no coolers allowed. Security tight.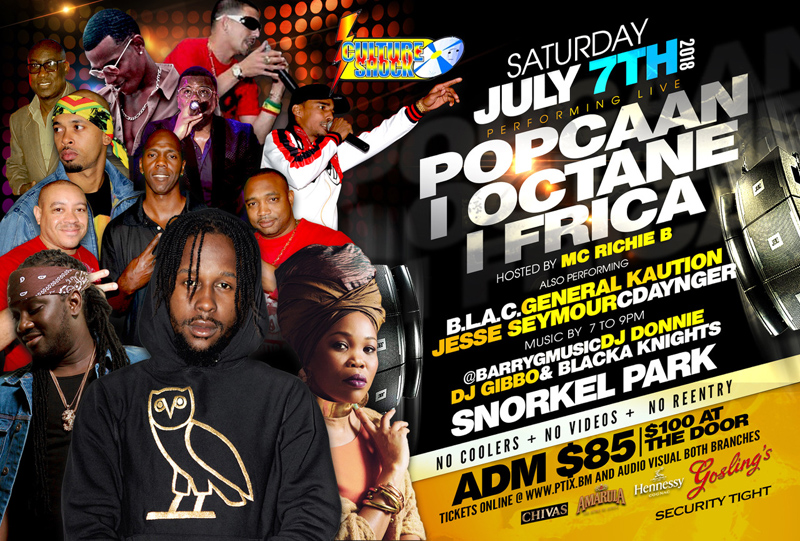 "People always asked me 'when are you going to bring CultureShock back," Mr. Simmons told Bernews.
"I always answered, one day one day, and now that day is here. I'm very excited to bring CultureShock back. I'm expecting a massive crowd to come out to support the artists, which is positive and brings everyone together to enjoy themselves.
"Some people attending this year's concert weren't even born when CultureShock shows were going on and now they can enjoy it too. We want to bring people together from all walks of life to this event, because we are one island."
"CultureShock started approximately 25 years ago until 2010, and involved world renowned performers such as Jah Cure, Buju Banton, Taurus Riley, Richie Spice and Beres Hammond amongst others. Snorkel Park is located at 7 Maritime Lane.
"For updates, follow us on Facebook @cultureshockbda, Instagram @cultureshockbda, and Twitter @cultureshockbda."

Read More About
Category: All, Entertainment, Music