Minister of Social Development and Sports Michael Weeks hosted an awards ceremony today [May 30] at City Hall for the 2018 Bermuda Day Heritage Parade float winners.
Minister Weeks said, "Let me begin by first commending all the groups who took part in the spectacular Bermuda Day Parade on Friday!
"From the dazzling costumes and choreography showcased by the various dance groups, to the wonderful display of tradition from the Gombey troupes closing out the parade, I think we can all agree that it was a fabulous day!
"And, while the rest of the parade is not judged, we do present awards to the most outstanding parade floats in various categories…which leads me to the reason why we are here today.
"Today we want to acknowledge and highlight the float participants who spent many long hours creating remarkable displays of tradition and pageantry.
Minister Weeks with float winners as well as staff from the Department of Community and Cultural Affairs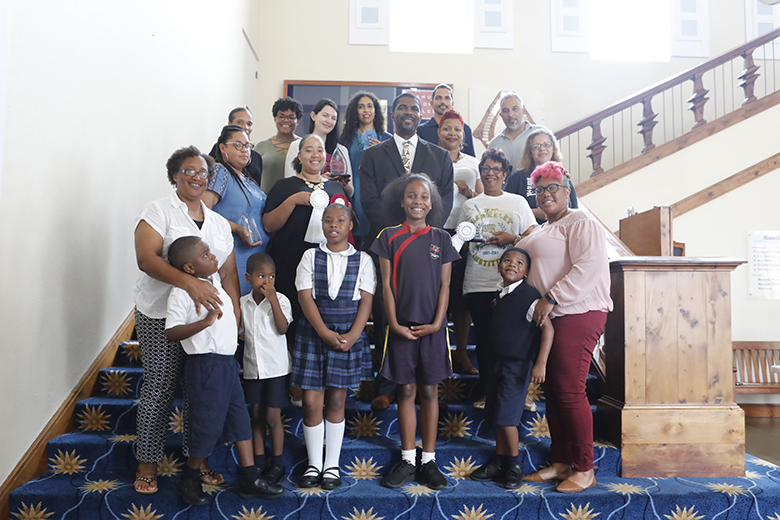 "I am also extremely grateful to the judges who had to make some very difficult decisions this year. I am pleased to say that we had an increase in the number of entries from last year!
"Now…on to the awards:
"In the Natural Heritage Float Category, the design had to be related to the Bermuda Day theme: "What We Share". The criteria for this category states that all decorated areas must be fully covered with natural materials and that local flora should be used as much as possible. Paper and fabric are permissible in this category, but should not have unnatural patterns or designs.
In first place for the Natural Heritage Float category is – Vasco Da Gama Club. Their Float showcased traditional Portuguese cuisine and baking, which even included live baking demonstrations! Interestingly, Vasco took part in the first Bermuda Day Parade back in 1979 and say that, "Bermuda Day has always been an opportunity for members of the Portuguese community to not only showcase their traditions and culture for all Bermudians but to also feel very much a part of the broader Bermuda family."
In second place for the Natural Heritage Float category is – Sandys Secondary Middle School. Their float celebrates the school, its history and importance in the community. It is decorated with images of all the Principals who have served the school as well as images of students at work and at play through the ages.
And in third place for the Natural Heritage Float category is – Prospect Primary School. This float depicts a Bermuda home with a garden that is filled with Bermuda Onions and Easter lilies – two plants that historically Bermuda once exported and remain associated with our island home.
"Next is the Art Float Category. This could be either a collection of displayed art works, a painted mural, or sculpture. This entry could be a walking entry [carrying the artwork] or a float/vehicle entry. Again, the design should be related to the Bermuda Day theme: "What We Share".
In first place for the Art Float category is – Department of Community & Cultural Affairs. The Department partnered with Bermudian artists and activists Nicola Muirhead and Stratton Hatfield of 'We Are Now' to create an art float that celebrates what we share. The floats feature macro images related to social and environmental scenes found in Bermuda and draw references to the senses. The macro images are comprised of mosaic images compiled using imagery from the We Are Now image library of over 600 people in Bermuda.
In Second place for the Art Float category is – Department of ICT Policy & Innovation Cybertips. Cybertips is Bermuda's source of information on internet safety and security. Their specially-designed twizys are a reminder to 'think before you post' and to be aware at all times when online. Thank you to them for 'Keeping Bermuda Safe Online'.
In third place for the Art Float category is – Dellwood Middle School. Dellwood Middle School students designed Twizy 'skins' that speak to our Heritage. The Twizy designs are embellished with beautiful insignias of flora, architecture and sea life reflective of Bermuda's culture.
"And now I will turn to the Special Awards…
1. The Premier's Award for Best Float goes to … Vasco Da Gama Club
2. The Reggie Ming Award for Most Beautiful Float goes to… Sandys Secondary Middle School
3. The Minister's Award for Most Original Float goes to… Vasco Da Gama Club
4. The Ruth Thomas Award for Best Heritage Float goes to … The Berkeley Institute
5. The Dr. Kenneth E. Robinson Award for Best Primary School Float goes to… Prospect Primary School
6. The Dr. J. Williams Award for Best Middle School Float goes to… Sandys Secondary Middle School
7. The Marjorie Bean Award for Best High School Float goes to… The Berkeley Institute
8. The Best Government Department goes to… Department of Community & Cultural Affairs
9. The Mrs. J.J. Outerbridge Award for Best Individual Float goes to… Dellwood Middle School
10. The Chamber of Commerce Award for Best Corporate Float goes to… Johns Hopkins Medicine International
"That now completes the awards presentation.
"I think it's worth noting that, this year, several groups employed twizys to good effect, showing that creating a parade float doesn't have to be a big production – the entry can be as small as a bicycle, moped, twizy, or box cart.
"In conclusion, I want to thank all parade participants and spectators for their contributions in making this year's Bermuda Day Parade another successful and enjoyable occasion!"

Read More About