The solar project at 'the finger' at the airport, has won the Best Utility-Scale Project in the Caribbean award at the 2022 Caribbean Renewable Energy Forum Industry Awards, Deputy Premier and Minister of Home Affairs Walter Roban announced.
Minister Roban said, "Many will be aware that I am currently overseas participating in environmental conferences. I am now in Miami at the 2022 Caribbean Renewable Energy Forum or CREF, organized by New Energy, which is the reason for coming before you now.
"I am excited to announce to all of Bermuda that a short while ago, as part of the 4th CREF Industry Awards and on behalf of Bermuda and our partners at Saturn Power, I was honoured to accept the award for Best Utility-Scale Project in the Caribbean.
"This award recognizes excellence across clean energy programs in the Caribbean, judged across a series of criteria, including innovative approaches to development, value to investors and customers, and social and environmental impact. For Bermuda to receive this award is a testament to the island's commitment to reducing our carbon footprint and protecting our environment. It also recognizes the hard work and determination of the many Bermudians working alongside Saturn Power, who completed the island's first large scale solar farm.
"Following receipt of that award, I am now incredibly humbled to announce that among the thousands of individuals across the Caribbean who go above and beyond to safeguard our environment, the judging committee unanimously agreed to select me as the recipient of the Caribbean Energy Leadership MVP Award.
"Being passionate about protecting our environment and recognized with this award is a lifetime achievement and highlight of my career.
"However, while this award bears my name, I must recognize the many individuals within the Ministry of Home Affairs. Their effort and commitment have been instrumental in getting me to this point. It is the culmination of our many contributions that I am today recognized for our work. And so, I give you my sincere thanks and gratitude for your support and dedication.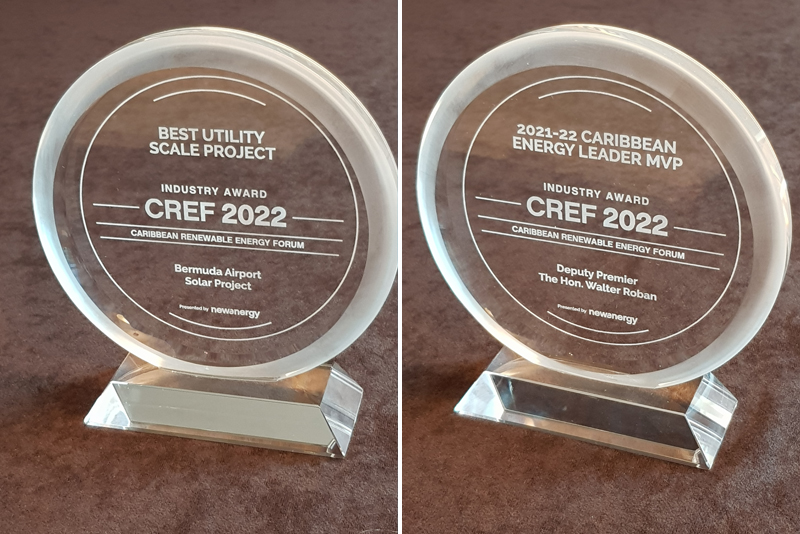 "As we move forward in cooperation with the Regulatory Authority of Bermuda, this Government will continue laying the groundwork for additional investment into Bermuda to facilitate innovation and renewable energy technology developers testing their products in Bermuda.
"In line with Bermuda's Economic Recovery Plan, the energy regulatory sandbox will encourage new renewable energy technology developers to test their products on the island, giving Bermudians access to new technology.
"We are also working to partner with local and international companies to set up a Green Energy Fund to provide capital to deploy solar installations through the island. The purpose here is to expand access for those residents who can least afford the upfront investment in renewables.
"New regulations will also address the fuel surcharge cost for electricity and better regulate the storage and distribution of fuel. Ultimately, these initiatives will reduce the cost of electricity for Bermuda's residents and businesses.
"As we continue on the path of achieving a future where we can enjoy clean, safe, and affordable energy, I will forever remain committed to our environment and achieving Bermuda's renewable energy goals."

Read More About
Category: All, Environment, News