The 23rd edition of PechaKucha Night will be held tomorrow [May 31] at the Ocean View Golf Course, with doors opening at 7.00pm and presentations beginning at 7.30pm.
A spokesperson said, "Thursday night will be one of the best nights yet with ​short, dynamic and moving presentations on topics ranging from finding your inner resilience, to healing through hypnotherapy, to conversations with dogs.
"Our eight presenters will include Mario Gerardino, Jennifer Haworth, Alexander Potts, Latisha Lister, Mohamed Hamza, Eileen Thorne, Jennie Lightbourne, and Tony Cerrato. Each presenter will be using a "20×20" format, in which 20 images will flash the screen for 20 seconds, ensuring that our presenters keep their talks short and to the point.
"PechaKucha Nights are always free of charge and open to the public but donations are encouraged in order to give back to our generous hosts at the Ocean View Golf Course. Doors open at 7pm so come early, get some food and grab your seats before there's standing room only."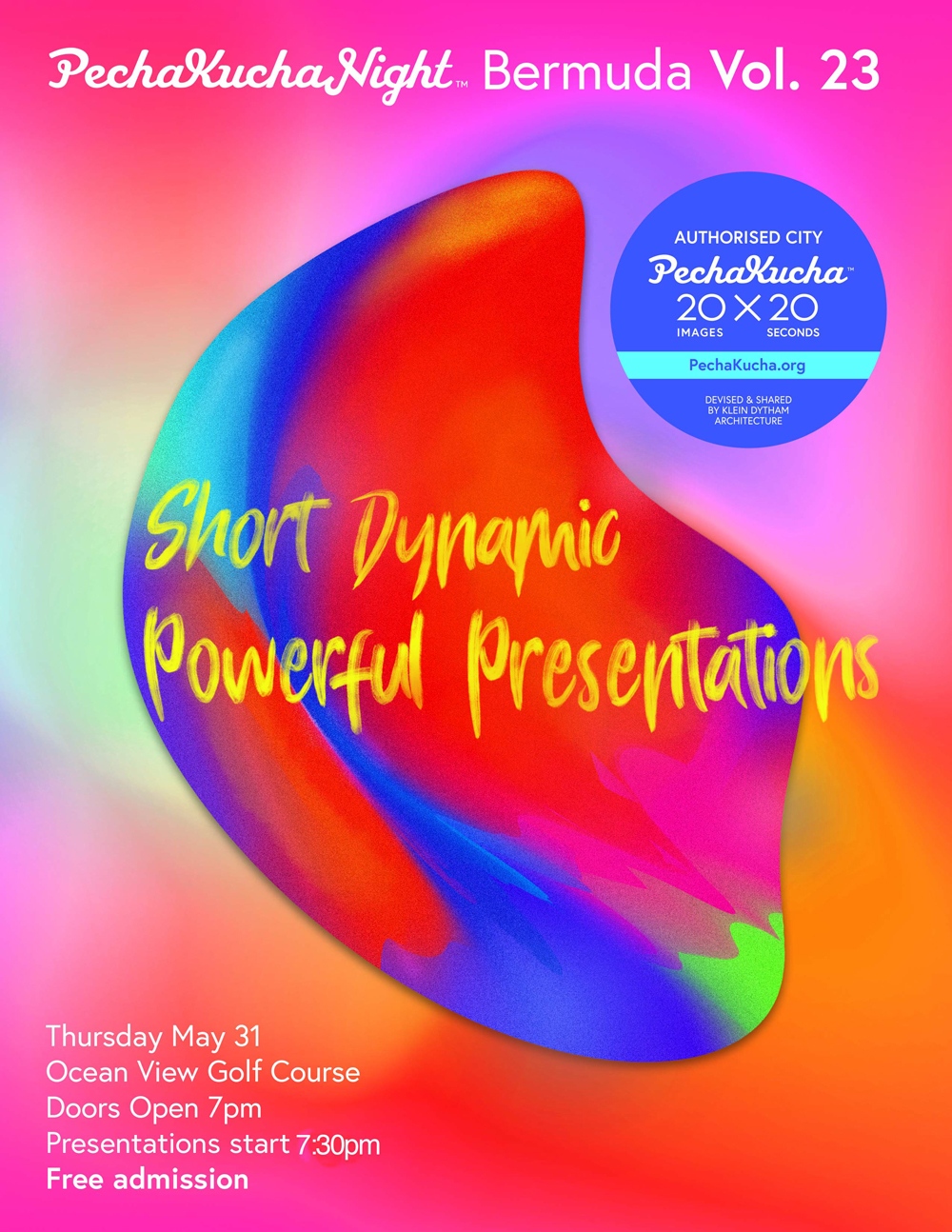 "Mario Gerardino's presentation, "The Inner Quest, an Awareness Journey" will tell the story of how he helps people have a deeper awareness of themselves and heal their lives using hypnotherapy. Jennifer Haworth has had an amazing journey as a kidney transplant recipient and Thursday night she will share her experience with finding resilience during her illness and beyond.
"They will be joined by Alexander Potts who promises to make you laugh with his presentation "The Citroën 2CV: not a car, but a way of life!" – a comic tribute to France's iconic car. While Eileen Thorne's "Conversations with Dogs", will explore how you can talk to dogs to have meaningful exchanges of information that can help your training and alleviate behavioural issues.
"Mohamed Hamza will also be there to open a short discussion on the need for food and energy security in island nations. Latisha Lister will bravely share her her journey through postpartum depression. Jennie Lightbourne, a clinical pharmacist with 10 years experience working in both hospital and community pharmacy, will get real about drugs. And Tony Cerrato's talk "Common Cents" hopes to help you rethink money and its meaning.
"Anyone interested in putting forward a presentation for the next PechaKucha is invited to contact the team at pechakuchabermuda@gmail.com."
Read More About
Category: All