Premier David Burt celebrated Portugal Day with other dignitaries and members of the Portuguese community at the Vasco da Gama Club on Reid Street in Hamilton this weekend.
The Premier was welcomed by Club President Paul Franco [photographed shaking hands] and others for the celebration, who joined with Governor John Rankin; Minister of Social Development & Sport Michael Weeks; the Portuguese Priest of St. Theresa's Roman Catholic Cathedral, Father Julio Blazejewski; Deputy Premier and Minister of Transport and Regulatory Affairs Walter Roban; and Opposition Leader Jeanne Atherden.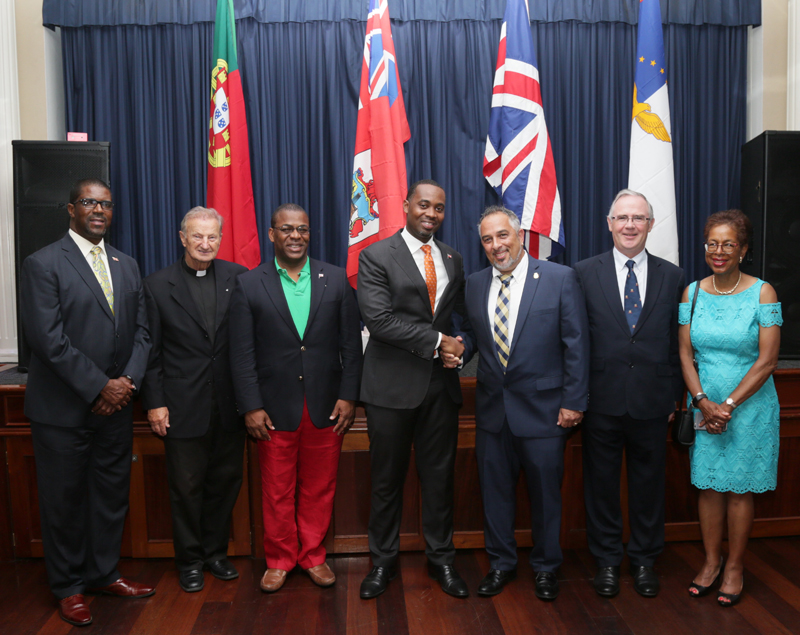 The Premier recently announced that 4th November 2019 will be a public holiday to mark the 170th Anniversary of the arrival of the first Portuguese immigrants in Bermuda.
"Those first immigrants arrived from Madeira aboard the vessel the Golden Rule on 4th November 1849. After a 21-day voyage, 35 men, 16 women and 7 children arrived to work principally as farm labourers," the Premier said.
"Although these first immigrants were from Madeira, Honourable Members will also be aware that subsequently, the majority of Portuguese immigrants would come primarily from the Azores.
"Bermudians of Portuguese heritage have made considerable contributions to the Island. Every aspect of Bermudian life – from politics and public service, to sport, entertainment and industry has been influenced by their participation in our community. From the original families and those subsequent immigrants, Portuguese culture has become a part of Bermuda's cultural fabric."
Read More About